Perfect Grilled Brussels Sprouts Recipe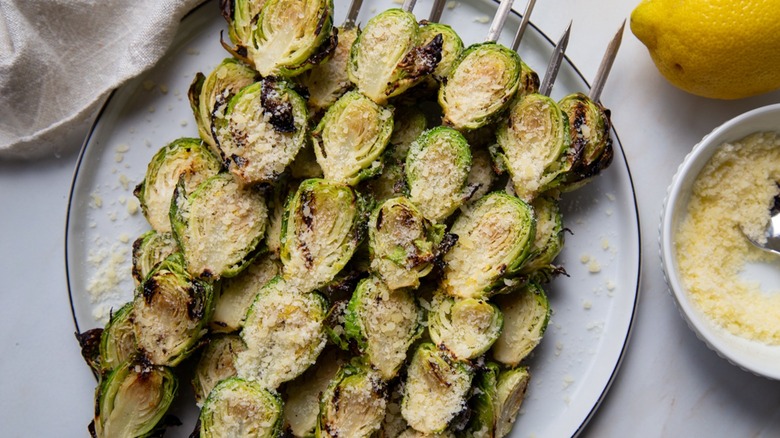 Kate Shungu/Mashed
Whether you are on a summertime barbecue spree or simply looking for a way to avoid making a mess in the kitchen, firing up the grill for this recipe is the right idea. Not only will you avoid having a plethora of dishes to clean, you will also get to enjoy that charred flavor and crispy crunch that can only be achieved by a grill.
While anyone can make a grilled burger taste good, it takes a real pro to transform a bitter cruciferous vegetable into a drool-worthy star. Recipe developer Kate Shungu brings us this recipe for the perfect grilled Brussels sprouts. You wouldn't expect such a flavorful dish to be made from only six ingredients, but Shungu has a way of letting the ingredients shine.
To make a complete meal, use the grill to cook up your protein. Shungu tells us, "I like serving these with burgers, brats, or grilled chicken."
Gather your perfect grilled Brussels sprouts ingredients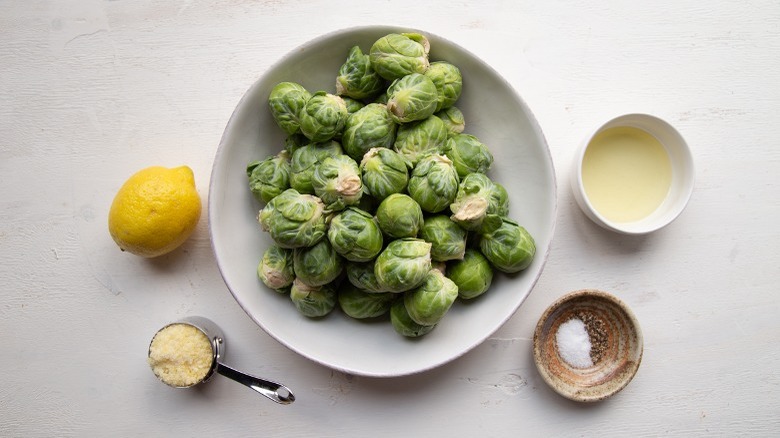 Kate Shungu/Mashed
To make these perfect grilled Brussels sprouts, you can start by gathering your ingredients. For this recipe, you will need Brussels sprouts, olive oil, salt, pepper, Parmesan cheese, lemon zest, and lemon juice.
While these are incredible on their own, Shungu has a tip for those that want to add some meat to this side dish. She tells us, "If you want to amp up the flavor even more, toss the finished sprouts with crumbled cooked bacon." Bacon and Brussels sprouts are a timeless pairing. We happen to love this idea.
Steam the halved Brussels sprouts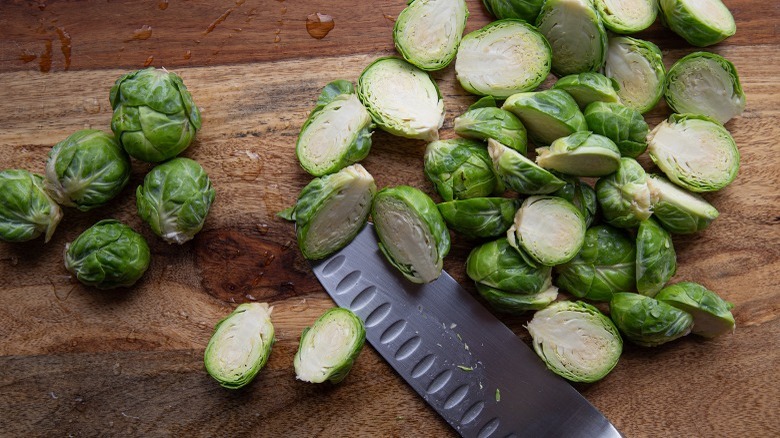 Kate Shungu/Mashed
Start by preheating the grill to medium heat. Then, rinse and chop each Brussels sprout in half. Place all the sprouts in a microwave safe dish and cover it. Cook the sprouts in the microwave on high for 3 minutes to steam them.
Don't be tempted to skip this step! Since Brussels sprouts are such a hearty vegetable, they require more cooking time than just the time spent on the grill. The steaming helps to cook the inner parts of the sprout that don't get thoroughly cooked by simply grilling.
Toss & skewer the sprouts before grilling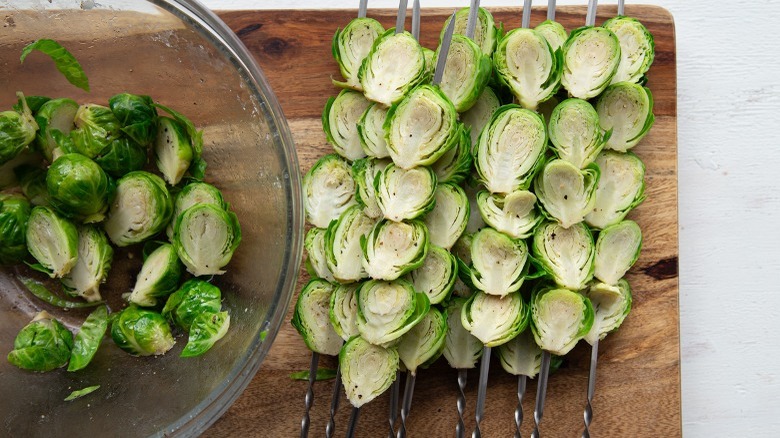 Kate Shungu/Mashed
Next, it's time to prep the sprouts for grill. In a large bowl, add the steamed Brussels sprouts along with the olive oil, salt, and pepper. Then, place each Brussels sprout on a metal grilling skewer. You'll probably be able to fit five or six sprouts, depending on the size of your skewers.
Then, head over to the grill to get these veggies started. Shungu says "these are perfect for outdoor cookouts. Since the grill is lit for a main dish already, these sprouts are a nice way to cook everything on the grill (and not heat up your home when it's warm outside)." Throw your protein on the grill well before you add the Brussels sprouts. Then, grill the skewers for 2-3 minutes on each side. That's it! Since you've already steamed the sprouts, that's all the time they will need.
Remove the skewers from the grill and season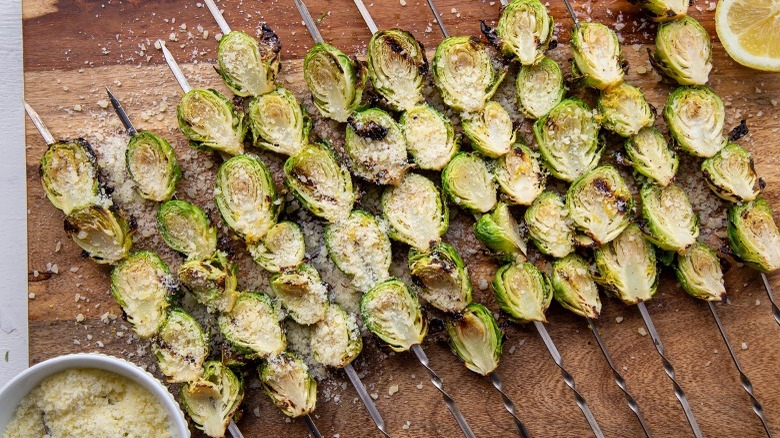 Kate Shungu/Mashed
Lastly, it's time to add some flavor. Once you remove the veggies from the grill, immediately squeeze over top lemon juice and sprinkle them with grated Parmesan cheese and lemon zest. This will add some simple, yet serious, flavor to these veggies.
Wondering why lemon and Parmesan work so well on this dish? Shungu advises "the acidity of the lemon juice nicely complements the bitterness of the Brussels sprouts [and] the Parmesan adds a creaminess that's great with the crispy leaves from grilling." Are you drooling yet?
Perfect Grilled Brussels Sprouts Recipe
These grilled Brussels sprouts pack loads of flavor with only six ingredients. They're perfect for any summer meal.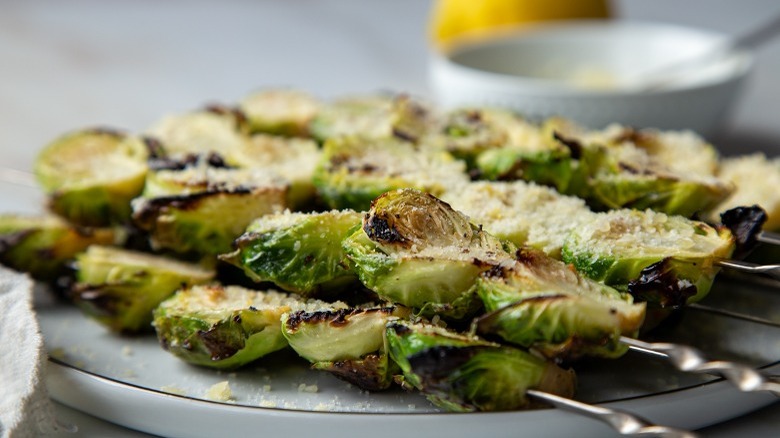 Ingredients
1 pound Brussels sprouts
2 tablespoons olive oil
½ teaspoon salt
¼ teaspoon black pepper
¼ cup grated Parmesan cheese
Zest and juice of 1 lemon
Directions
Preheat grill to medium heat.
Rinse Brussels sprouts and cut in half lengthwise.0
Place sprouts in a microwave safe dish, cover, and microwave for 3 minutes on high.
Toss the par-cooked sprouts with the olive oil, salt, and pepper in a medium bowl.
Let Brussels sprouts cool slightly so you can handle them, then thread onto skewers.
Place the skewers on the grill and grill for 2-3 minutes per side, or until the sprouts are tender.
Remove from the grill and sprinkle with the Parmesan cheese, lemon zest, and lemon juice.
Serve immediately.
Nutrition
| | |
| --- | --- |
| Calories per Serving | 151 |
| Total Fat | 9.5 g |
| Saturated Fat | 2.4 g |
| Trans Fat | 0.0 g |
| Cholesterol | 6.3 mg |
| | |
| --- | --- |
| Total Carbohydrates | 12.5 g |
| Dietary Fiber | 4.9 g |
| Total Sugars | 3.0 g |
| Sodium | 350.3 mg |
| Protein | 7.4 g |