Burger King Splits Boston In Half With 2 New Types Of Chicken Fries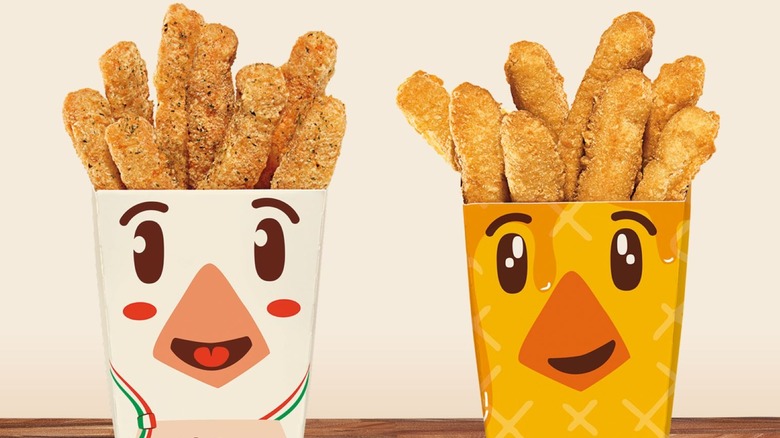 Burger King
Burger King's chicken fries are among the fast-food chain's most iconic offerings, and it looks like the company is experimenting with new ways to serve them. Beginning on July 24, Burger King will bring two new types of chicken fries to the Boston, Massachusetts market: chicken & waffle fries and chicken parm fries. These sweet and savory options will be available for a limited time, and they promise to infuse new flavors into a customer favorite. According to a Burger King press release shared with Mashed, both products will start with the classic white meat chicken fries. However, the chicken & waffle fries will be breaded in a sweet waffle batter and accompanied by a cup of gooey syrup for dipping. The chicken parm fries, on the other hand, will be smothered in parmesan, garlic, and Italian herbs, served alongside a cup of zesty marinara sauce.
The chicken & waffle fries sound like a treat well suited for breakfast lovers, while the chicken parm fries are sure to pair nicely with the restaurant's mozzarella sticks. Given their limited-time status, customers won't want to drag their feet on trying these offerings. Unfortunately, though, they'll have to hit multiple locations to get their hands on both.
Where to snag Burger King's new chicken fries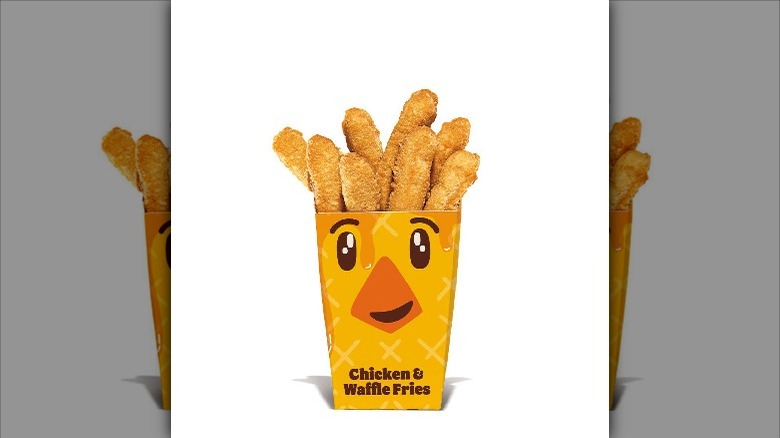 Burger King
Because Burger King is in the testing phase for its new chicken fries, they're only being offered in select Boston-based locations. The chicken & waffle fries will not be available in the same stores as the chicken parm fries, so the burger chain has specified where customers can find each item. The chicken & waffle fries will only be sold in the area's easternmost stores, while the region's westernmost restaurants will receive the chicken parm fries. The company seems to have split Boston in half with its latest experiment.
Burger King's announcement claims its new offerings will be sold "while supplies last." However, if the new types of chicken fries do well in the Boston market, we can't help but wonder if the fast-food chain could bring them to other areas in the future. Given the popularity of Burger King's regular and spicy chicken fries, it seems safe to assume these will be a hit. Of course, customers will need to wait for reviews to trickle in to know for sure.