Japanese-Style Potato Salad Recipe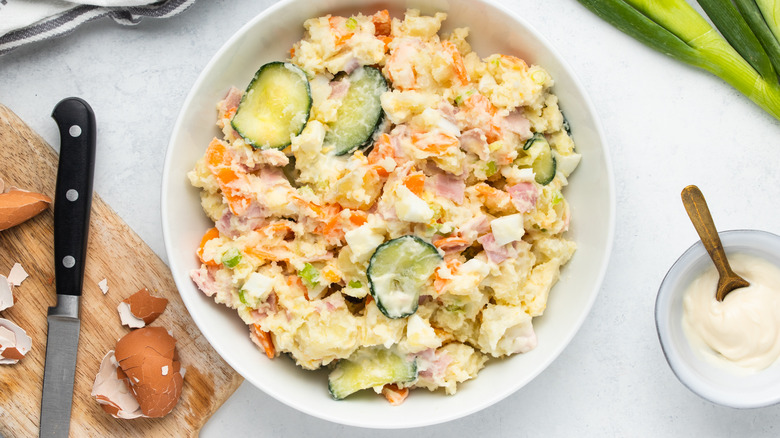 Catherine Brookes/Mashed
Summertime means potato salad time. But after so many cookouts and picnics, you've probably had your fair share of classic potato salad. It might just be time to try something different, something fun, something like Catherine Brookes' Japanese-style potato salad. This recipe adds some distinct flavor to your big cookout.
Among the assortment of lip-smacking ingredients in this potato salad is rice wine vinegar. "It gives the potato salad an extra bit of tang and sourness that cuts through the creaminess," explains Brookes. You also have ham, eggs, and veggies to make this a rather filling side that pops with flavor. 
While you can experiment with all sorts of ingredients in your potato salad, you owe it to yourself and your cookout crew to dial in this recipe and make it a standard for every group gathering. Or you can just make it for yourself and turn on all your tastebuds.
Gather your Japanese-style potato salad ingredients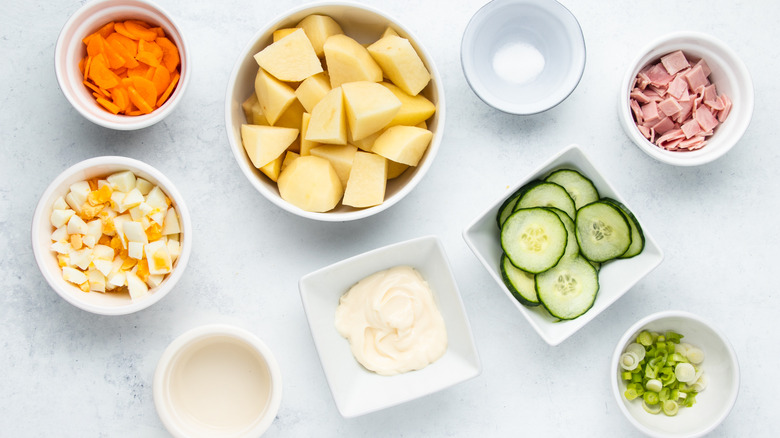 Catherine Brookes/Mashed
The Japanese-style potato salad brings a lot of contrasting flavors to the beloved dish. To start, you need 2 large potatoes (obviously). Also going into this salad are some cucumber, carrot, green onions, hard-boiled eggs, and some sliced ham. To tie everything together, you need some Kewpie mayonnaise, rice vinegar, and salt.
Cook your potatoes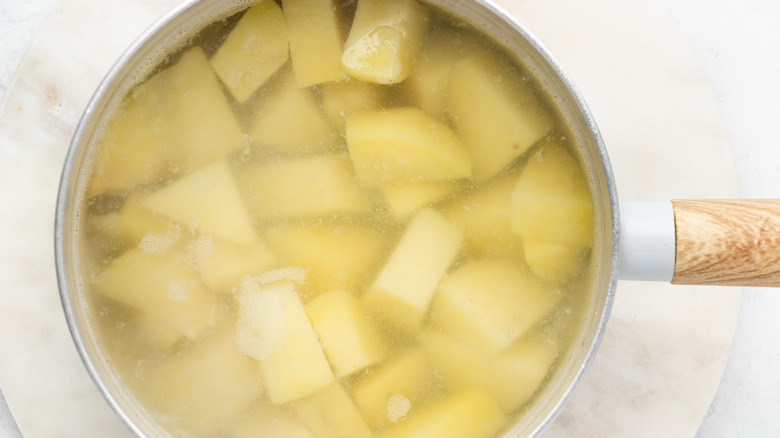 Catherine Brookes/Mashed
First, we'll need to cook those spuds. So peel your potatoes and dice them into roughly 1 ½-inch pieces, then throw them into a pan of boiling water. Boil them for about 16 minutes, give or take a few, testing the potatoes by seeing if they're fork-tender. This is pretty much all the cooking you need to do for this recipe; it's all assembly from here. Drop your potatoes in a colander and leave them in so they can steam dry for about 5 minutes. 
Dial in the cucumbers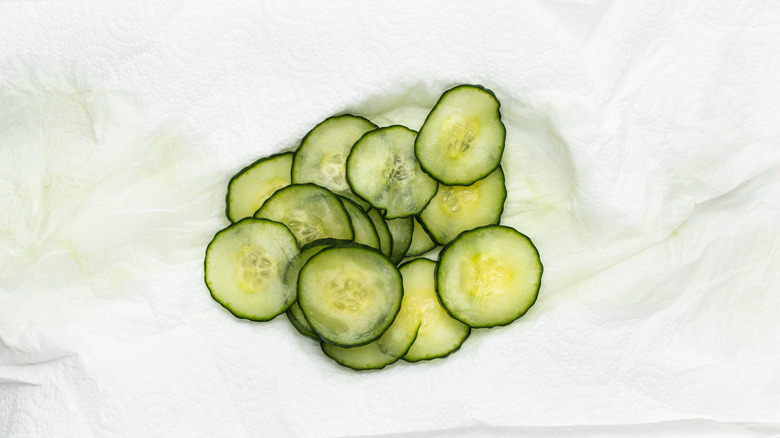 Catherine Brookes/Mashed
Slicing and dicing is the name of the game when it comes to salads, and potato salad is, well, a salad. Cut off ¼ of a cucumber that you can slice into thin rounds. Throw them in a bowl with the salt and mix that salt and cucumber together. Let your salty cucumber mix set for 10 minutes before squeezing the moisture out of the cucumber with a kitchen or paper towel.
Finish off the potatoes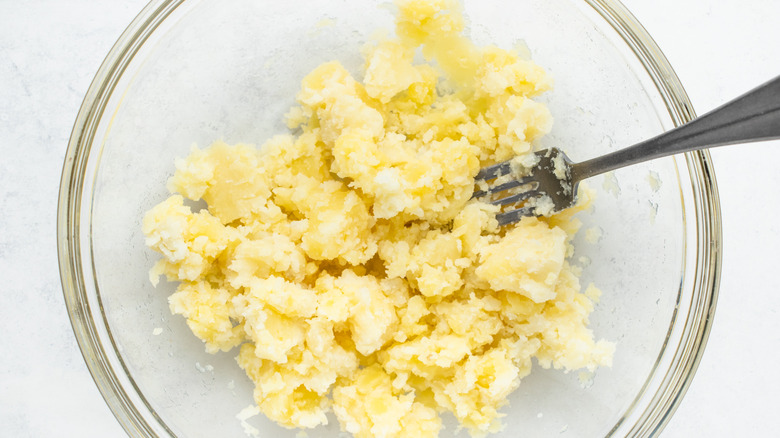 Catherine Brookes/Mashed
Remember those potatoes? Transfer them to a bowl and mash them roughly using a fork. Keep the lumps; they add that chunky goodness to the final result. Now it's time to bring it home. 
Bring everything to the party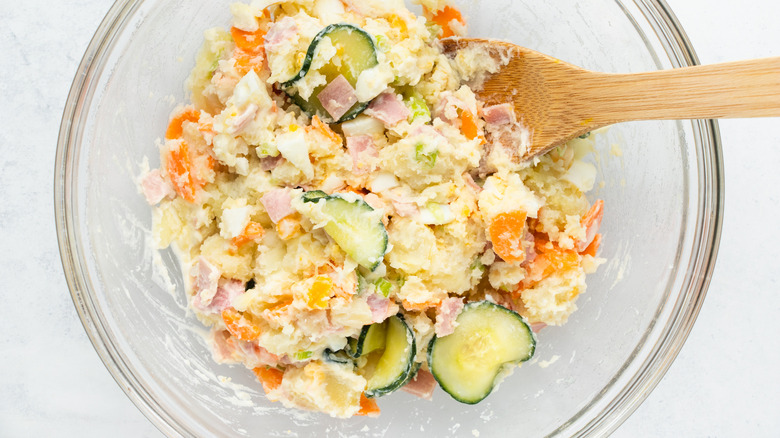 Catherine Brookes/Mashed
Combine the cucumber with the potatoes and then throw in everything else — those sliced carrots, chopped green onions, and chopped egg — finishing with the rice vinegar and the Kewpie mayo. Now it's ready to serve! 
Sure, it's going to be the star of the cookout, but you could also cook it for so many other meals. "This would be great served as a side along with chicken katsu or teriyaki, pork chops, or even soups and ramen bowls," gushes Brookes.
Japanese-Style Potato Salad Recipe
Beyond the potatoes, this exciting side is packed with all sorts of flavors and textures, from salty ham to tangy rice vinegar to crunchy carrots.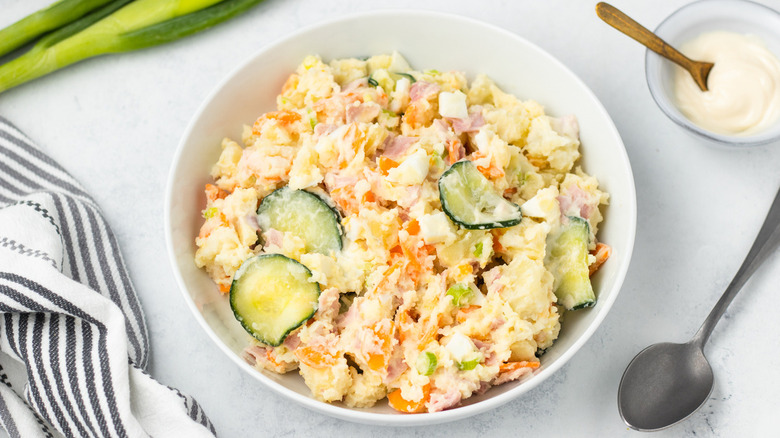 Ingredients
2 large potatoes, peeled and diced
¼ of a large cucumber, thinly sliced into rounds
½ teaspoon salt + more to taste
1 small carrot, sliced lengthways, then thinly sliced into semi circles
1 green onion (white and paler green parts only), chopped
2 hard boiled eggs, peeled and chopped
2 slices deli ham, sliced
¼ cup Kewpie mayonnaise
2 teaspoons rice vinegar
Directions
Add the potatoes to a potof boiling water and cook for 15-18 minutes until fork tender.
Drain and leave potatoes to steam dry for about 5 minutes.
Add the cucumber to a bowl with ½ teaspoon salt. Mix well, then set aside for 10 minutes.
Squeeze the excess moisture out of the cucumber slices with a kitchen or paper towel. Set aside.
Add the potatoes to a mixing bowl and roughly mash with a fork, leaving some lumps.
Add the cucumber and all remaining ingredients to the potato. Mix well. Add salt to taste.
Cover and chill until ready to serve.
Nutrition
| | |
| --- | --- |
| Calories per Serving | 244 |
| Total Fat | 11.8 g |
| Saturated Fat | 2.0 g |
| Trans Fat | 0.0 g |
| Cholesterol | 70.6 mg |
| | |
| --- | --- |
| Total Carbohydrates | 28.1 g |
| Dietary Fiber | 3.7 g |
| Total Sugars | 2.3 g |
| Sodium | 427.0 mg |
| Protein | 7.1 g |