Japanese-Style Hot Dog Recipe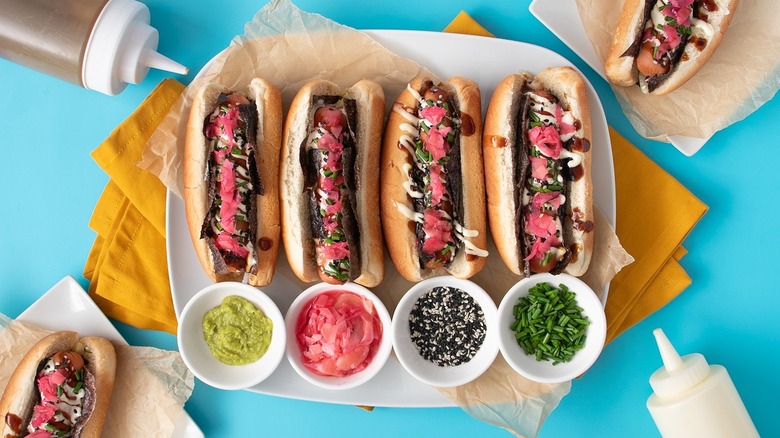 Patterson Watkins/Mashed
Fans of classic hot dogs and Japanese-inspired flavors can unite on this fusion Japanese-style hot dog recipe, courtesy of recipe developer Patterson Watkins. As the name suggests, these wieners veer away from what one might expect to see on a hot dog; instead of tasting ketchup, relish, or Chicago-style fixins' on these dogs, you'll run into ingredients like wasabi-infused onions, Kewpie mayo, and pickled ginger.
Watkins herself is a big fan of a loaded hot dog, and these Japanese-style ones are no exception. "The copious toppings, the bite-snap of a good dog, the inevitable mess...so satisfying," Watkins describes. "For me, the balance of savory, umami, zesty, and sweet is a real palate pleaser." So, what exactly makes these dogs Japanese-style? It's not any single ingredient that does the trick, but rather a culmination of ingredients that come together in a beautifully harmonious way. According to Watkins, "Everything from the wasabi butter onions to the pickled ginger to the duo-drizzle of sauces" plays a factor in influencing the Japanese flavor profile, and as a whole, she notes that this recipe "is an ode to what makes Japanese cuisine so deliciously awesome."
Gather the ingredients for Japanese-style hot dogs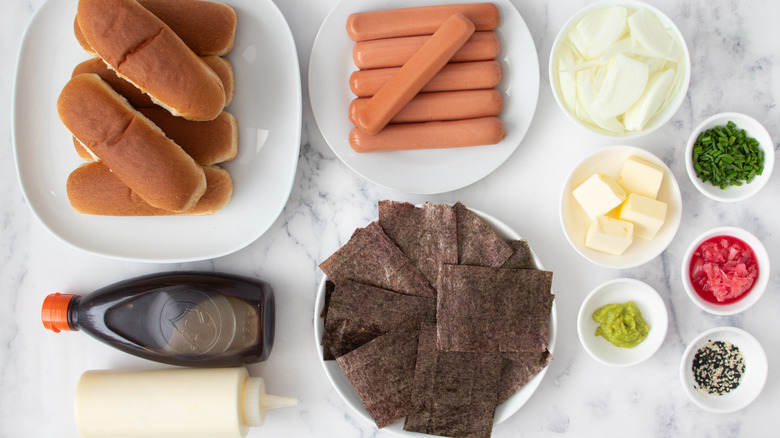 Patterson Watkins/Mashed
To make any old hot dog, you'll need 2 staple ingredients: The hot dogs themselves (Watkins opts for thicker types) and the buns. From there, a hot dog is a blank canvas. To color in this canvas, you'll need butter, a yellow onion, wasabi paste, nori sheets (cut into long, rectangular strips), Kewpie mayonnaise, tonkatsu sauce (okonomiyaki or teriyaki sauce will also work), sesame seeds, chopped chives, and pickled ginger.
There are quite a few standout ingredients here, but Watkins notes that one really stands out above the rest. "Kewpie mayo is a bit of a deep cut in the wide world of mayo," Watkins says. "OG mayo is an emulsion of oil, whole eggs, and acid. Kewpie mayo uses just egg yolks and subs rice vinegar in for the acid, resulting in a rich, velvety texture and this neat sweet-umami flavor." While regular mayonnaise would work in this recipe, it's really worth going for Kewpie. 
Cook the hot dogs and make the wasabi butter onions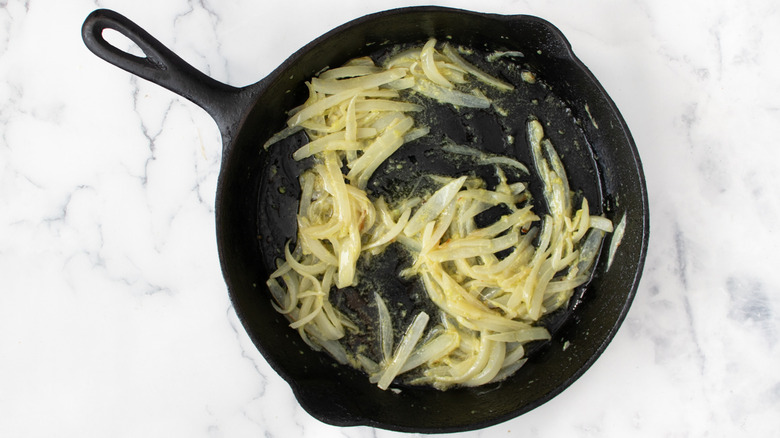 Patterson Watkins/Mashed
Start by cooking the hot dogs however you like to cook them. Some people like to grill them, others like to boil them — heck, you could even microwave them; just make sure that they're nice and hot and ready to go. 
Next, focus on making the wasabi onions. Place a large skillet over medium-high heat and add in the butter. Once that has melted, add in the onions and sauté for about 5 minutes until they're mostly translucent. Finally, add in the wasabi paste, stir it into the onions and butter, and cook for 1 more minute. Remove the onions from the heat and set them aside for the time being.
Load up those buns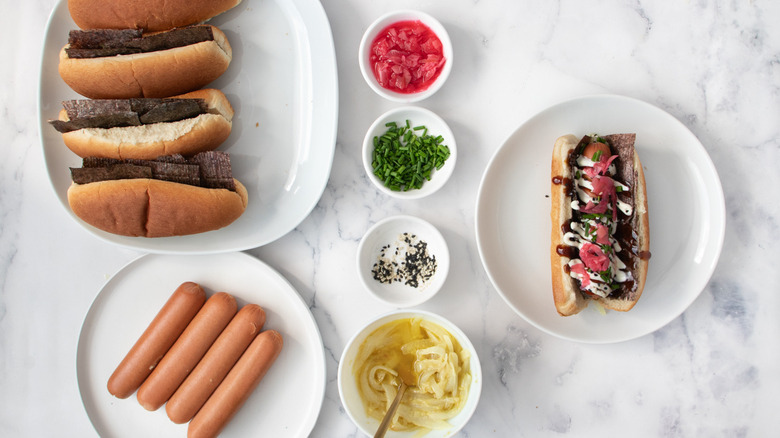 Patterson Watkins/Mashed
Gently open the tops of each hot dog bun and line them with the nori strips. Follow those up with the wasabi onions, making sure to evenly cover the bottom of each bun with the savory, spicy spread. Now you can put a hot dog into the bun, followed by a drizzle of Kewpie and tonkatsu sauce. And now for the garnishes: Sprinkle each hot dog with sesame seeds, chives, and a good amount of pickled ginger. 
Enjoy these Japanese-style hot dogs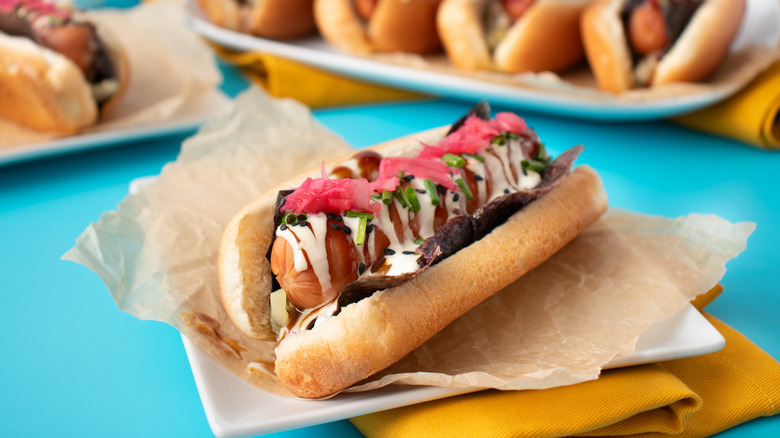 Patterson Watkins/Mashed
It's time to get to chomping, though if you're so inclined, you might want to pair these Japanese-style hot dogs with more Japanese snacks. "If you have the means or opportunity, stock up on some salty/savory Japanese chips or crunchy snacks," Watkins recommends, noting that classic Japanese chip flavors like "hot chili seaweed, shrimp chips, sour plum, and potato butter" will all pair exceptionally well with the hot dogs.
If you don't have the chance to load up on Japanese snacks, don't worry — these hot dogs alone are enough to curb any craving. Enjoy the classic flavor of the hot dog along with the creaminess of the mayo, the sweet and salty flavor of the tonkatsu sauce, the bite of the pickled ginger, and the delicious umami-ness that the entire dish has to offer.
Japanese-Style Hot Dog Recipe
Kewpie mayo, tonkatsu sauce, buttery wasabi onions, and nori are the essentials you need for Japanese-style hot dogs.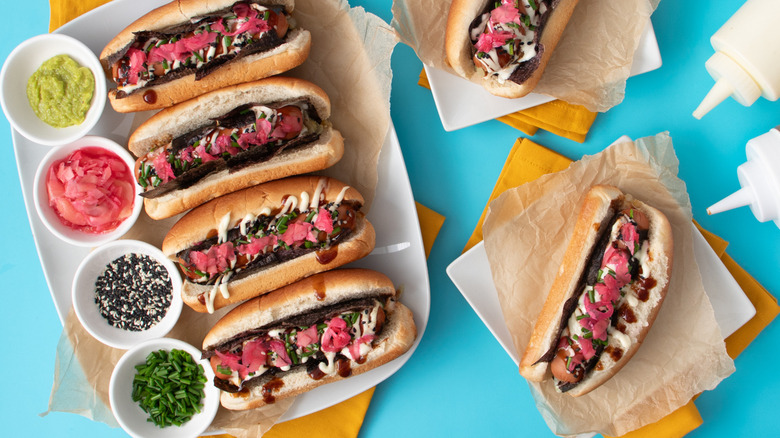 Ingredients
6 hot dog wieners
4 tablespoons butter
1 sliced yellow onion (about 1 ¼ cups)
1 tablespoon wasabi paste
6 hot dog buns
3 nori sheets, cut into rectangular strips (about 18 strips)
⅓ cup Kewpie mayonnaise
⅓ cup tonkatsu, okonomiyaki, or teriyaki sauce
2 teaspoons sesame seeds
2 tablespoons chopped chives
2 tablespoons chopped pickled ginger
Directions
Cook the hot dogs based on your preference (boiled, broiled, or grilled) and keep warm until ready to assemble.
Place the butter in a large skillet over medium-high heat. Once melted, add the onions and sauté until tender and semi-translucent, about 5 minutes.
Add the wasabi paste to the skillet and stir to combine with the onions, continue to sauté for another minute to infuse the onions with flavor. Remove from the heat and set aside.
Line the hot dog buns with 2-3 strips of nori per bun.
Divide the wasabi-butter onions among the buns, spreading out evenly along the bottom.
Add a cooked hot dog to each bun and drizzle with mayonnaise and tonkatsu sauce.
Sprinkle the tops of the hot dogs with sesame seeds, chives, and pickled ginger before serving.
Nutrition
| | |
| --- | --- |
| Calories per Serving | 449 |
| Total Fat | 32.3 g |
| Saturated Fat | 11.6 g |
| Trans Fat | 0.0 g |
| Cholesterol | 47.9 mg |
| | |
| --- | --- |
| Total Carbohydrates | 28.4 g |
| Dietary Fiber | 1.5 g |
| Total Sugars | 6.4 g |
| Sodium | 1,275.9 mg |
| Protein | 11.1 g |