Lana Del Rey Working At Waffle House Is The Opposite Of Summertime Sadness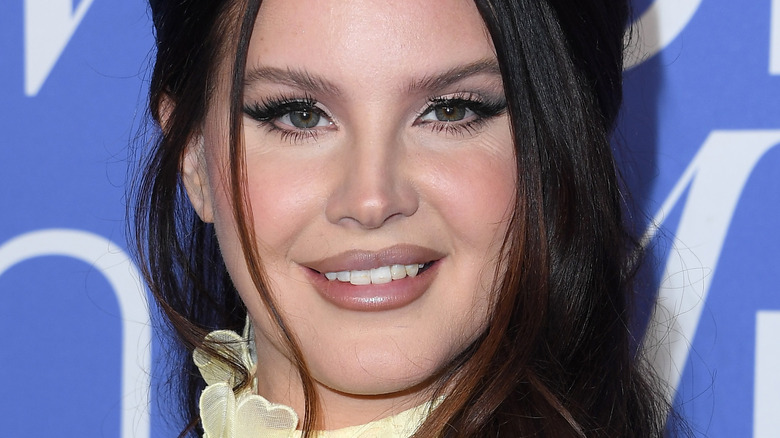 Steve Granitz/Getty Images
Despite being a world-famous, New York-born singer who now spends most of her time at one of her California homes, Lana Del Rey is doing some time as a waitress in an Alabama town. One of her Instagram fan accounts posted a surprising video and photos of the singer in Florence, Alabama, performing the unexpected job of Waffle House server. Fans were thrilled, with one commenting on the video, "She's so real," and another, "She seems to be a humble sweetheart!!!" Others planned road trips to the location in search of her. "Where is [it] I have to go?" wrote one Del Rey devotee.
Del Rey hasn't revealed why she was wearing a uniform and name tag, but one fan who took a photo with her claims they were gifted to her by the employees. After putting it on, she served customers behind the counter and took lots of selfies with fans. She's turned up in several places in Florence over the past week, thrilling fans who have encountered her. One fan posted a photo of the singer after sitting next to her at a nail salon, while another posted a Facebook video after running into Del Rey on the street.
Her new song "Paris, Texas" on her most recent album features the lyrics "I took a train to Spain, just a notebook in my hand. Then I went to see some friends of mine, down in Florence, Alabama," leading some to wonder if she's in town working on a music video.
Waffle House has long been referenced by musicians
While seeing Del Rey waitressing at a restaurant made this the best summer ever for a lot of her fans, there are many who were even happier that she picked Waffle House. "Not just any restaurant...****ing Waffle House?! Legend," wrote one fan on Instagram. Waffle House's combination of comfort food and anything-goes viral videos has made it into a symbol of fast-food Americana. In many ways, Waffle House is a cultural and musical icon. In the video for "Welcome to Atlanta (Coast 2 Coast Remix)," Jermaine Dupri dances in a Waffle House parking lot with Snoop Dogg, Ludacris, and Diddy. And don't forget the not-so-subtle Jonas Brothers track, "Waffle House."
But the connection to the music industry runs even deeper than you might think, with the Waffle House's record label. While you're not going to hear any of its songs on the radio, you can find them on the diner's jukebox. Shelby White, who heads Waffle Records told NPR that the songs are "about our food. It's about our people. It's about the things that happen if you just sit in a Waffle House and listen to the conversations around you." And doesn't that just sound like a Lana Del Rey song?
Del Rey is far from the only musical artist with a love for Waffle House, and her embracing the uniform and graciously serving patrons just makes her fans love her even more.