The Brand Behind Disney And Costco's Iconic Churros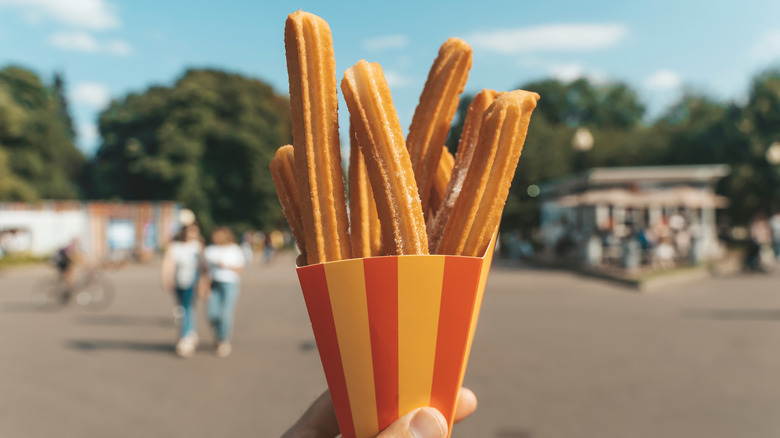 vovidzha/Shutterstock
What do Costco and Disney parks have in common? If you thought of long lines and lots of very excited people waiting to eat snacks, you're not wrong. But, the retailer and chain of amusement parks have yet another common denominator: churros. That's right, the delicious cinnamon sugar treat that you can smell all the way from Fantasyland is now more accessible than ever, thanks to this viral discovery. Theme park influencers and foodies alike are taking to social media to share the news that Tio Pepe's Churros distribute to both Costco and Disney — and with a little luck, you might be able to get your hands on a box of your own.
Die-hard fans of Costco and Disney will argue that Tio Pepe's are the best churros in the US, going to great lengths to score one after a long day of park hopping or bulk shopping. But the prices of these popular churros widely vary depending on where you buy them. If you score a hot and ready churro from inside a Disney park, get ready to pay upwards of $5 for one. At Costco's food courts, you only need $1.49 to enjoy the twisted dessert. According to Instagram user @emma.on.the.ball and other creators, it might be worth asking your local Costco food court to fork over a box of frozen Tio Pepe's to take home. You will save money and time, not to mention all the possibilities for delicious recipes featuring the fan-favorite churro brand.
You don't need a Disney ticket to enjoy these twisted treats
Costco's fan-favorite twisted churros can be found at the big box retailer's food courts across the country, but did you know you can actually buy them in bulk? TikToker @galpractical shared this delicious hack, claiming that Costco will sell you a box of frozen Tio Pepe churros, but there's a catch. 
@galpractical

Moral of the story: Will Costco sell your their churros by the box?! It depends! And I'm honestly not sure of the rhyme or reason to which locations do or don't. 🌟 TIPS: •Call ahead! Not all Costco locations will do it, but it's worth a shot! •You need to provide 24 hours notice! You can NOT order on the spot. As far as cooking then, I suggest you play around with the time. I tried 455 for 12 min and they were a little softer than normal. So, I'd cook them a little longer or on a higher temp. If you want them bite size, the air fryer is the way to go! 350 for 10 min cooked mine up to a great churro consistency! PS: don't have a Costco near you or one that will sell them?! Most Sam's club locations sell their churros by the box too. I called 3 locations and all said they'd do it. A box of 65 for $44. #churros #churro #costco #costcofinds #costcobuys #costcomusthaves #costcoguide #cincodemayo

♬ Can't Take My Eyes Off You – Original Extended Version – Boys Town Gang
According to the creator, not all Costco locations will acquiesce to sharing their cinnamon sugar treats, and those who do need a 24-hour notice. For the best luck, call your local Costco food court beforehand, and grab an iconic $1.50 hot dog on your way back since you saved so much money on churros. According to @galpractical, a box of 60 frozen Tio Pepe's churros from a Costco food court costs $37. For almost half the price of the Costco food court price tag and for one-fifth of the Disney price, you can bring home enough to feed an entire party, or one very hungry, churro-loving family.
To replicate the warm and delicious dessert at home, stick your desired number of churros in the oven at 400 for around 7 minutes or until they reach your desired level of crispiness. Some creators have cut them into smaller pieces and tossed them in the air fryer for an even quicker and crispier treat. Once they're warm, be sure to roll them in cinnamon and sugar to recreate the magically fresh taste of a Disney churro.