8 Store-Bought Hot Dogs That Don't Use Pure Beef & 8 That Do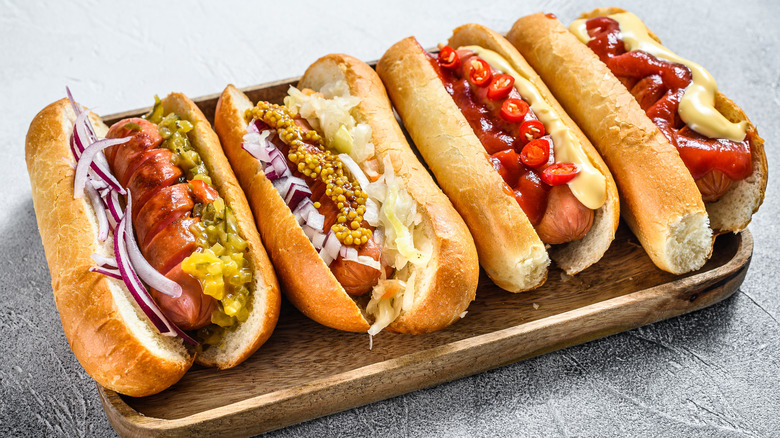 Mironov Vladimir/Shutterstock
Hot dogs are an essential part of summer grilling in the U.S., but how often do you think about what's actually in your hot dogs? While some people would rather not, others have very specific tastes and look for hot dogs with specific meats, blends, seasonings, casings, or organic ingredients. Some brands distinguish between hot dog products with the more traditional names, like frankfurter (or franks), wiener, and sausage. The definitions associated with each of those names have changed and gotten less helpful over time as the process of making hot dogs has developed.
All-beef hot dogs are just one of the many types of hot dogs available, along with chicken, turkey, and pork. If you're a fan of beef hot dogs, you might assume that the pack of dogs you're picking up that's labeled "original" or "classic" might mean that it's 100% beef, but more often than not, you'd be wrong. We looked at 16 different hot dog brands, paying special attention to eight hot dogs that we assumed were made with beef (but actually aren't), and brands that are making partial-beef or non-beef hot dogs (and doing it well). We also looked at eight brands that either specialize in 100% beef hot dogs, or have what we think are special all-beef hot dog offerings. Here's what we found.
Gwaltney
Gwaltney is an instantly recognizable brand, in part due to its longevity. The packaged meat purveyor was established by P.D. Gwaltney in 1870, and still produces the same kinds of hot dogs, bacon, and lunch meats that it did when it was founded over 100 years ago. Interestingly, Gwaltney isn't known for its beef hot dogs. What the company calls its "Original" hot dogs, are actually made from chicken. According to Gwaltney, both its chicken hot dogs and chicken bologna are the number one best sellers in the U.S., which makes sense given the company's size, age, and reach.
Gwaltney also sells a Traditional Meat hot dog, which is produced from both chicken and pork, as well as a Reds Traditional Meat hot dog, which includes chicken, pork, and beef in the mix. While the company makes an Angus beef hot dog, it isn't as widely available or included on the company's website.
Ball Park Brand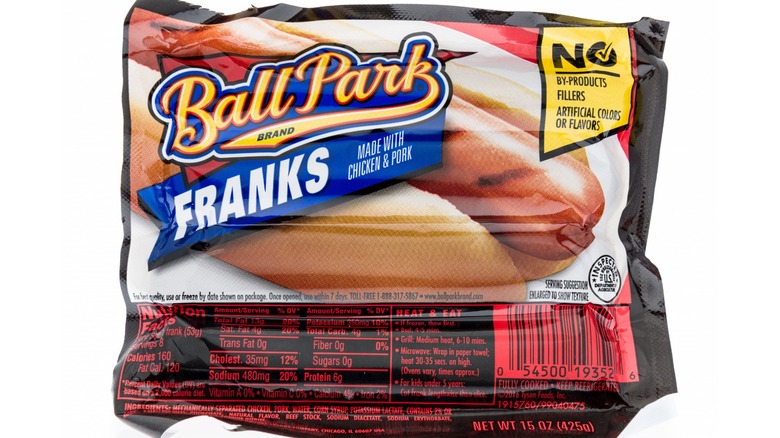 Keith Homan/Shutterstock
Ball Park Brand hot dogs are synonymous with summertime and baseball, either at a little league game down the street or tailgating in front of the stadium. But we were surprised to learn that Ball Park's Classic Franks don't contain beef — at least not in the way we were expecting. The hot dogs are made with chicken and pork, both declared on the front of the package and the first ingredients listed on the nutrition label. Interestingly, the dogs do contain beef stock, which is listed in the ingredients.
The USDA has specific rules that dictate how hot dogs can be named, including clear statements about the meat used to produce hot dogs, what species it originated from, and how it was produced (either mechanically separated or hand-trimmed). With that said, beef stock isn't meat, although it's produced with meat. So, technically, some of the flavor of these particular Ball Park Franks comes from beef. This practice is a little deceptive, and might come as a surprise to anyone who thinks they're eating a beef hot dog — and those who might be intentionally trying to avoid beef products.
Johnsonville
When we think of Johnsonville, the first thing that comes to mind is breakfast sausages, which are often made with pork. So, we weren't entirely surprised to find that many of the sausages and links Johnsonville makes aren't beef-based. In fact, 12 of the 19 fully cooked sausage link options are made with 100% premium pork, while only three were made with 100% beef.
With that said, the variety of pork link options is impressive. The pork-based cheese dog options alone are enough to whet our appetite, including cheddar, "Queso" (which is a combination of Pepper Jack and Monterey Jack), bacon and cheddar, chili cheese, Pepper Jack, and jalapeño cheddar. There are also several pork link options with specialty styles, including classic bratwurst, beer brats, smoked brats, Polish kielbasa, New Orleans andouille, and "Firecracker" sausage links made with additional spices. If you are looking for a beef-based dog, Johnsonville provides beef brats, beef hot links, and beef and cheddar links.
Field Roast
Known for its entirely plant-based "meat" products, Field Roast got its start in Seattle in 1997. The company offers specialty plant-based sausages, burgers, hot dogs, pepperoni, larger-format roasts, and appetizers like nuggets, corn dogs, and buffalo wings. The Signature Stadium Dog is Field Roast's primary hot dog offering, is entirely vegan, and contains no GMOs. 
The primary protein listed in the ingredients is pea protein, which we've also seen pop up in other meat and dairy alternative products. It also contains protein from brown rice and fava beans. The dogs are colored with beet, and seasoned with garlic, paprika, and black pepper. True to its name, this dog is made to impart roasty flavors, which it achieves by using hardwood smoked sugar in the mix before getting "smoked to perfection." While the Signature Stadium Dog doesn't specifically contain nuts, the dog's nutrition information points out that, due to the pea protein, those with peanut allergies could have issues with the product.
Oscar Mayer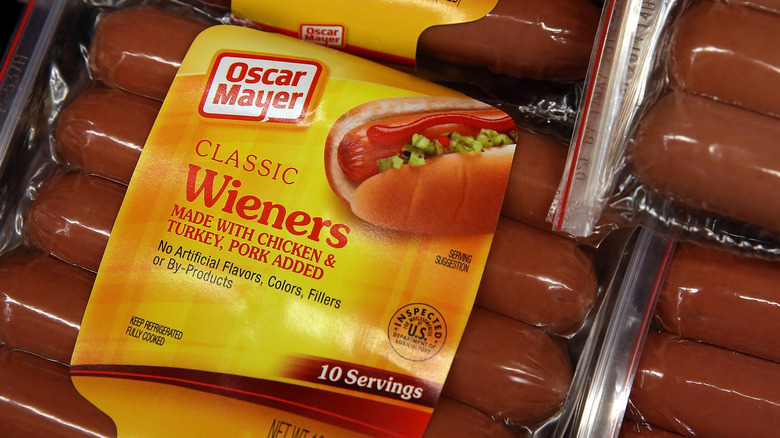 Justin Sullivan/Getty Images
We've discovered the importance of reading the label closely when it comes to hot dogs, especially if you're looking for beef-based hot dogs (or trying to avoid them). Oscar Mayer is perhaps the biggest name in the hot dog game, making a variety of franks, wieners, and smoked sausage, as well as being known for the iconic Wienermobile — which has recently undergone a re-branding, in an effort to promote the company's all-beef franks.
Oscar Mayer sells Original Uncured Wieners which don't contain beef meat, but instead, turkey, chicken, and pork. These wieners also don't include hidden beef-based products, like beef stock. While there are three different types of meat in Oscar Mayer's Original Uncured Wieners, the front label also mentions that the hot dogs don't contain any by-products — a USDA-defined classification meaning that all of the turkey, chicken, and pork ingredients are actual muscle meat, and not by-products, which can include organs like heart, kidney, or liver.
MorningStar Farms
MorningStar Farms isn't trying to be something it's not. The brand eschews references to baseball and drops the vague labeling act, getting straight to the point. Currently, MorningStar Farms offers Veggie Dogs and Veggie Corn Dogs, both suitable for vegetarian and vegan consumption. Instead of the deli case, you'll find these veggie dogs on the freezer aisle.
Nutritionally speaking, there's a lot going on for these veggie dogs, even if you don't follow a vegetarian or vegan diet. We compared the nutrition labels of the MorningStar Farms Veggie Dogs with the Oscar Mayer Original Uncured Wieners, and the differences are clear. The serving sizes are very similar, with the veggie dog coming in at 40 grams and the Oscar Mayer weighing 45 grams. The calorie count for the former is 60 calories, compared with 110 calories for the latter. The veggie dogs have a mere 0.5 grams of fat per dog, while Oscar Mayer has 10 grams each. What we think is especially interesting is that the veggie dogs have 9 grams of protein per dog, while the Oscar Mayer Originals only have 5 grams each.
Bar S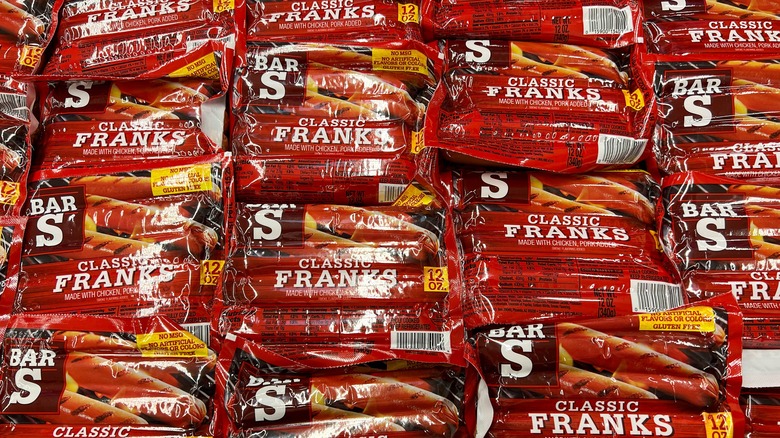 Joni Hanebutt/Shutterstock
At this point, we feel like we've got a good grasp on what we should be looking for when searching for beef hot dogs. So, when we saw the Classic Franks option from Bar S, we knew that we were in for something that wasn't going to be beef. Bar S claims that its Classic Franks have been America's number one selling frank for over a decade — one-upping Gwaltney's number one claim on chicken dogs alone. The Bar S Classic Franks are made with chicken and pork, and are available in regular size, jumbo, bun-length, and "red" (or spicy).
We noticed that Bar S offers hot dogs in four single-meat varieties, as well as the blended Classic. You can purchase beef, turkey, chicken, and pork-specific hot dogs from Bar S, which is a selection that few other brands we looked at were able to offer. Now, it's unlikely that you'll need one of each style, but it's nice to have the option if you'd like to taste the field at some point.
Organic Valley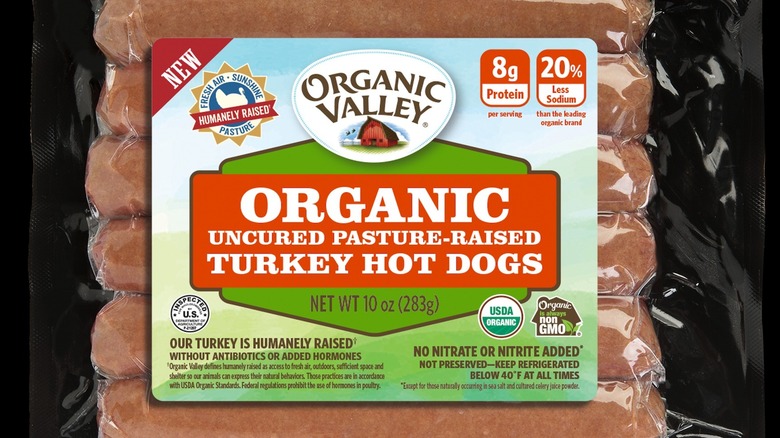 Organic Valley
Organic Valley has an understandably small offering of hot dogs, and is one of the few more widely available organic brands we came across in our search. The brand offers only two types of hot dogs, an Uncured Pasture-Raised Turkey Hot Dog, which we were expecting, and an Uncured 100% Grass-Fed Beef Hot Dog, which we weren't. The ingredients list for each hot dog is refreshingly straightforward, each including water, sea salt, organic spices, organic onion powder, organic garlic powder, and cultured celery juice powder. While, yes, Organic Valley offers an appealing beef hot dog option, we'd also be tempted to reach for the turkey hot dog too, given that it's given the same treatment as the beef dog.
The downside to these organic hot dogs wasn't especially surprising — the price per pack is noticeably higher than many of the other options. While prices will vary widely by location, stock, and demand, we found 6-piece packs of Organic Valley hot dogs in the $10 ballpark (pun intended). In comparison, we found 10-piece packs of Oscar Mayer Original wieners for as low as $2.50 from Walmart.
Nathan's Famous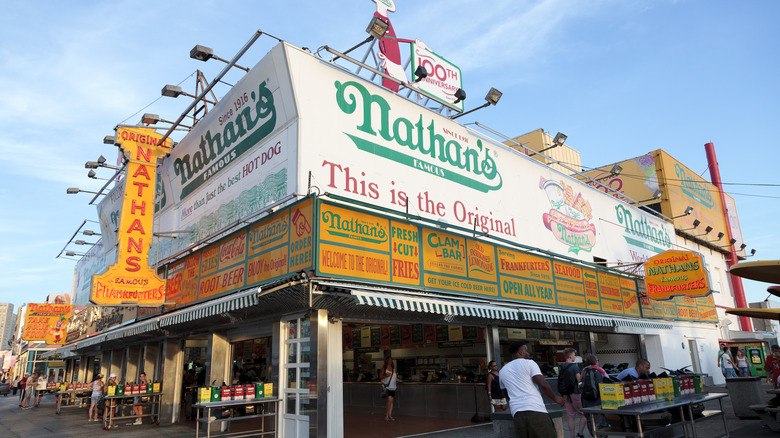 Mizoula/Getty Images
Even if you've never had a Nathan's Famous hot dog, you've most likely heard of the famous international hot dog eating contest that goes down every Fourth of July at the original Nathan's restaurant location on Coney Island in NYC. As the story goes, Nathan Handwerker opened his first hot dog stand on Coney Island in 1916 after immigrating from Poland. He made the dogs with his wife's secret spice recipe, and more than 100 years later, the brand has expanded to include restaurants, franchises, and grocery items.
If you're in the market for a 100% beef hot dog, Nathan's has you covered — since that's the only kind of hot dog it makes. You won't find chicken, pork, or turkey in any of these dogs. And the 100% beef hot dogs are available in nine different styles, including Jumbo Restaurant Style, bun-length, Colossal (with ¼ pound of beef per frank), skinless, bun-length skinless, Angus, uncured, and cheddar cheese beef franks. The only version of Nathan's Famous hot dog that contains an animal product other than beef is the Original Coney Island Natural Casing Beef Frankfurters, which are made the old-school way, with natural sheep casing.
Hebrew National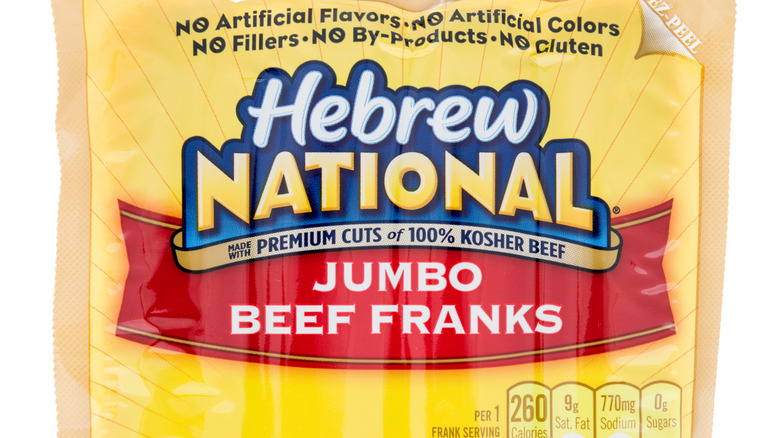 Keith Homan/Shutterstock
Hebrew National franks are all made from 100% beef, don't contain any by-products, and are made from kosher beef. In fact, there are many similarities between the Hebrew National brand and Nathan's Famous hot dogs. Hebrew National was founded about a decade before Nathan's, also in NYC in 1905. But it wasn't a one-man hot dog stand. Hebrew National began as a kosher sausage factory on the Lower East Side in Manhattan, founded by Theodore Krainin, who was also an immigrant (although he was from Russia, not Poland). But the Hebrew National Sausage Company was sold out of bankruptcy in 1928 to Isadore Pinckowitz, whose family owned the company until 1993.
Hebrew National offers eight different all-beef frank styles, including the standard, bun-length, jumbo, reduced fat, 97% fat-free, uncured, quarter-pound franks, and knockwurst. So, if you're looking for a reduced-fat all-beef hot dog, Hebrew National can provide you with options.
Trader Joe's
We were expecting to find plenty of veggie dog options or maybe chicken or turkey-based hot dogs at Trader Joe's, but instead, we found organic grass-fed uncured all-beef hot dogs. They're gluten-free and made without any by-products, even listing out all of the seasonings used in the ingredients. The dogs come six to a pack and cost about $6.99 each, which is a little less than the Organic Valley grass-fed beef option.
All organic spices are used, including minced onion, garlic, coriander, white pepper nutmeg, mace, and ginger. Since they're uncured, that means that the dogs are made without artificial nitrates, instead using celery powder for a similar curing effect, and the celery powder isn't listed as organic — which it doesn't legally have to be to maintain the product's organic status. While some argue that celery powder is a healthier alternative, others claim that it doesn't really make much of a difference, given how processed the celery is to be effective.
365 by Whole Foods Market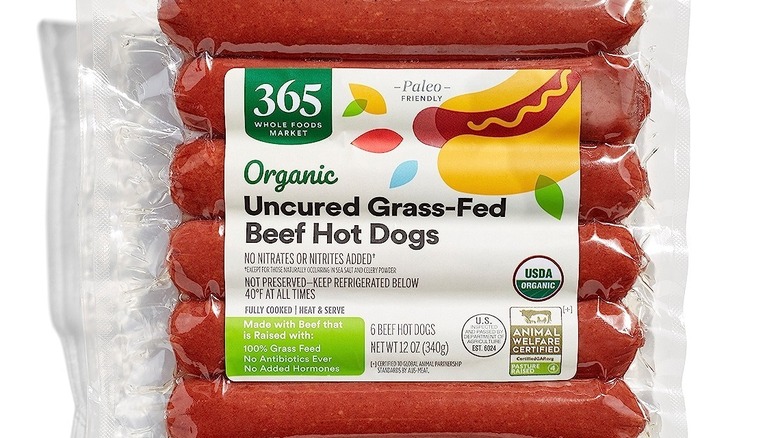 Whole Foods Market
Like Trader Joe's, we expected to find more variety and alternative meat hot dog choices in the Whole Foods Market store brand selection. But 365 by Whole Foods currently only offers organic uncured grass-fed beef hot dogs. The dogs themselves appear to be similar in almost every way to the Trader Joe's store brand, down to the ingredients and the order they're listed in on the label, with one exception. The 365 by Whole Foods Market hot dogs include organic paprika at the end of the ingredients list, whereas the Trader Joe's dogs do not. The six-pack of hot dogs from Whole Foods is also a little more expensive than the competition, priced at $7.49 in our store location. The Whole Foods brand is labeled as dairy-free, paleo-friendly, sugar-conscious, and keto-friendly.
Where Whole Foods has the advantage is not with its own store brand but with the wider selection of other brands it carries, which Trader Joe's does not. Depending on your location, you may find vegan brands available, like Upton's Naturals and LightLife, and other organic meat-based brands, like Applegate and Fork in the Road.
Boar's Head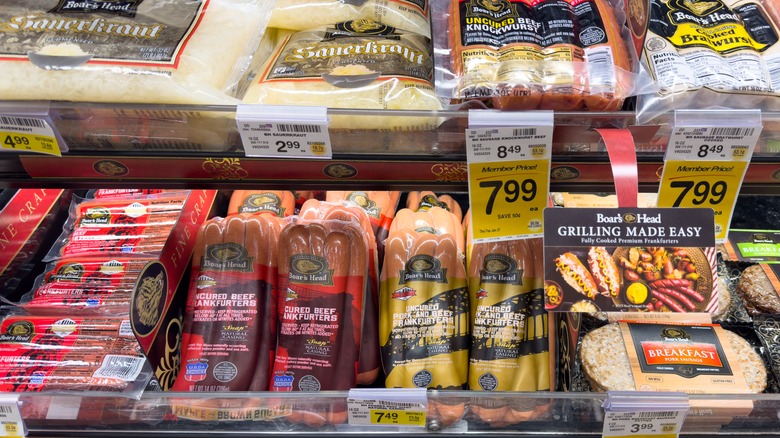 The Image Party/Shutterstock
Boar's Head deli products are available in just about any grocery store you walk into these days, whether it's in the sliced-to-order deli case, the cheese aisle, or the packaged meats selection. The company also makes condiments, so your sandwiches and hot dogs never have to be consumed under-dressed. Like Hebrew National, Boar's Head was established in NYC in 1905, although it wasn't originally a sausage factory. Boar's Head began as a deli meat maker and distributor, which it remains to this day. The founder, Frank Brunckhorst, even delivered his provisions in a horse-drawn carriage to customers in the early days of the company.
Even though the line of Boar's head products is impressively large, the franks selection is entirely beef-based, with three 100% beef options available. Uncured beef frankfurters are sold with and without natural casing, which is a sheep-derived product. The all-beef franks are also available in miniature cocktail-size, which few of the other brands we looked at offered. Franks made with a combination of pork and beef are also available, as well as a larger variety of sausages.
Sabrett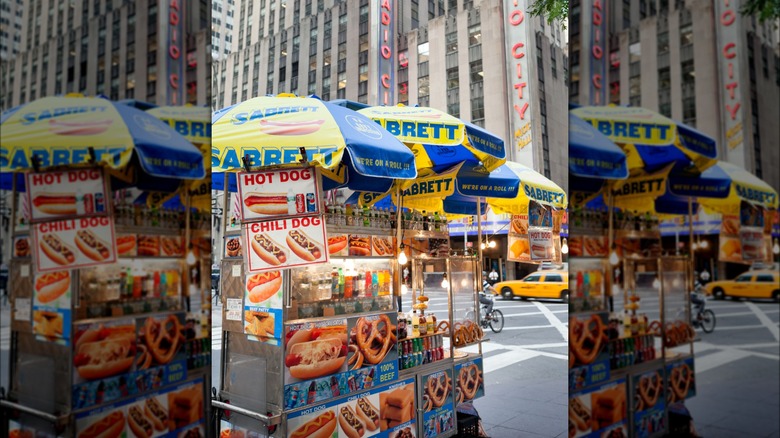 Shutterworx/Getty Images
At this point, you might be starting to wonder if all of the major all-beef hot dog brands originated in New York City in the early 1900s — and while there are certainly plenty that didn't, many of them clearly did. Joining the list is Sabrett, a company that might be lesser-known outside of the New York area, but is instantly recognizable by the iconic blue and yellow umbrellas that shade hot dog pushcarts all over NYC. It's the essential "dirty water dog," which is really a term of endearment (even if it doesn't sound like one). Sabrett's frankfurters are also packaged and sold in grocery stores, along with hamburgers, condiments, and appetizers. 
In business since 1926, this lesser-known brand sells predominantly beef frankfurters. Sabrett hot dogs are available in most of the usual formats that we've seen other companies carry, including natural (sheep) casing, skinless, hot and spicy, and all-natural skinless uncured. Sabrett also makes four styles of cocktail franks wrapped in puff pastry.
Hillshire Farms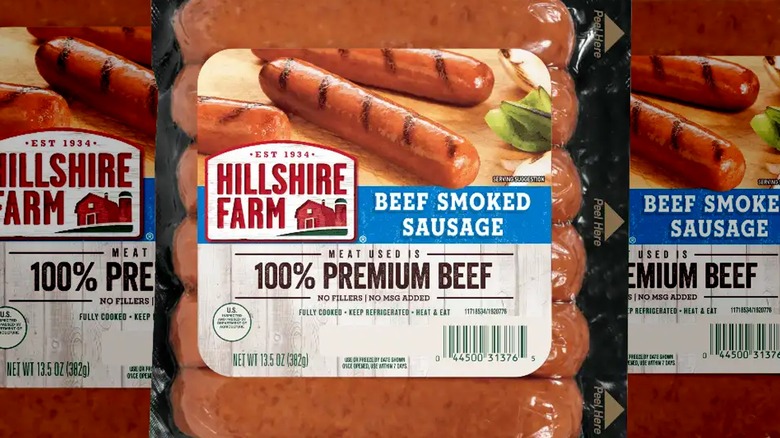 Hillshire Farms
Hillshire Farm is well-known for its packaged lunch meats during the school year and its "Lit'l Smokies" cocktail links during the holidays. But, as you may have already assumed, the company also makes hot dogs, which it categorizes as "sausage links." There are six options in the Hillshire Farms sausage links line-up, including two 100% premium beef links, in both hot and smoked (the other four options are made with 100% premium pork). 
What we like about the Hillshire Farms dogs is just how beefy the smoked links actually are. On top of being made with 100% beef meat, there's also dried beef broth in the sausage link mix to really boost the meaty flavor. The casing is made of beef collagen, which is an appropriate alternative to the natural sheep casing many other brands use. The hot links don't have the additional dried beef broth, but are still made with beef collagen casings, and seasoned with black pepper, white pepper, red pepper, coriander, and cumin.
Applegate
We were delighted to see that Applegate has a slightly wider selection of flavors to choose from, compared to other organic brands, including seven hot dogs and one corn dog. Four of the hot dogs (and the corn dog) in the lineup are all beef. All of the options are uncured and made with 100% grass-fed pasture-raised beef. Both organic options are the same dog, just in two different sizes. The "natural" dogs have mostly the same ingredient spread as the organic dogs, without the use of organic ingredients — although none of the ingredients are artificial.
But the most exciting hot dog in the Applegate collection is The Do Good Dog Uncured Beef Hot Dog (okay, that's a mouthful). It's also made with 100% grass-fed beef and the same ingredients and seasoning as the other dogs. According to Applegate, what sets this beef apart is that it comes from cattle "raised on verified regenerative U.S. grasslands," and involves herd grazing practices that help keep the overall impact on the environment and climate change to a minimum.