Mozzarella Sticks From Sam's Club Are Being Recalled Over Allergy Concerns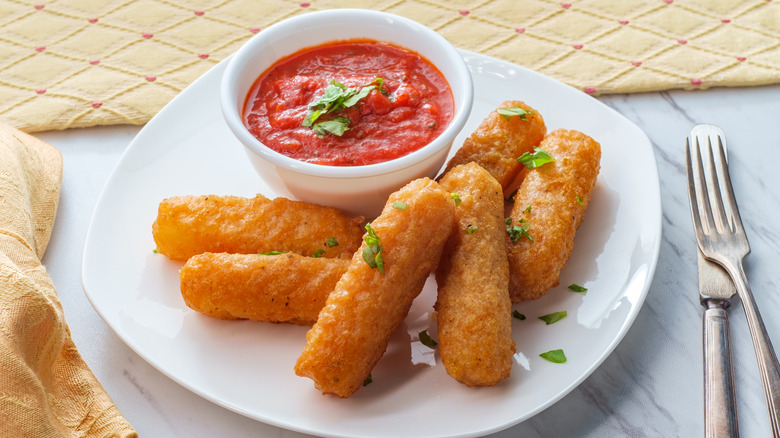 Ezume Images/Shutterstock
Appetizer lovers, check your freezers. If you're a fan of ooey, gooey fried cheese and are a Sam's Club shopper, you may have purchased frozen mozzarella sticks that have been affected by a recent recall. Per an announcement from the U.S. Food & Drug Administration (FDA), Rich Products is recalling its Member's Mark Breaded Mozzarella Sticks and they are being pulled from freezer shelves. Affected packages of the mozzarella sticks were sold at Sam's Club locations in Ohio, Pennsylvania, Kentucky, Virginia, and West Virginia.
The FDA reports that 15 packaged boxes of distributed Member's Mark Breaded Mozzarella Sticks may have been contaminated with egg and soy due to a mistake made when the mozzarella sticks were produced. Neither egg nor soy are listed as ingredients on the boxes.
The boxes of recalled mozzarella sticks were sold in 5-pound boxes marked with a best-by date listed as 12/28/2024 and the UPC number 078742226880. The packages are black with a photo of mozzarella sticks and dipping sauce on the front and a red panel on the back that contains cooking instructions.
Don't eat these cheesy snacks
Egg and soy allergies are nothing to joke about. According to the Mayo Clinic, egg allergies are especially common in children. Symptoms can include hives, gastrointestinal problems, coughing and shortness of breath, or issues with the nasal system, among others. While it is unclear if the egg content affected the breading specifically in the Member's Mark Breaded Mozzarella Sticks, the Mayo Clinic lists breaded foods as items that you might not think of as containing eggs.
When it comes to soy allergies, UCSF Health says they are also most commonly seen in children. Symptoms of exposure can be, but are not limited to, swelling of the face and mouth, difficulty breathing, and dizziness. Both egg and soy allergies can also result in anaphylaxis. If you or a loved one experience this latter condition, seek immediate emergency healthcare assistance.
Fortunately, at the time of the FDA statement's release, no one has gotten sick from eating Member's Mark Breaded Mozzarella Sticks. If you do have these mozzarella sticks in your freezer, you are encouraged to throw them away or return them to the Sam's Club where you purchased them for a refund.