The McDonald's Ice Cream Cone TikTok Hack Is A Mom-Approved Mess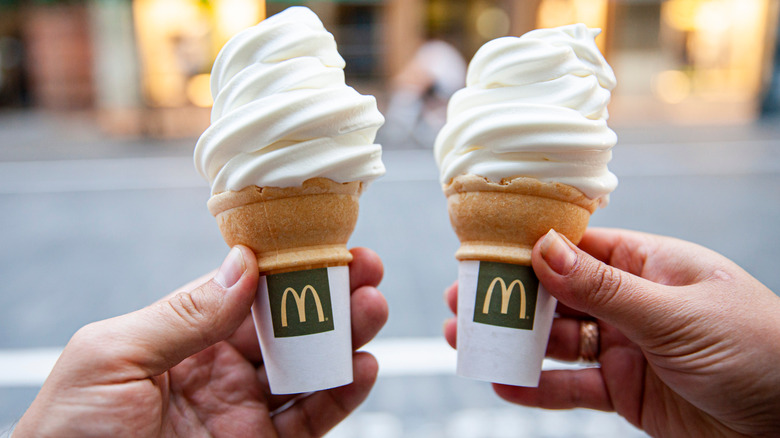 Karolis Kavolelis/Shutterstock
Sometimes, the best things in life are a little bit messy. The latest TikTok fast-food trend supports that theory. TikTok users @janelleandkate are known for entertaining their 3.7 million followers with crafty recipes designed to feed huge groups all at once. From coolers full of fruit salad to a S'mores Pop Tart casserole, Janelle and Kate know how to please a hungry crowd. Their latest viral TikTok recipe is as easy as it is innovative, and from the looks of it, it may be as fun to prepare as it is to eat. The only tricky part of making this recipe is finding a McDonald's location where their notoriously out-of-order ice cream machine is actually open for business.
The video, which garnered over 940,000 views in one day, is captioned "Moms share McDonald's secret!" and shows the innovative culinary content creators smooshing various McDonald's goodies into a Tupperware container and mixing it all up in the car. That's right. This recipe involves no cooking and doesn't even require a kitchen counter. Just pull your car out of the drive-thru, and get ready to whip up the most ingenious thing people have ever done with McDonald's ice cream cones. 
The ultimate McDonald's sundae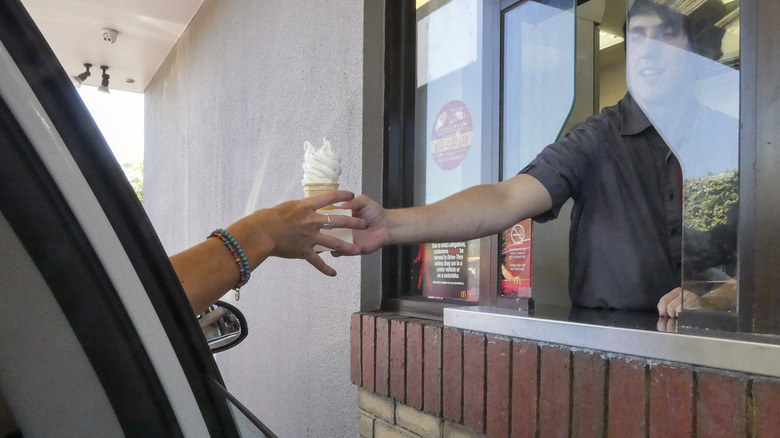 Jax10289/Getty Images
This McDonald's ice cream hack turns its cones into one giant sundae, and you kind of have to see it to believe it. In the viral video,  Janelle and Kate start by turning six McDonald's ice cream cones upside down in a large Tupperware container. Then, they use the plastic spoons that came with the order to smash them. Once the cones are broken up into tiny pieces throughout the ice cream, they lay some McDonald's chocolate chip cookies on top and crush them into the ice cream. They then add some chocolate sauce that they ordered separately and top it off with some sprinkles that they packed. You can go ahead and dig into the mixture with your spoon, but Janelle and Kate opt to dip some McDonald's fries, saying, "It's the sweet and salty mixture!" These two are basically the culinary voices of our generation. 
There are a few innovative things about this dish. First, smashing up ice cream cones to make an ice cream sundae with some crunch is brilliant. It's also interesting to have a big ice cream sundae that acts like a dip that everyone can share. You can experiment with what you might dip in and which toppings to include. Still, whatever you add to your sundae, it'll revamp the way you do the McDonald's drive-thru.