The Name Brands Behind Costco's Most Popular Wines
Trong Nguyen/Shutterstock
Whether you're shopping for wine at Costco because you love the Kirkland Signature brand, or you're a sucker for a good deal on a bulk selection, it might be time to branch out from the Kirkland label and try some other distinguished, award-winning wines at a Costco price. That's not to say all wines at Costco are sold at a greater discount, but the consensus is it's generally better bang for your buck. With so many wines to choose from, narrowing down your selection may be more difficult than it seems. Sure, we all shop according to price point, but what about the label behind the wine, or the company that represents the product?
The wine selection at Costco may be ever-changing and could depend on your location, but there's bound to be a handful on our list below that are available at a warehouse near you. Before you go splurging on your next bottle, check out our list of name brands behind Costco's most popular wines so you can shop with confidence while trying something new.
Chateau d'Esclans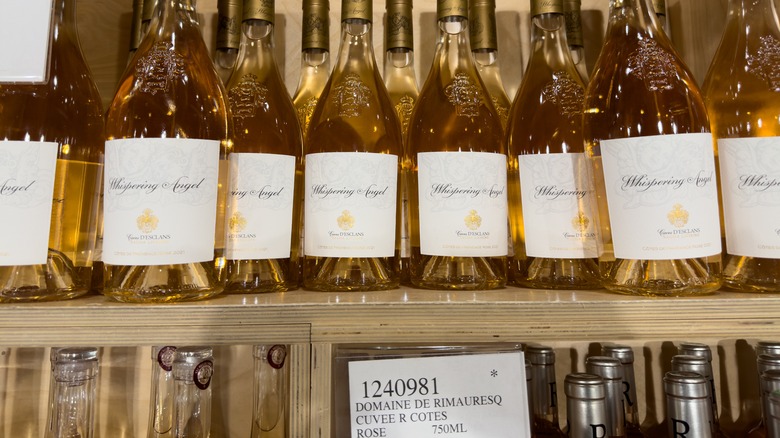 The Image Party/Shutterstock
One of the most popular wines at Costco, especially in the summer months, is Chateau d'Esclans Whispering Angel Rosé. With a decent price point hovering just under $20, this rosé is a Costco Wine Blog reader favorite and is a refreshing example of what a perfectly balanced rosé should taste like. It's pale in color, and not too sweet, or too dry. It has notes of red fruits like strawberries and cherries, and hints of citrus, with a touch of rose. This delicate and pure rosé is made with popular Rhone red and white wine varietals such as Syrah, Grenache, Vermentino, and Cinsault.
Chateau d'Esclans is located in Provence, a historical city in southeast France just north of St. Tropez. The winery specializes in rosé varietals and employs a meticulous process when harvesting grapes. Working in the morning hours or late evenings to avoid the heat of the day, winemakers hand-pick and visually select the most perfect grapes to use for their line of rosés, and any that show imperfections are discarded. The process of pressing the grapes is highly detailed and involves a delicate balance of temperature control gauges to ensure the grapes are not oxidized. The wine is then aged in stainless steel or in barrels.
Chateau d'Esclans is open for private tours and wine tastings, where visitors will be educated on the estate's winemaking practices and may take in the breathtaking views of the estate and surrounding vineyards.
Caymus Vineyards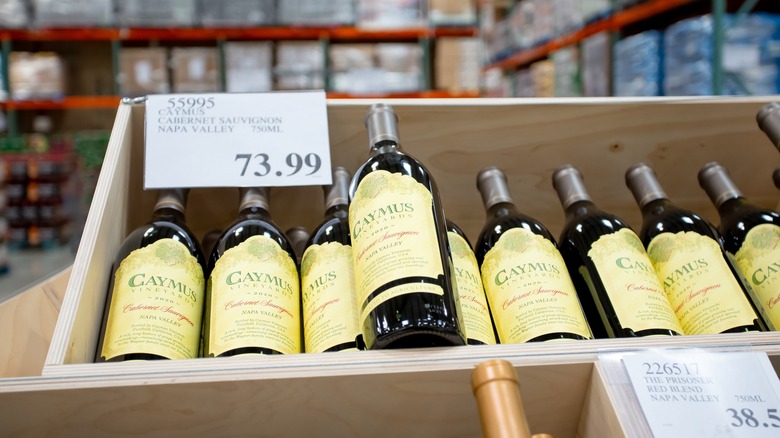 The Image Party/Shutterstock
When you think of Costco, you may not conjure up thoughts of high-end, luxurious red wine, but we're here to tell you to think again. Available at Costco for around $75 per bottle, Caymus Cabernet Sauvignon is a full-bodied, fruit-forward cab bursting with tannins, structure, and depth. It pairs perfectly with a steak or lamb, and is one of the more premium wine offerings available at Costco.
The winery is located in the Rutherford region of Napa Valley, where the family of Caymus winemakers has roots extending back to the mid-1800s. The family tree has a long history of farmers, and it was only natural the family took advantage of the valleys and mountains surrounding their home in Rutherford to make their award-winning cabernet sauvignon. The winery is still 100% family owned and operated, with a new generation at its helm. The winery is open for tours and visitors by appointment, and reservations can be made daily during operating hours.
DAOU Vineyards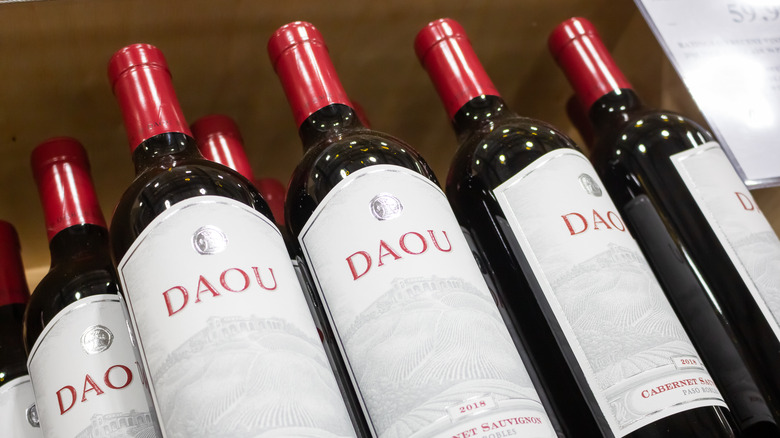 The Image Party/Shutterstock
While not priced quite as low as some other retailers, at $23 per bottle, Daou Vineyards cabernet sauvignon is still a deal at Costco, especially considering it is listed at $30 on the Daou website. This cab comes from grapes grown in Paso Robles in California's central coast and offers a delicious way to branch out regionally from more prominent Napa Valley-based cabernets. Vintages sold at Costco range from 2018 to the more recently released 2022 bottle, and each vintage is known for its rich, full-bodied palate, with hints of dark cherry, leather, espresso, and vanilla.
Exactly as the name implies, Daou Family Estates is founded by brothers Georges and Daniel Daou, and remains a family-owned and operated winery. A visit to the Daou estates winery and tasting room is an experience, to say the least. There are guided tours of the vineyard on an off-road vehicle offered Monday through Thursday, as well as weekend tastings paired alongside culinary creations prepared by an in-house executive chef. A visit to Daou must be reserved in advance, and reservations can be made on the website or by contacting the vineyard directly. A wine club membership is also available for Daou lovers, but many of the wines are available at retailers like Costco.
Mumm Napa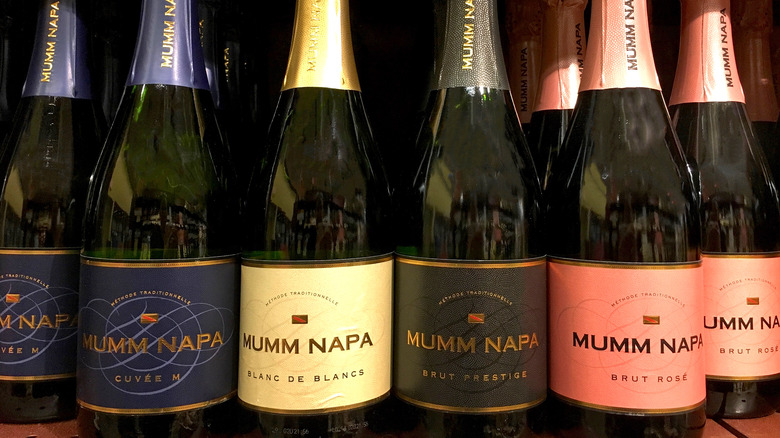 Sheila Fitzgerald/Shutterstock
Ranked as one of the best champagne's on Costco shelves in 2023, this bubbly find is a deal at Costco, with some locations selling it for as little as $14. Mumm Napa's signature sparkling blanc de blancs blend is a top choice for consumers and is made with 90% chardonnay and 10% pinot gris. Other varietals of Mumm Napa available at Costco include the Brut Prestige and the Brut Rosé.
Mumm Napa may be made in California, but the brand has roots across the pond in France. Originally founded in 1827 by three brothers under the label G.H. Mumm, it was taken to the next level by one of their sons who helped put Mumm on the map in California. Incorporating French techniques into winemaking, the Mumm winery in Napa released its first vintage in 1983.
The winery is located on a breathtaking vineyard in Napa Valley with views overlooking the Mayacamas Mountains. Reservations are available for tours and tastings, and there is a spacious patio where visitors can sip, relax, and soak in the luxury of affordable sparkling wine.
Kim Crawford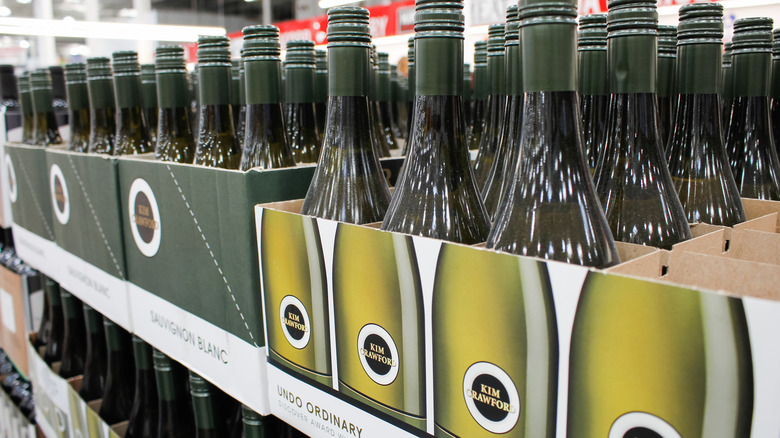 The Image Party/Shutterstock
When you think of Kim Crawford wines, most people's minds go straight to her award-winning sauvignon blanc from New Zealand, but when perusing the aisles of Costco, you'll see there is much more to Kim Crawford's selection and that Costco is the place to try the label's many varietals.
Take the Kim Crawford pinot noir, for example, which is reportedly less expensive at Costco than other wine retailers. There are also rosé and prosecco available, but the sauvignon blanc three-pack available for bulk purchase at Costco really takes the cake.
It's not just the price tag that has earned this winery global success, it's more about the style, culture, and values among the winemakers behind Kim Crawford, and the innovative approach to making world-renowned wines. The winery sources grapes from over 1,000 miles of land across New Zealand, lending them unique temperatures, soil compositions, and weather conditions to create a unique flavor.
Joseph Phelps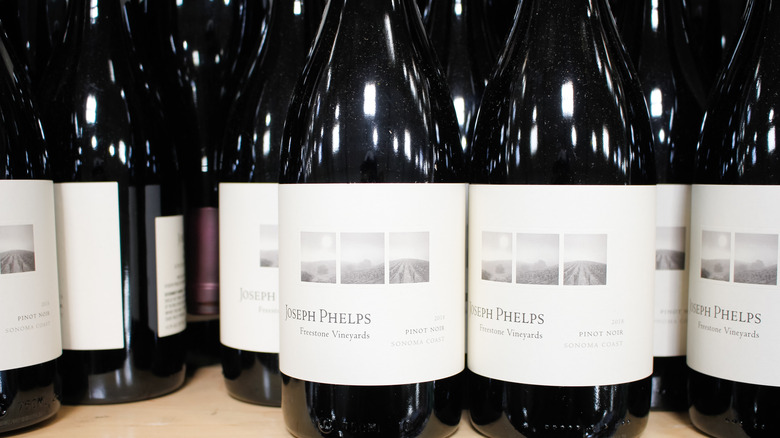 The Image Party/Shutterstock
The Joseph Phelps label has made a name for itself in Napa Valley as a premium producer of high-quality wines, namely the Joseph Phelps Insignia, which retails at approximately $200. It may have been a surprise to some reviewers and consumers when the label started popping up on the shelves at Costco, but it's a welcome surprise for anyone who loves premium pinot noir at a fraction of the competitor's prices.
Available at select Costco stores, the 2017 Joseph Phelps Freestone Pinot Noir from the Sonoma Coast is an outstanding bottle of wine for just under $35, which is a discounted price when compared to other retailers, where the same bottle may be purchased for up to $60. It's a smooth, subtle, and silky pinot noir with hints of cherry, blueberry, and dark chocolate. It's bold enough to be paired with food but also light enough that it may be enjoyed solo.
The Joseph Phelps label is as iconic in Napa Valley as the founder Joe Phelps is himself. Since its inception in 1974, the Joseph Phelps winery continues its foundation of family ownership with the third generation leading the way.
Duckhorn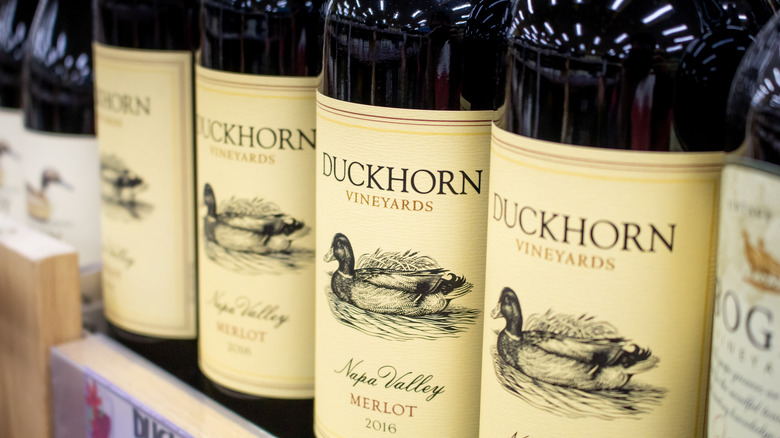 The Image Party/Shutterstock
Whether you're looking for a premium bottle of wine at a higher price point, or a high-quality wine for a good value, look no further than the Duckhorn label. Although not all Duckhorn wines are available at Costco, the Decoy Sauvignon Blanc is for sale at a bargain price of $14.99 per bottle; whereas the 2022 Decoy Sauvignon Blanc retails for over $30 on the Duckhorn website. Aged in a combination of steel and French oak barrels, this sauvignon blanc stands out from the crowd with its crisp and refreshing flavors of citrus and tropical fruits. While there are many sauvignon blancs to choose from at Costco, Duckhorn is known for this varietal and has an outstanding reputation for producing some of the highest-quality wines in Napa Valley.
With a longstanding history that dates back to 1976, Duckhorn was one of the pioneers of winemaking in Napa. Co-founded by Dan and Margaret Duckhorn, the winery was first focused on making Bordeaux-varietal blends until it branched out into white wines in the early 1980s. Since then, the Duckhorn label has grown to include nearly 200 lots of grapes used to make the brand's iconic wines. The company also expanded operations with the purchase of Duckhorn Vineyards Estate House, which offers a unique tasting room experience on the edge of the famed Marlee's Vineyard in St. Helena.
Michael David Winery
If you've been shopping for wines at Costco, there's no doubt you've noticed the design of Michael David Winery labels, such as the distinctive Freakshow Cabernet Sauvignon from Lodi, California. The artistic label features a circus-like arena with a carnival tent in the backdrop, a couple of ringmasters, some floating balloons, and the "strongest man on earth" in the forefront. If it sounds busy, that's because it is, but it's also eye-catching and the artistry seems to be working in the label's favor, as Freakshow Cabernet Sauvignon has reached new heights in the wine sales world, quickly becoming one of the label's bestsellers. With an average price of $20, this wine is a bargain at Costco, ringing in at around $16 per bottle depending on the location.
A visit to the Michael David Winery website brings the Freakshow label to life, with a colorful animation that welcomes visitors to the page. The family behind the Michael David label has been in Lodi since the late 1800s, and they've garnered a reputation for producing elegant, high-quality wines with a playful twist. They are also sixth generation farmers with a passion for sustainable agriculture and environmentally-friendly farming.
Justin Winery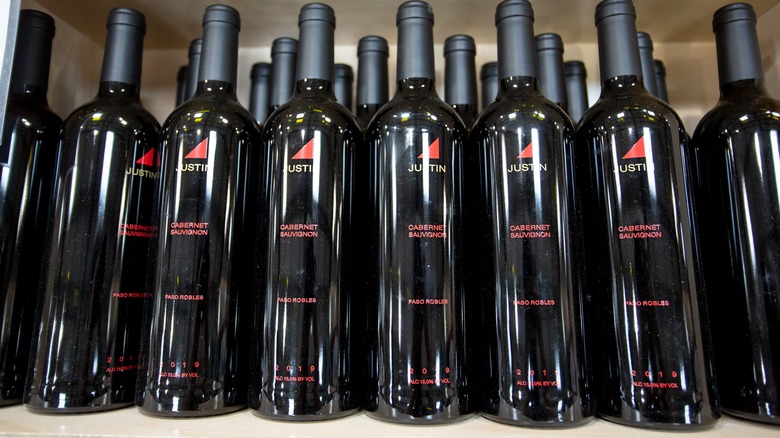 The Image Party/Shutterstock
If you're in search of a $20 bottle of wine that tastes more like a $40 bottle to impress your guests, run to your nearest Costco and grab a bottle of the Justin Winery Cabernet Sauvignon. This world-class wine comes highly recommended by the Costco Wine Blog thanks to its full-bodied, dark fruit flavors, intense depth, and smooth finish.
The Justin Winery brand is more than just an award-winning destination for wine tasting. It's also home to a Michelin-star restaurant and a world-renowned boutique hotel on California's central coast in Paso Robles. For wine lovers looking to wine, dine, and sleep it off, a stay at the Just Inn comes with a free bottle of Bordeaux-style Justin wine. The exclusive restaurant is only open for two hours, four nights a week, and reservations are required. It also features an on-site garden where Executive Chef Rachel Haggstrom sources ingredients for her fine dining menu. The estate also serves as a one-stop shop for weddings and special events.
The Prisoner Wine Company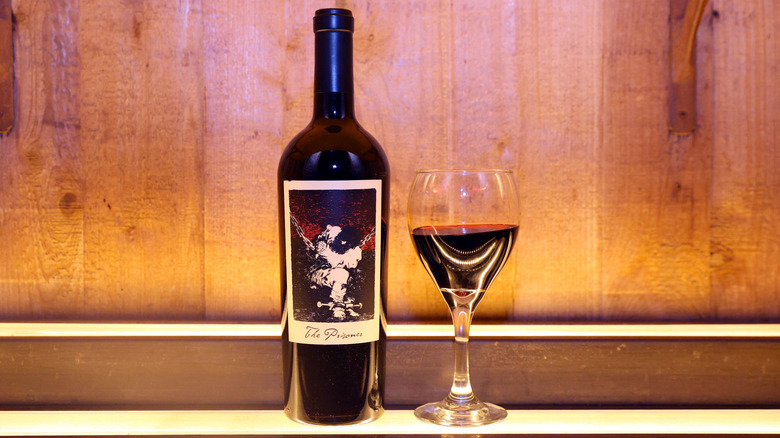 Shareif Ziyadat/Getty Images
The Prisoner is a wine that may not need an introduction thanks to its cult-like following, but the backstory behind the brand is one worth sharing. The Prisoner was first introduced on the market by Orin Swift's winemaker, Dave Phinney, who catapulted the label into stardom with its unique artistry paired with an unparalleled, robust red blend.
In 2016, the brand was sold to Constellation Brands for a whopping $300 million, and shortly after, made its way to the warehouse shelves of Costco around the country. Prior to the sale, there were only a few hundred bottles of The Prisoner produced each year. Since then, there are hundreds of thousands of bottles produced every year, and the cheapest place to buy The Prisoner happens to be Costco. What normally retails for around $50 per bottle is available for about $35 at the membership-based warehouse.
What makes The Prisoner unique as both a wine and a brand is not just its label but the backstory behind it. The label, which features a prisoner held down by shackles, is a profound statement about the company's commitment to fight back against the injustices and oppressions of society. The company also gives back a percentage of sales to The Equal Justice Initiative, a nonprofit dedicated to ending prison injustices and mass incarceration. It's a bold and heavy claim, and a bold and heavy bottle of wine that is a must-try for Costco members.
Charles Krug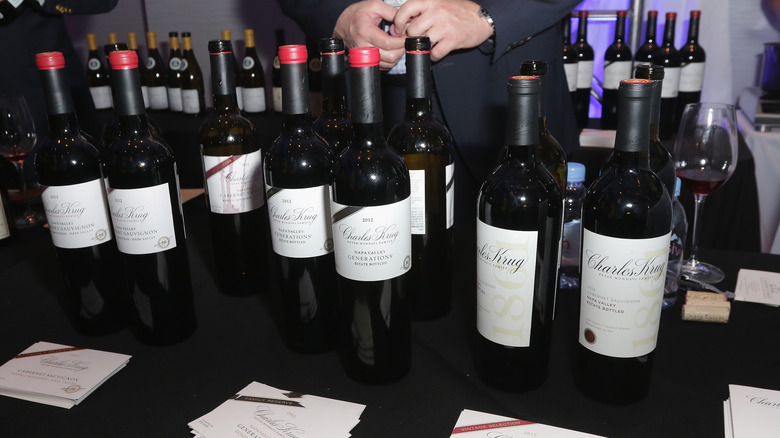 John Parra/Getty Images
Among the cabernet sauvignon offerings at Costco is the Charles Krug cab, which costs under $30 and is more of a bargain at Costco than it is at other retailers, though only by a hair. That being said, it's still a bottle worth trying out and pairing with your next steak dinner thanks to its aromas of ruby red fruit and oak, with smooth tannins and a bright finish.
As the Godfather of winemaking in Napa Valley, Charles Krug winery is the oldest winery in the history of Napa. The winery was owned and operated by the Charles Krug family from the late 1800s until it was sold to Robert Mondavi in 1943. The Mondavis battled over the land for years but continued to hold true to the Charles Krug name, producing award-winning wines under the label that put Napa Valley wines on the worldwide viticulture map.
The tasting room at Charles Krug estates was the first of its kind, and it was opened to the public in 1882. While the tasting room still exists today, it has had many facelifts over the years, and now serves as a center for hospitality, which includes wine tastings, cellar tours, food and wine pairings, and private events.
Precision Wine Company
If you're ever perusing the wine section at Costco, and you happen to come across a major discount on Precision Wine Company's Headline Pinot Noir, do yourself a favor and grab as many bottles as you can fit into your oversized cart. This wine typically retails for over $20 per bottle, but once in a while, Costco will heavily discount it down to $12, in which case it is your lucky day, especially if you love Sonoma Coast pinot noir.
Aside from the fact that this pinot noir is delicate yet bold, and smooth yet complex, with notes of blackberry, cherry, plum, and oak, Headline Pinot Noir belongs to the parent company Precision Wine, which houses many highly-acclaimed brands and labels. With such a diverse portfolio of winemaking, it's hard to go wrong with a brand like Precision. It sources from the highest quality vineyards and utilizes the most proficient winemaking processes, making this Costco brand one worth trying.
Gustave Lorentz
With a bright gold label that evokes a medieval renaissance style of wine, the Gustave Lorentz Riesling is as crisp, distinguished, and vibrant as the design suggests. It's also a few bucks cheaper at Costco than most other retailers, clocking in at $15 per bottle, compared to the average $20 price at outlets like Total Wine. Apart from its illustrious visual appeal, this unique Costco find is a breath of fresh air in the white wine section.
The Gustave Lorentz brand was born in 1748, when Jean-Georges Lorentz settled in Bergheim, France, and reinvented himself from a blacksmith to a winemaker. Seven generations later, the Lorentz family continues the legacy in Bergheim, where the family name is synonymous with wine growing in the region. With a commitment to sustainable viticulture, Gustave Lorentz wines, including the riesling, are certified organic, using the most environmentally-sound practices in winemaking today. The company also exports Gustave Lorentz wine to over 60 countries, and Costco is one of the lucky warehouse distributors to represent the French label in the United States.
Kirkland Signature Brunello di Montalcino
A list of name brands behind Costco's most popular wines would not be complete without a look at the winemakers behind some of the megastore's most popular Kirkland Signature labels. Winemakers for Costco's line of wines vary widely depending on the grape, region, and vintage, but in general, the company is known for sourcing high-quality producers and products.
One of the most popular Kirkland Signature wines is their Brunello di Montalcino, known for its spice, red fruit, medium-body, and smooth, oaky finish, as well as its $20 price point, which is reasonable by any standards for a typical bottle of Brunello. This Kirkland Signature red Italian wine is crafted by Gianni Maccari, who is also known as the king of Brunello. As a longtime winemaker in the Montalcino region of Italy, it's no wonder why Kirkland enlisted him to the roster of Signature winemakers, especially when it comes to perfecting this rare and unique style of wine.