Martha Stewart And Snoop Dogg's Friendship Carries Over To The Plate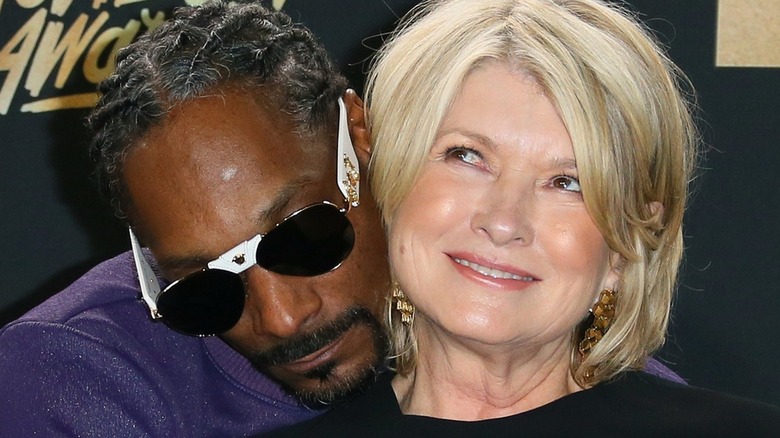 Jb Lacroix/Getty
It's no secret that superstar rapper Snoop Dogg and renowned lifestyle expert Martha Stewart have a one-of-a-kind friendship. The pair are so close that their companionship spills over into Stewart's territory — the kitchen. Interestingly enough, Stewart isn't the only half of the team who can prepare amazing meals, as evidenced by their two-season cooking show, "Martha & Snoop's Potluck Dinner Party."  Stewart revealed one of her favorite meals the "Drop it like it's Hot" rapper has ever cooked to Tracy Smith from CBS News. "His Cornish game hens that he made yesterday were the best thing so far on this show," she revealed.
Of all the dishes Stewart has prepared for Snoop, the rapper also has a favorite. "That buttermilk chicken she made, that s–t was bomb," he told Insider. "It's like a buttermilk fried chicken, with like some s–t in the middle, and it was so amazing. She's bomb at that." Beyond cooking for each other, they also learn from each other, which makes their relationship quite delicious.
The pair teach each other recipes and techniques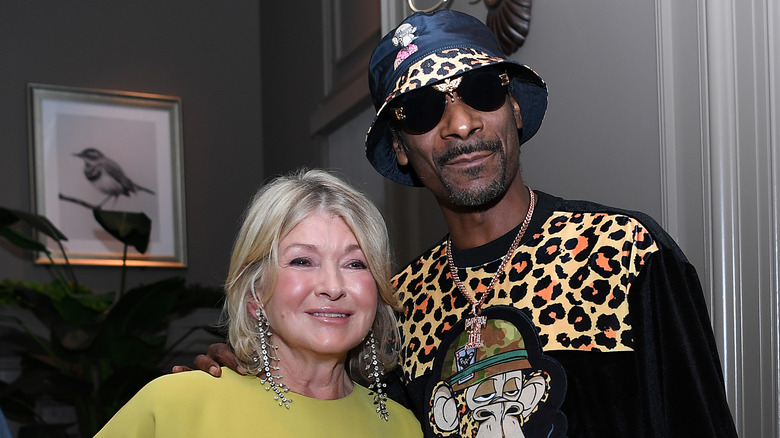 Denise Truscello/Getty Images
Although Martha Stewart is the professional chef of the two, Snoop Dogg has shared some of his own cooking knowledge. According to an interview with Insider, Snoop once taught Stewart to make an impressive Lobster Newburg. This dish is made with lobster, sherry, egg yolk, butter, flour, and a variety of vegetables and seasonings. Hilariously, Snoop isn't a fan of lobster himself. "He won't touch a lobster, but he will cook Lobster Newburg. I thought that was really funny," Stewart said.
Of course, Snoop is a musician at heart, so it made sense that he shared his sound-based bacon method with Stewart. "So I taught her about sound and food, not just looking at it and seeing if it's done, but it's a certain sound that the bacon will make to let you know that it's done," Snoop said to InsideHook. "Food talks to you."
As far as Snoop is concerned, he's hoping to eventually perfect the fried chicken recipe he touted as his favorite. "I still don't know how to make it, but that dish right there is a dish that I would love to perfect," he told Insider. Maybe next time she decides to impart cooking wisdom, Martha and Snoop can prepare the chicken together.