Viking Provides The Bougiest Cruise Food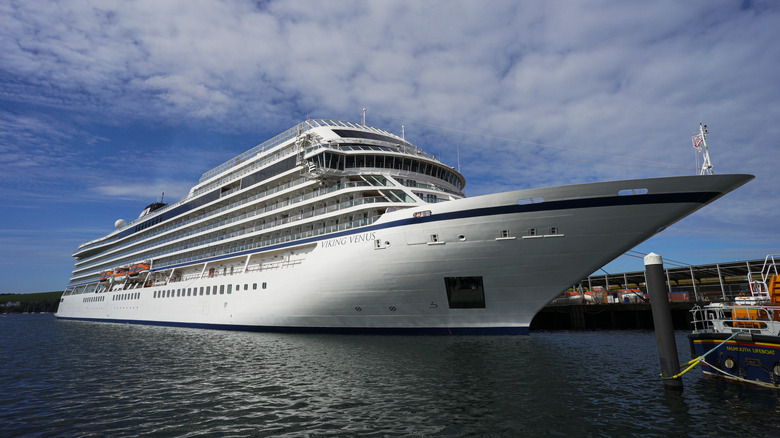 Hugh R Hastings/Getty Images
People go on cruises for all kinds of reasons. Some of them just like sailing, while others, perhaps fans of the '70s TV series "Love Boat," may be hoping to find a little high-seas romance. Many, however, are there to indulge in the all-you-can-eat dining that may come included in the price of a ticket. Which cruise line, however, provides the best seagoing smorgasbord? According to Food & Wine readers, the cruise line that offers the best culinary experience overall is Viking.
While the name of the cruise line may make you think of Vikings eating an entire roasted sheep washed down with multiple flagons of mead, the food is, as we've already indicated, a lot more bougie than barbaric. A ticket for a Viking cruise does include all restaurant meals as well as snacks and drinks from an in-suite mini-bar, and the dining options — similar to Vikings themselves — span the globe from Italian to sushi. The ships do, however, feature certain Scandinavian specialties, some said to be based on recipes from the cruise line founder's mother. Among the offerings on certain Viking cruise ships are the Danish pastry known as kringle and the open-faced sandwiches called smørbrød.
Viking cruises offer an array of upscale eats
Some of the upscale eats on a Viking cruise may come from the Italian-themed Manfredi's restaurant: octopus carpaccio, balsamic-marinated bistecca fiorentina, and Nutella panna cotta. There's also a restaurant that goes by the generic name of The Restaurant, but what the name lacks in creativity, the menu makes up for with dishes including berries with mascarpone, cassoulet, and burrata-mushroom risotto. The Restaurant also offers caviar, even though this item does come at an additional charge.
The bougiest dining option of all, however, is one called The Kitchen Table. Cruise guests who book this experience (which also costs extra) get to go along with a chef as they shop at a market in one of the ship's ports of call, then they can watch and maybe even help with the meal prep at dinnertime. It's almost like guest-starring in a floating Food Network show, only without all of the yelling.
For the most part, Redditors who've sailed with Viking, either on ocean or river cruises, appear to be big fans of its food. (One person went so far as to call it "phenomenal," praising the key lime pie as the best ever.) As always, there were a few dissenting voices, including one who complained that the food didn't really highlight the cruise regions and was more like something you'd find at "an upscale-ish Olive Garden." Still, the overall consensus seems to be that Viking's high-quality food is a highlight of any cruise.