Component Cooking Is The Hack That Will Make You Want To Meal Prep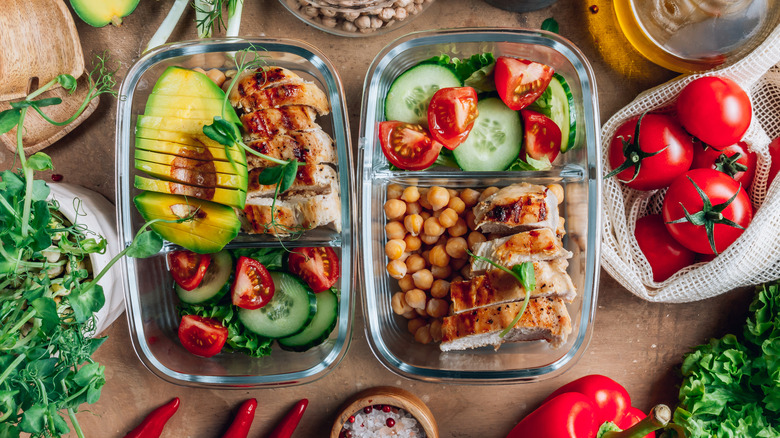 Julia Mikhaylova/Shutterstock
Getting into the habit of meal prepping for the week can be a true lifesaver for busy people who want fast, healthy, and homemade dishes for themselves and their families. Premade meals help save money, too — if you know you have one in the fridge or freezer, you may not make those desperate, hunger-fueled decisions to just grab some food at the drive-thru or resort to DoorDash deliveries yet again. 
On the flip side, prepping a week's worth of meals in advance often means a lot of repetition — think several days of identical work lunches or a huge, preassembled casserole that's heated up for dinner and leaves many days of leftovers. Those meals rarely taste as good as they did when they were first prepared. And for folks who quickly tire of eating the same thing over and over, that temptation to grab fast food may rear its head just as insidiously as before. 
The key to prepping in advance without the boredom of repetitive meals is to focus not on a finished meal, but on the individual ingredients. It's an approach known as component cooking and it's a lot like the way chefs prepare for restaurant service every day. The meal components, whether vegetables, proteins, sauces, or grains, are prepared individually, and can then be paired together in countless combinations throughout the week, to create meals that suit your mood and schedule.
With this approach the meal possibilities feel endless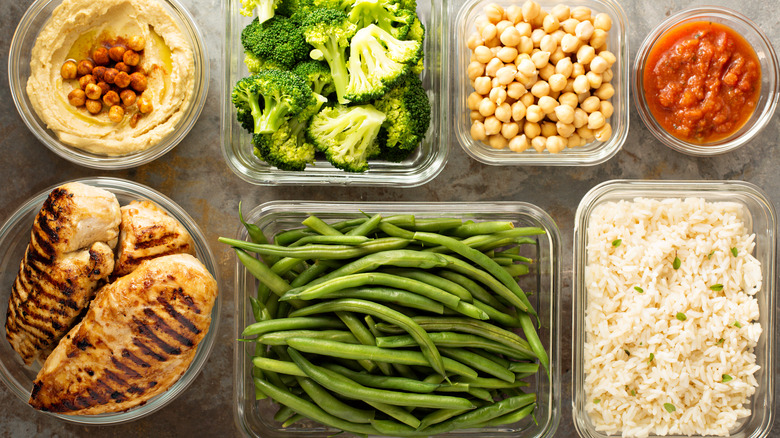 Elena Veselova/Shutterstock
So what does component cooking look like? The goal is to have your fridge and freezer stocked with ingredients that are already prepped; since prepping is often the most time-consuming part of creating a meal, this step will save loads of time. For example, broccoli can be sliced into florets, bell peppers cut into strips, and onions sliced or diced. Cook chicken breasts, then stash them whole in the fridge; later they can be cubed or pulled into shreds. Meanwhile, rice or pasta can be cooked and stored in airtight containers. When choosing ingredients, think about the flavors you love while also aiming to have a balance of components — protein, vegetables, and grains/starches — to create complete meals.
With a stockpile of prepped base ingredients, you can quickly create dozens of exciting meals. Heat strips of cooked steak in a skillet with onions, peppers, and a little oil, then serve with tortillas, salsa, and sour cream for an easy fajita dinner. Create a tasty stir fry with chicken, garlic, and snow peas, sauteed with bottled or homemade stir fry sauce and served over rice. Or assemble grain bowls with layers that might include brown rice, quinoa, black beans, edamame, and hard-boiled eggs. Favorite condiments and dressings (homemade or store-bought) are also key to component cooking variety, along with pantry basics like oils, flavored vinegars, and spices.
Component cooking may just be the hack that will (finally!) get you out of those meal-prepping ruts.