Classic Crispy Wiener Schnitzel Recipe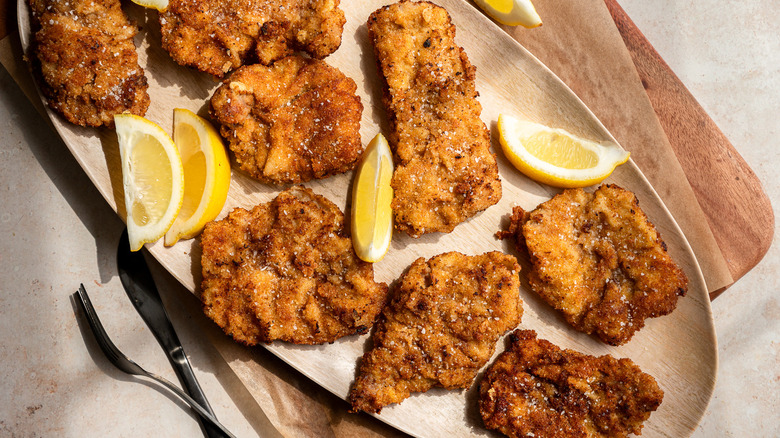 Christina Musgrave/Mashed
Weiner schnitzel may sound like something you order at a hot dog stand, but these fried veal cutlets are an Austrian and German-born dish that is simple, packed with flavor, and quick to whip up. "I love that this recipe is straightforward and so delicious," says recipe developer Christina Musgrave of Tasting with Tina.
If you're unfamiliar with veal, it's a cut of red meat taken from the legs of calves. While it's technically red meat from beef, the flavor isn't like a steak or a hamburger — it's much lighter and more delicate. This light flavor makes it perfect for simple preparation methods, and pairing it with simple sides helps double down on enjoying the natural flavors of the meat. "I like serving this with a simply dressed green salad — arugula is particularly great with the veal. They pair great together," Musgrave says. 
So if you're looking for a way to mix up your weeknight meals and enjoy something that's a break from standard beef, pork, or chicken, try this crispy wiener schnitzel recipe. It's the perfect opportunity to try something new. 
Gather the ingredients for this classic crispy wiener schnitzel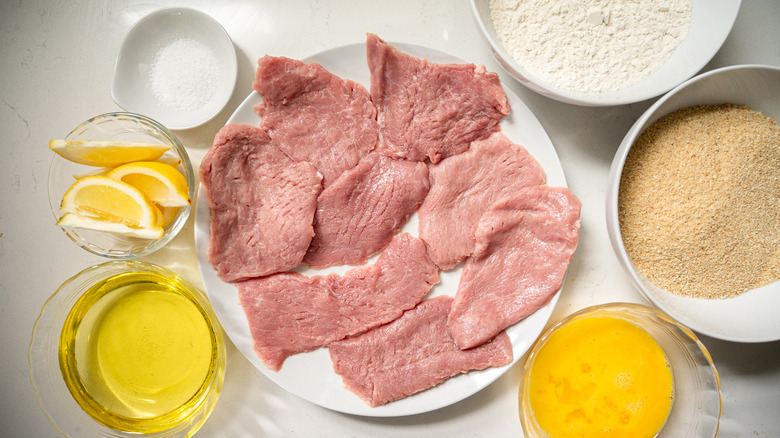 Christina Musgrave/Mashed
You don't need much to whip up weiner schnitzel. Pick up a pound of veal scallopini cutlets, and check your kitchen for flour, large eggs, breadcrumbs, vegetable oil, kosher salt, and lemons.
Just keep in mind that the cut of veal makes a difference. "I like buying the veal scallopini because they're already pounded thin. You can find them at most specialty grocery stores or at your local Italian grocery store," Musgrave advises. 
Bread the veal cutlets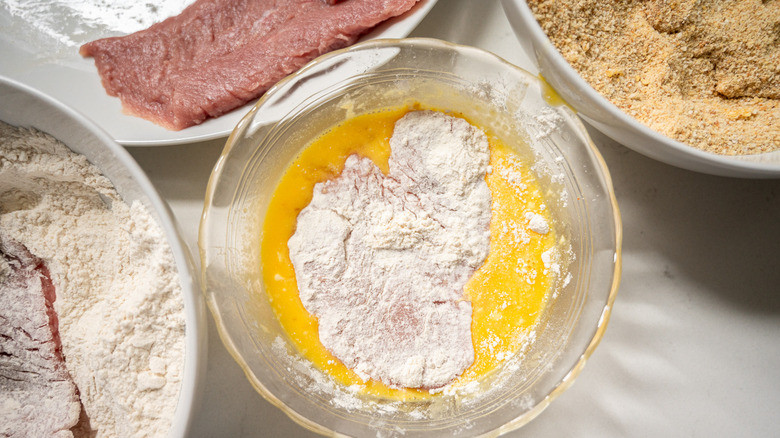 Christina Musgrave/Mashed
First, you'll need to bread your veal cutlets for frying. Set out three shallow bowls or deep plates and fill the first with the flour, the second with the eggs, and the third with the breadcrumbs. Dip each cutlet in the flour, egg, then breadcrumbs, coating each side equally in each ingredient before moving to the next dish. "This method is important to properly bread the veal and seal the breadcrumb coating," Musgrave says. Just make sure you're using regular breadcrumbs, rather than panko-style, as Musgrave says schnitzel is traditionally made with the standard version. 
When the cutlets are breaded, set them aside.
Fry the weiner schnitzel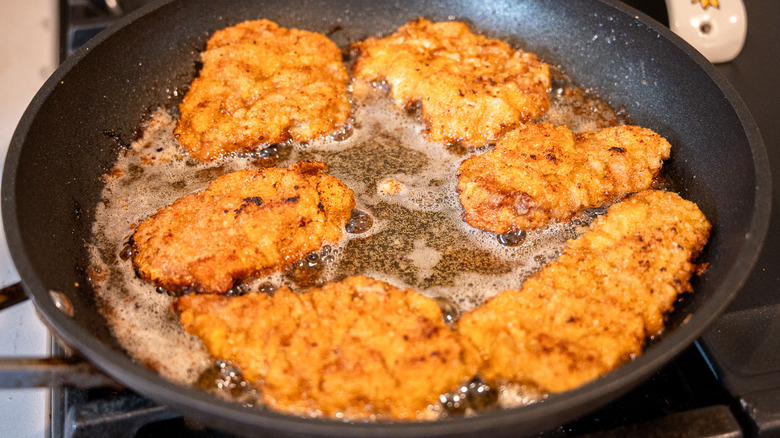 Christina Musgrave/Mashed
With the veal breaded, add the oil to a large skillet and heat it to 350 F, using a thermometer to measure the temperature. Working in batches, transfer the cutlets to the oil, frying them until their golden brown. This should take about 2-3 minutes, per side. If you're not sure how many cutlets to fry in a single batch, you want to leave a couple inches of space between the pieces of meat. "Usually only four cutlets at a time will fit in a pan. You don't want to overcrowd the pan or else the veal won't properly cook," Musgrave says. 
Serve the fried weiner schnitzel with lemon wedges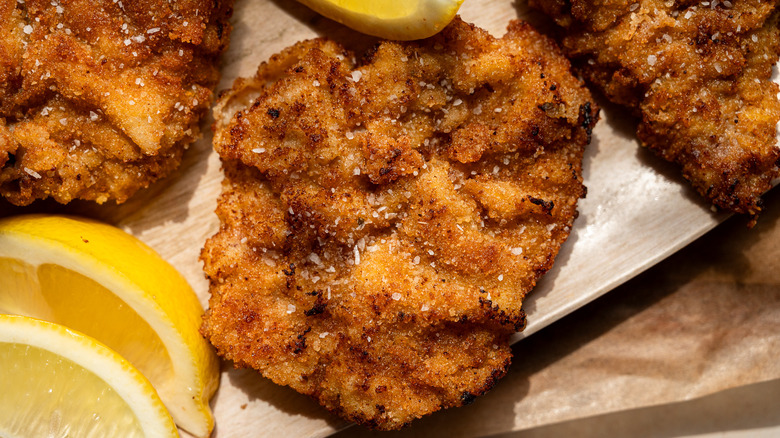 Christina Musgrave/Mashed
When the veal takes on the perfect, golden-brown fry, remove it from the pan using tongs and set it on a paper towel-lined plate to drain. Sprinkle with salt, to taste, and serve hot with lemon wedges. Musgrave says these will keep for a couple of days when stored in the fridge in an airtight container. "Reheat by quickly searing [them] in a pan with some oil until warm and crisp," she says. 
Classic Crispy Wiener Schnitzel Recipe
These fried veal cutlets are an Austrian and German-born dish that is simple, packed with flavor, and quick to whip up.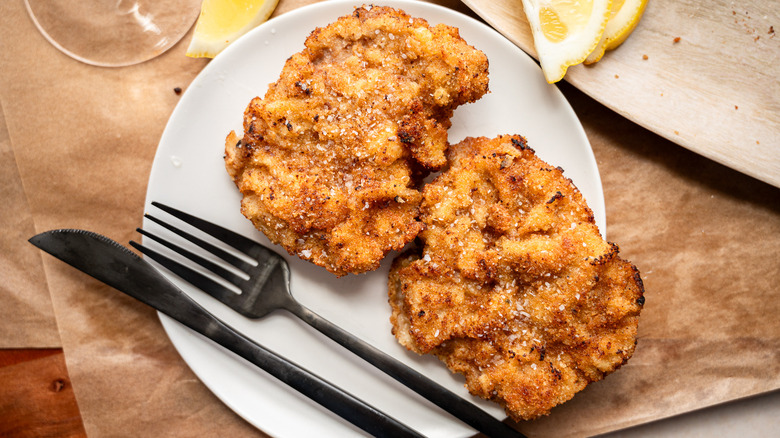 Ingredients
1 cup flour
2 large eggs, beaten
1 cup breadcrumbs
1 pound veal scallopini cutlets, patted dry
2 cups vegetable oil
1 teaspoon kosher salt
Lemon wedges, for serving
Directions
Set up 3 dishes. Place flour in the first dish, eggs in the second, and breadcrumbs in the third.
Dredge veal cutlets in flour, then dip in egg, then coat with breadcrumbs. Set aside.
Heat vegetable oil in a large skillet and bring to 350 F.
Carefully use tongs to place prepared cutlets in the oil, working in batches if necessary. Fry the schnitzel 2-3 minutes per side, until golden brown.
Remove the schnitzel from the pan with tongs and place on a plate lined with paper towels.
Sprinkle with salt and serve with lemon wedges.
Nutrition
| | |
| --- | --- |
| Calories per Serving | 912 |
| Total Fat | 78.7 g |
| Saturated Fat | 6.0 g |
| Trans Fat | 0.6 g |
| Cholesterol | 121.0 mg |
| | |
| --- | --- |
| Total Carbohydrates | 29.1 g |
| Dietary Fiber | 1.4 g |
| Total Sugars | 1.3 g |
| Sodium | 481.2 mg |
| Protein | 22.8 g |