Nacho Cheese Doritos Are Being Recalled For Undeclared Soy And Wheat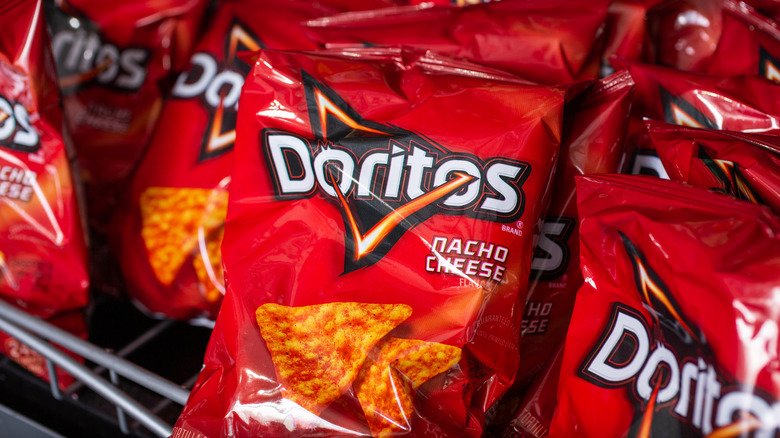 The Image Party/Shutterstock
When you first hear that Nacho Cheese Doritos are being recalled, you might logically think it has something to do with the tortilla chips, or maybe the cheese. But take another look at the ingredients list the next time you buy a bag of Nacho Cheese Doritos, and you'll realize that there's a pretty lengthy collection of things that go into making a bag of these iconic chips. Even so, there's no soy or wheat ingredients, which is what makes Frito-Lays' recall of 7,000 bags of Doritos Nacho Cheese Flavored Tortilla Chips due to undeclared wheat and soy allergens all the more confusing. So what happened?
Apparently, a small batch of chips distributed in Pennsylvania accidentally came into contact with ingredients found in Doritos Spicy Sweet Chili Flavored Tortilla Chips, which do contain wheat and soy via umami-packed soy sauce and hydrolyzed soy protein. That might not seem like a big deal, but to those with a soy or wheat allergy, accidentally ingesting one of these chips could be dangerous, or even life-threatening if the allergy sufferer experiences anaphylaxis. No allergic reactions have yet been reported, thankfully, but Frito-Lay notified the FDA of the labeling issue and initiated the recall to be on the safe side.
Which Doritos are recalled?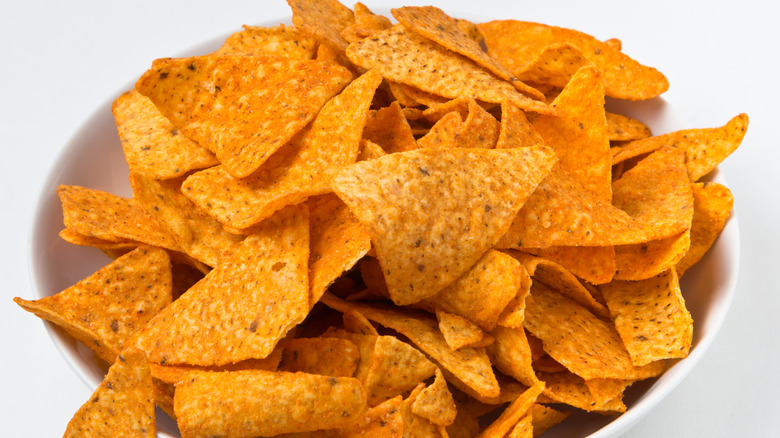 Konmac/Shutterstock
The Nacho Cheese Doritos being recalled by Frito-Lay and the FDA are in a small batch of 14.5-ounce and 1-ounce bags that were distributed to stores, vending machines, and food service locations in Pennsylvania. Chips involved in the recall were on shelves as early as June 29, so if you've bought Doritos in the last month or so, live in Pennsylvania, and have a modern American pantry stuffed with snacks, you'll want to make sure no bags of chips you have on hand are included.
To identify a 1-ounce bag of Nacho Cheese Doritos included in the recall, look for a UPC code of 028400090896, a guaranteed fresh date of September 26, 2023, and a manufacturing code-slash-time stamp of 465218034 X 22:47 – 22:54. The 14.5-ounce bags have a UPC of 028400517799, a guaranteed fresh date of September 26, 2023, and a manufacturing code-slash-time stamp of either 465218037 X 22:47 – 22:59 or 465218137 X 23:00 – 23:06. Anyone with a wheat or soy allergy is advised to throw away any bags of the recalled chips in their possession, while those who are allergy-free can consume them safely.
However, it's important to be sure that no one with a wheat or soy allergy might accidentally ingest one of the chips, since those allergens aren't declared. Symptoms may not surface immediately. In the cases of soy and wheat, reactions such as hives, itching, and indigestion might manifest as much as 48 hours after consuming the allergen.