Creamy Chicken Stuffed Shells Recipe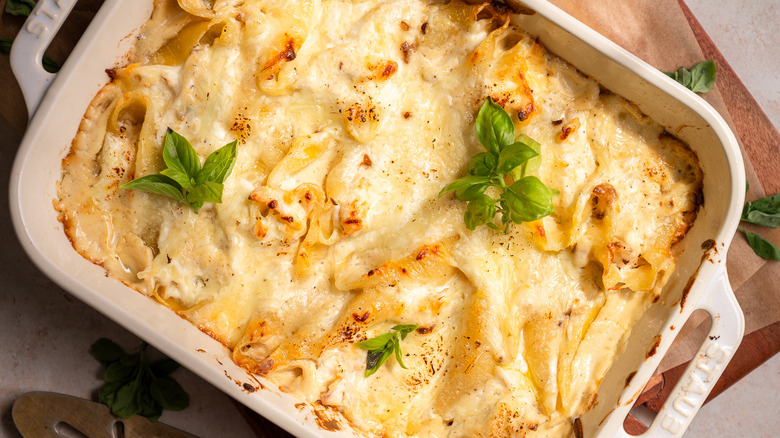 Christina Musgrave/Mashed
Stuffed shells are delicious on their own, offering hearty, filling pasta with an irresistibly cheesy ricotta filling. The only thing that might be better than plain old stuffed shells are creamy chicken stuffed shells, which — you guessed it — feature rotisserie chicken in the rich filling. This recipe, brought to us by developer Christina Musgrave, is ideal for those weeknights when you want a comforting meal but also want to ensure that it packs in plenty of protein. 
Another perk about this dish is that, while it looks extremely refined and elegant, it actually comes together remarkably easily, and you can count on the oven to do most of the work. "My favorite thing about this dish is that it's super straightforward and the final result is restaurant-quality delicious," Musgrave says. Pair these creamy chicken stuffed shells with a simple side salad or some roasted vegetables for a well-rounded meal — and one that's on the table in less than an hour at that.
Gather the ingredients for creamy chicken stuffed shells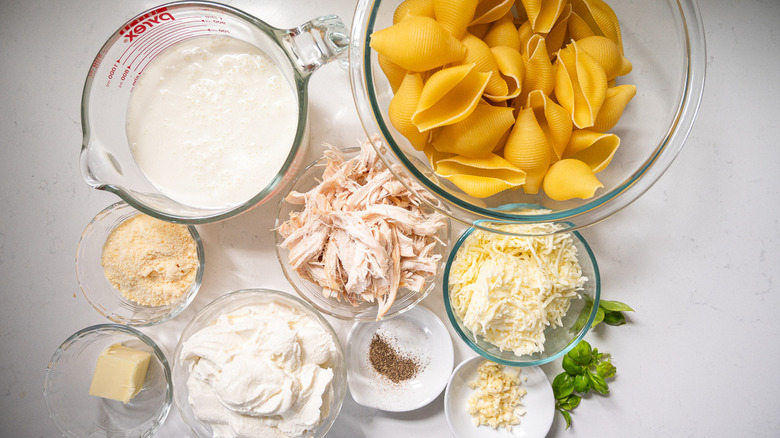 Christina Musgrave/Mashed
You'll need jumbo shells as the base of this dish, along with some butter, minced garlic, salt, black pepper, heavy cream, and 3 types of cheese: grated Parmesan, ricotta, and shredded mozzarella. 
You'll also need some chicken, and Musgrave opts to pull the chicken from a rotisserie, which certainly amps up the easy aspect of this recipe. "Using rotisserie chicken makes the recipe much quicker" than cooking the meat from scratch, Musgrave explains. Finally, you may want some fresh basil on hand for a final herbaceous garnish.
Cook the pasta and make the creamy sauce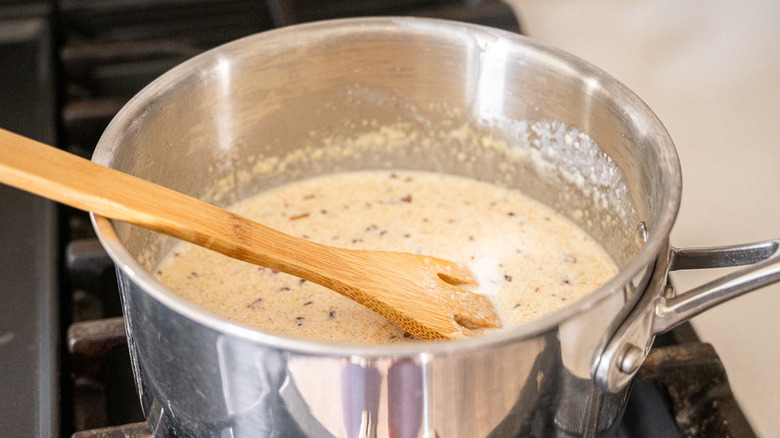 Christina Musgrave/Mashed
Fill a large pot with salted water and bring it to a boil on the stovetop. Add in the jumbo shells and cook according to package instructions, or until the pasta is al dente — this should take about 8 minutes. Once cooked, drain the shells and set them aside to cool slightly.
Meanwhile, place a saucepan on the stovetop over medium heat and add in the butter, allowing it to melt. Add the garlic and cook for 2 minutes, until fragrant, then add in the salt, pepper, Parmesan, and heavy cream. Allow the sauce to simmer, and keep stirring until the cheese has fully melted. 
Combine the ricotta, mozzarella, and chicken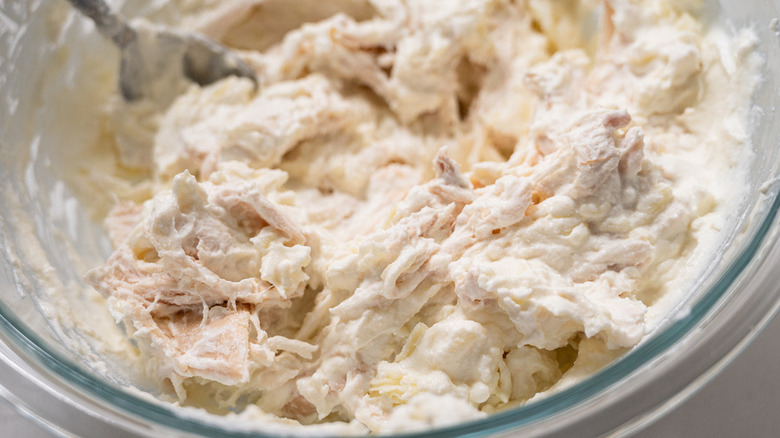 Christina Musgrave/Mashed
Grab a large bowl and add in the ricotta, ½ cup of the shredded mozzarella, and the pulled chicken. Stir this all up to form an even, creamy mixture.
Assemble the dish and bake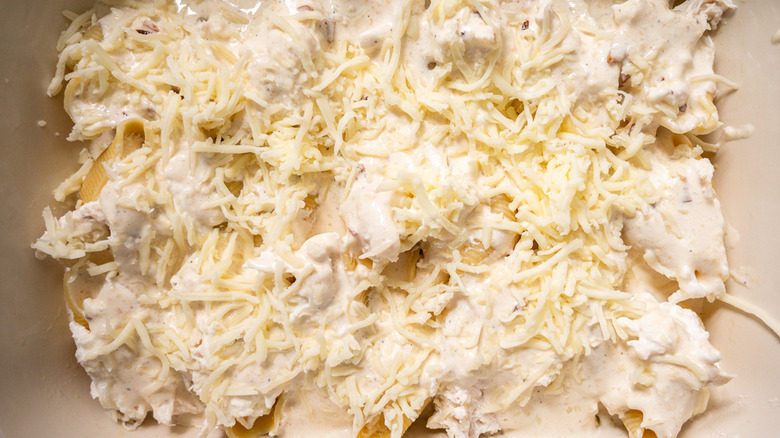 Christina Musgrave/Mashed
Preheat your oven to 350 F, grab a large baking dish, and grease it. Spread ½ of the creamy sauce evenly across the bottom of the dish. Then, fill each of the cooked jumbo shells with a scoop of the cheese and chicken mixture, layering those on top of the sauce. Once all of the shells are stuffed and layered in the dish, pour on the remaining cream sauce and sprinkle on the remaining mozzarella cheese. 
Place the pasta dish into the oven and bake for 30 minutes. You'll know that it's done baking when the mozzarella on top is melted and golden brown.
Enjoy these creamy chicken stuffed shells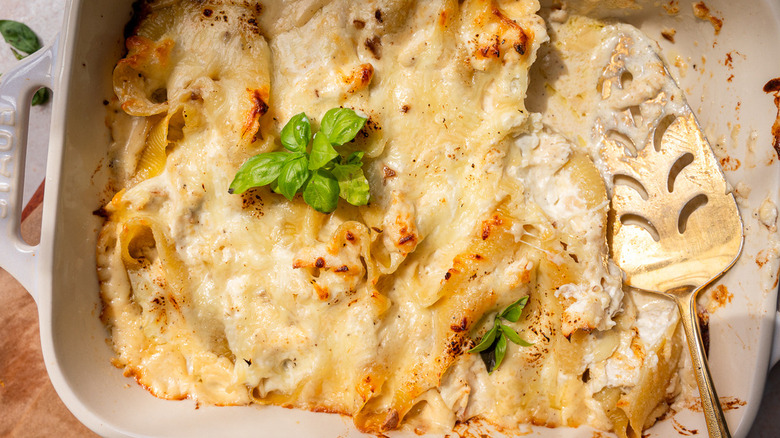 Christina Musgrave/Mashed
Once the shells are out of the oven, you may want to finish the entire dish off with a few sprigs of fresh basil. Then, it's best to dive into this pasta bake right away, and to round it out, Musgrave has a few suggestions: "I would serve this with a simple side salad, roasted broccoli, and garlic bread," she says.
If you happen to have leftovers, you're in luck — Musgrave notes that they "keep great," and in fact, they can be stored in the fridge for up to 4 days. "You can reheat in the microwave in a covered bowl or reheat in the oven at 350 F for 10 minutes," Musgrave advises.
Creamy Chicken Stuffed Shells Recipe
Leftover rotisserie chicken? Shred it up and add it to this elegant yet very easy cheesy pasta bake.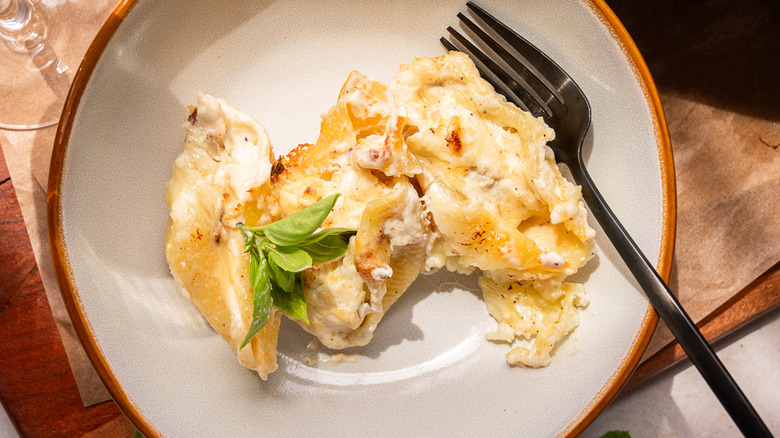 Ingredients
12 ounces jumbo shell pasta
2 tablespoons unsalted butter
3 cloves garlic, minced
½ teaspoon salt
¼ teaspoon black pepper
1 cup grated Parmesan cheese
3 cups heavy cream
15 ounces whole milk ricotta cheese
1 ½ cups shredded mozzarella cheese, divided
3 cups pulled rotisserie chicken
Optional Ingredients
Directions
Preheat oven to 350 F and grease a large baking dish.
Bring a large pot of salted water to a boil. Cook the pasta shells until al dente, about 8 minutes. Drain and set aside.
Meanwhile, melt the butter in a saucepan over medium heat. Add in garlic and sauté until fragrant, about 2 minutes.
Add the salt, black pepper, Parmesan cheese, and heavy cream to the garlic butter. Stir well and bring to a simmer. Continue stirring until the Parmesan is melted, and set aside.
In a large bowl, combine the ricotta cheese, ½ cup of shredded mozzarella, and shredded chicken. Mix well.
Coat the bottom of the prepared baking dish with ½ of the cream sauce.
Add a scoop of the chicken and cheese mixture to each pasta shell. Repeat until all the shells are filled, then place them into the baking dish.
Pour the remaining sauce over the shells and top with the rest of the of mozzarella.
Bake for 30 minutes, until cheese is golden brown. Top with fresh basil and serve.
Nutrition
| | |
| --- | --- |
| Calories per Serving | 1,212 |
| Total Fat | 87.6 g |
| Saturated Fat | 51.3 g |
| Trans Fat | 1.8 g |
| Cholesterol | 306.6 mg |
| | |
| --- | --- |
| Total Carbohydrates | 53.9 g |
| Dietary Fiber | 1.9 g |
| Total Sugars | 5.9 g |
| Sodium | 959.7 mg |
| Protein | 52.2 g |