The Midwestern Brand Rumored To Be Behind Aldi's Clancy Snacks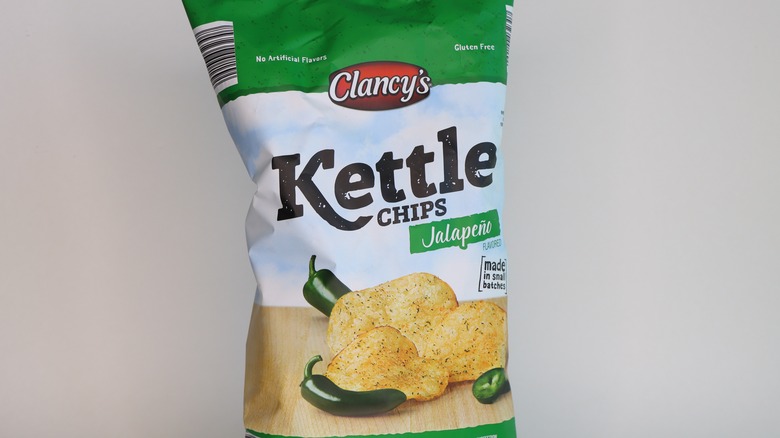 Deutschlandreform/Shutterstock
Aldi has become the go-to grocery store for many people, especially those trying to find some breathing room due to surging prices and inflation. While Aldi's own products are much cheaper than the similar brand name versions out there, customers are always trying to figure out which companies actually create their favorite knock-offs at the store. For Clancy's, rumors have been persisting for a while that the Perham, Minnesota-based manufacturer Barrel O'Fun is behind the salty snacks.
Barrel O'Fun was created by Darrell "Tuffy" Nelson and his son, Kenny, in 1973, and the business became part of their KLN Family Brands. KLN sold Barrel O'Fun to Ohio-based Shearer Foods in 2015, and just three years later they turned around and sold it to Old Dutch Foods affiliate UR Brands. Like Barrel O'Fun, Old Dutch Foods is also headquartered in Minnesota. The brand is best known as a Midwestern snack company, although its Humpty Dumpty chip line is focused on the East Coast.
So how much can you save if you buy Clancy's snacks at Aldi? A lot. For example, Clancy's Barbecue Potato Chips are currently selling for $1.79 at Aldi, while Barrel O'Fun's Barbecue Potato Chips sell for $2 more at the Midwest-based Cub Foods.
The snack brand is an Aldi staple
The quest to discover what brands manufacture which Aldi products has been going on for some time. Due to confidentiality agreements, it's extremely difficult to get any confirmations unless the FDA issues an allergy alert. Such was the case with Smithfoods Inc., which was how it was discovered that they are behind one of Aldi's best ice cream items, Earth Grown Vegan Non-Dairy Almond Based Frozen Desserts. A recall of ADM Milling Co.'s flours in 2019 was also how people discovered the company made Aldi's Bakers Corner flours.
Anyone who shops at Aldi is very familiar with Clancy's, which dominates the snack aisle with everything from Peanut Butter Filled Pretzel Pieces to Sour Cream & Onion Potato Chips. Admittedly, most shoppers are irked by the poor quality of Clancy's chip bags, which are known to rip if you try to open them with your hands. Whether you love or hate them, Clancy's is a cheap alternative to the more expensive and well-known snack labels you'll find at other major stores. Luckily many Aldi customers appear to really like the brand, as Clancy's Kettle Chips has shown up on Aldi's annual Fan Favorites list multiple times.