Fritos Is Giving Away Mullet Haircuts (And Also Corn Chips)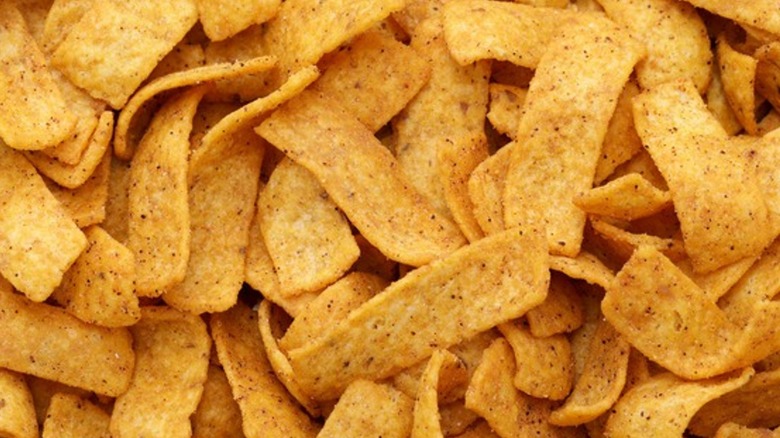 Bonchan/Getty
The mullet has been around for a while, but the last several years have seen the haircut re-enter the mainstream. Even Planters began selling mullet wigs. Everyone from Miley Cyrus to actor Paul Mescal began sporting the look, and Frito-Lay took notice. The company, which just happens to be one of the sponsors of the USA Mullet Championship, announced in an August 2 press release that it's partnering with Floyd's 99 Barbershop to offer 1,000 free mullet haircuts.
The limited-time promotion is called Free Fritos Flow Fridays, and every Floyd's location in the U.S. is participating. Those who would like the hairstyle can book a Fritos Flow Mullet appointment through floydsbarbershop.com every Friday in August, while supplies last. "Because of how in demand this haircut has been, we anticipate appointments booking quickly," said Floyd's senior director of creative and technical education, Patrick Butler.
Whether you're able to snag a coveted appointment or you're already rocking a mullet, Fritos is offering everyone a chance to win a year's supply of Fritos by posting a photo of your mullet on Instagram with the tags @officialfritos, #FritosFlow, and #Sweepstakes.
Fritos is offering a $10,000 cash prize
The "business up front and a party in the back" haircut was popularized in the 1980s and '90s, the Oxford English Dictionary credits the Beastie Boys for creating the name when they released their 1994 song "Mullet Head." But there's ample proof that the style is much older than that. In the 2007 book "Mullet Madness," Alan Henderson theorizes that the first to wear the mullet were probably the Neanderthals, who "cut their hair in front to keep it out of their eyes," and "flowing locks in back insulated their necks from cold and rain." 
The USA Mullet Championship has come a long way since it began in 2020 with a Mullet Mega Money Pot reward of $2500 for the winner of "America's Best Mullet." As the Official Snack Sponsor of the 2023 USA Mullet Championship, Fritos is offering those who enter this competition a chance to win a $10,000 cash prize. Three events open for registration in August: a virtual competition for men 18+; a virtual competition for women and men 55+, and an in-person event at the Illinois State Fair on August 12 for men and women 18+.