The Fast Food Chains That Can Double As An Iconic Wedding Venue
Love is a beautiful thing, but it can also be quite expensive. According to research by Wedding Report, the average cost of a wedding in the United States in 2022 was just under $30,000 (about a $2,000 increase from 2021). With inflation hitting record levels over the past few years, it's no wonder people are trying to cut costs in every aspect of their lives, from groceries to transportation and entertainment.
But what about weddings? Sure, couples can spend tens of thousands of dollars on fancy destination weddings that seem like they're out of a Disney movie, but people have come up with incredibly unique ways to celebrate their love on a budget — like getting married at their favorite fast food chain. Although some unconventional weddings at restaurants were a one-time special event, many fast food corporations have embraced their romantic sides, and put together wedding packages for their biggest fans. We've compiled several fast food chains that not only supply your dollar-menu favorites, but can act as an incredibly unique wedding venue, as well. 
Taco Bell
What better place to hear wedding bells than at Taco Bell? When it comes to weddings, the Mexican American fast food chain has been ahead of the game for a while. The company has a full-blown website dedicated to getting hitched at Taco Bell's flagship Cantina in Las Vegas. The website targets its audience best: "If you have fond memories of date nights at Taco Bell and sharing dreams of your next 40+ years with that certain someone. If nothing is more romantic than sharing a Baja Blast with two straws as you gaze into each other's eyes. If the "Marry Me" sauce packet is your idea of the perfect love letter and gives you all the feels," then you're probably perfect for Taco Bell's wedding package.
So, what do you get for the (lucky) cost of $777? First, you reserve your event's spot at the Taco Bell wedding chapel that fits the bride, groom, and 25 of their guests located on the second floor of the Las Vegas Taco Bell Cantina, featuring a beautiful view of the Las Vegas Strip. The package also includes tons of great merchandise, like a sauce packet garter and bow tie, a Cinnabon Delights wedding cake, champagne flutes, "Just Married" T-shirts, and best of all, a Taco Party Pack to enjoy with the guests during the reception. Oh, did we mention the Taco Bell Sauce Packet bouquet the bride gets? Dream wedding, indeed.
KFC
Any couple looking to put a "wing" on it? If you were getting betrothed to the love of your life in Australia from 2019 to 2020, you could have applied for a KFC-sponsored wedding. The fast food giant paid for six chicken-themed weddings that included a variety of amenities, including a KFC food truck for up to 200 guests, chicken-themed decorations, an officiant, a photo booth, custom KFC buckets, music provided by someone dressed as the Colonel, and more. The coolest part might be the wedding topper that featured a beautiful couple embracing next to a bucket of crispy fried chicken.
In order to secure the bucket, couples had to submit 200 words about why a KFC wedding would be their dream celebration of love. One couple was chosen after rapping about their love of KFC chicken over the theme song from The Fresh Prince of Bel-Air. These KFC-sponsored weddings might not actually take place in the restaurants themselves, but they certainly capture the friendly Southern spirit of the restaurant. According to the couple that was blessed with the first KFC wedding, they were "over the moon" to be selected for the wedding, and to have the Colonel present them on their big day. 
Burger King
When a woman named Ashley King marries a man named Joel Burger, it's only right that the wedding is sponsored by Burger King. Back in 2015, the couple reached out to the fast food franchise for permission to use the Burger King logo on their wedding favors. The company instead went way above and beyond — Burger King paid for the entire event, and gave out branded swag to create "a Whopper of a wedding." 
The gifts included custom mason jars, Burger King shirts, the fast food chain's signature crowns, and even a $10 gift card for all guests. Although Ashley did end up taking the "Burger" name, the couple will forever be known as Burger King. But what about a wedding at an actual Burger King restaurant? It hasn't happened just yet, but a representative from Burger King told The Daily Meal, "If someone wanted to get married in a BK, we'd make it happen." Good news for any big fans of the BK Lounge. 
McDonald's
What better way to celebrate your love than getting hitched right under the Golden Arches of McDonald's? That's how Carmel and Phil Price de Pasquale celebrated the wedding of their dreams. The self-proclaimed "junk food king and queen" had this to say about their wedding: "We wanted our love for food to be incorporated into our wedding day as we kind of fell in love over our love for food," according to LADbible. Although they had a food truck at their reception, the couple went straight to McDonald's in their wedding attire. 
But if you actually want to have your ceremony take place in one of the chain's restaurants, you can head over to Hong Kong to host an official McDonald's wedding party. McDonald's launched its wedding party service in 2011, and it's been a hit ever since. There are four different wedding packages a couple can choose from, like the 'Happiness Party' for HK$2,999 (US$380) or the 'Love Forever Party,' which costs HK$9,999 (US$1,275). But the most expensive package comes with two hours at the venue, two McDonald's balloon wedding rings, character gifts for 50 guests, 50 invitation cards, an MC to host the party, and even a McDonald's apple pie wedding cake. 
Spokeswoman Jessica Lee told CNBC, "We started the program because many customers tell us that McDonald's is where they first started dating ... McDonald's is where their love stories grew." Why not celebrate your marriage right where it started?
White Castle
Isn't it every little girl's dream to get married in a castle like a real princess? Good news — White Castle will host your "royal wedding." More than 75 couples have been married at White Castle restaurants around the U.S. for over a decade. In 2018, the restaurant chain held a contest to treat one lucky couple to a wedding hosted at the White Castle in Las Vegas.
The contest winners, Adam and Whitney, were treated to a royal package that came with a rehearsal dinner, wedding ceremony, reception, décor, and of course, a feast fully catered by White Castle. White Castle partnered with local businesses to provide music, photography, floral arrangements, and a custom wedding cake. The couple even got a fully paid, five-night honeymoon in Belgium! On the trip, they stayed at a real Belgian castle for a night as well. Talk about a royal wedding!
Dunkin'
If your dream is to get married with coffee and donuts in the most efficient manner possible, you might be perfect for a Dunkin' wedding. In 2021, two couples won a contest that gave them a full wedding ceremony — right in a Dunkin' drive-thru in New York (perfect for the full-on pandemic the world was experiencing). 
That's not the only wedding experience the donut joint has. Dunkin' capitalized on the love of its biggest fans by releasing an entire wedding merch collection so any couple that wanted to celebrate their marriage with Dunkin' could do it. The collection includes a "Dunkin'-ized" wedding veil, a Dunkin'-patterned pink and orange bowtie, a satin robe for the bride before the ceremony, customized coffee mugs, tumblers, T-shirts, and sweatshirts. It even includes a Dunkin'-style ring bearer pillow to present the ring on. Both of the winners of the drive-thru weddings received all the merch to celebrate tying the knot at (maybe) the sweetest place possible. 
Dairy Queen
Plenty of couples have gotten Dairy Queen cakes catered to their weddings. The ice cream-famous restaurant chain actively promotes its cakes to be used for weddings. One Redditor said their Dairy Queen cake was "a huge hit" at their celebration. But what if you want to take your love of DQ to the next level?  No problem. Executive Vice President of Marketing for American Dairy Queen Corporation, Barry Westrum, said, "Not only are participating locations offering the venue where the happy couple can say their vows, but we'll also provide the food for the reception, and a signature Red Velvet Blizzard Cake at the restaurant. What better way to start off a sweet marriage than to do it at a DQ restaurant?" (via Business Wire). 
Couples have definitely taken Westrum up on his offer, like James Manzano and Toni Walker, who got married at the Dairy Queen in Bethlehem Township, Pennsylvania. On the big day, two-dozen guests arrived (including a few regulars at the shop). Eight-year-old Erin Wimmer told NBC Philadelphia that "it was very romantic."  
Denny's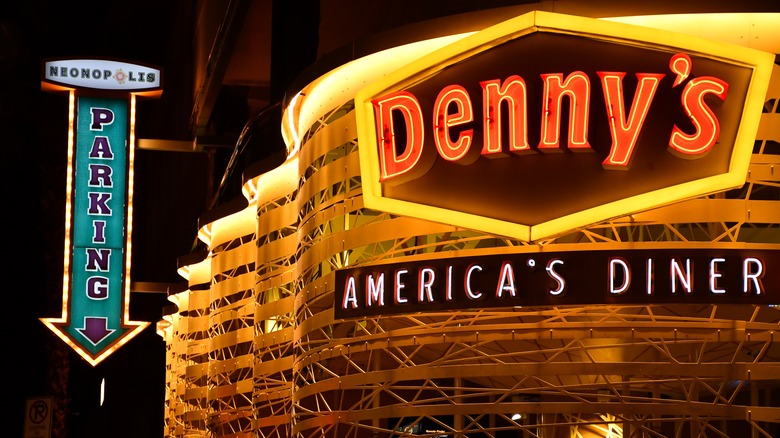 Anne Czichos/Shutterstock
It's no surprise that Las Vegas houses several fast food venues where you can get married quickly and inexpensively, so the list wouldn't be complete without including the Denny's Chapel. This iconic spot has hosted over 600 weddings. So, what does the package come with? For just $199, not only do you get to use the chapel, but the betrothed gets a bouquet, a pancake wedding cake, a boutonnière, champagne toast, T-shirts, use of the photo booth, and of course, coupons for two Grand Slams. For an additional fee, you can also get Pancake Puppies (think cake pops but with pancakes).    
One couple described the scene as they got married: walking right down the aisle past booths full of tourists waiting for their food — and they absolutely loved it. If you're looking for a Grand Slam of a wedding, book your next flight out to Las Vegas, and head straight to Denny's.
Buffalo Wild Wings
Although having sticky fingers and saucy lips probably isn't the first thing most people think of when it comes to their dream wedding, it sure is for some people. Enter Buffalo Wild Wings. Way back in 2010, Kristy Zimmerman and Cliffton Swaggart got married at their favorite restaurant where they first met. The restaurant had significant meaning for the couple, and because it was closing down soon, they decided it would be the perfect place to celebrate their love.
Another couple had an impromptu wedding right at their table and got married by a justice of the peace, a Buffalo Wild Wings representative told The Daily Meal. Besides those instances, there haven't actually been many legitimate ceremonies at the famous wing joint. However, the representative went on to say, "If a couple came to us and was interested, and it made sense for all parties, we'd definitely be open to helping make it happen (whether it means venue, food, decorations, etc.)" Hear that, wing fans? You can take the "Blazin' Challenge" and marry your best friend on the same day.
Pizza Hut
Many of the options listed are great for people looking to get married on a budget —  except a wedding at Pizza Hut's going to cost you. Back in 2012, Pizza Hut came up with a monster Engagement Party Package that cost $10,010. It came with a limo service, a bouquet of flowers, a professional photographer and videographer, a personal fireworks display, and best of all, a ruby engagement ring. Of course, the company also threw in a $10 Dinner Box, which came with a medium pizza, breadsticks, and cinnamon sticks. On the original press release website that has since been taken down, the company hinted, "If she says yes, a Pizza Hut-themed wedding at Pizza Hut headquarters could be in order" (via Eater).  
But the engagement package isn't the franchise's only foray into the business of love. Several couples have gotten married at their local Pizza Hut, like John and Debbie Woleslage, who got married more than 40 years ago at a Pizza Hut, and go back to celebrate every year for their anniversary. More recently, Julie Hansford and Paul Young celebrated their reception at Pizza Hut, complete with a pizza-shaped wedding cake and 80 guests. It's good to know that Pizza Hut will always be there for you — in love and in hunger.