Making Bread With Cake Mix Actually Couldn't Be Easier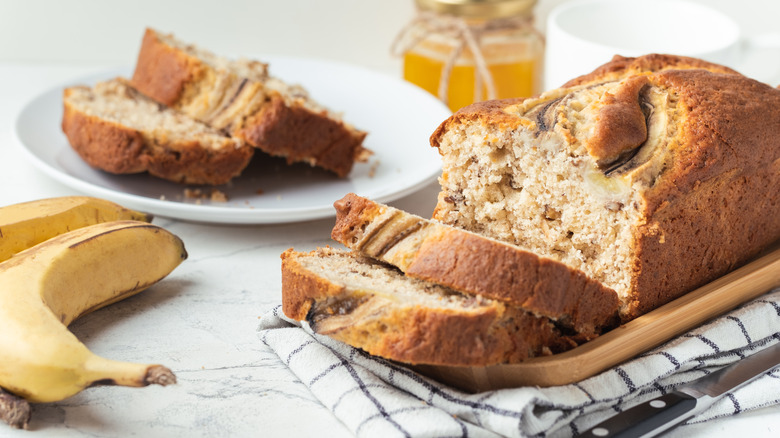 Oleksandr Sytnyk/Getty Images
During the COVID-19 pandemic lockdown, nearly everyone got in on the making homemade bread trend. People developed cloud bread recipes, peasant bread recipes, and even regular old sandwich bread recipes. And while bread-making may not be as trendy as it was a few years ago, many people have stuck with it as a hobby, continuing to experiment with different ingredients and methods. For instance, rather than make banana bread completely from scratch, people have figured out how to simplify the recipe into three ingredients. One such recipe on TikTok calls for only bananas, eggs, and cake mix. Using the cake mix, you get the components you need without having to start from scratch — quick and easy!
Continuing on the cake mix train, there are plenty of options to choose from: vanilla, spice, butter pecan, cinnamon, really any cake mix you can think of that will go with bananas, or with whatever other main ingredient you want to use. It's truly amazing how many things you can make with a box of cake mix.
More ideas for using cake mix to make flavorful bread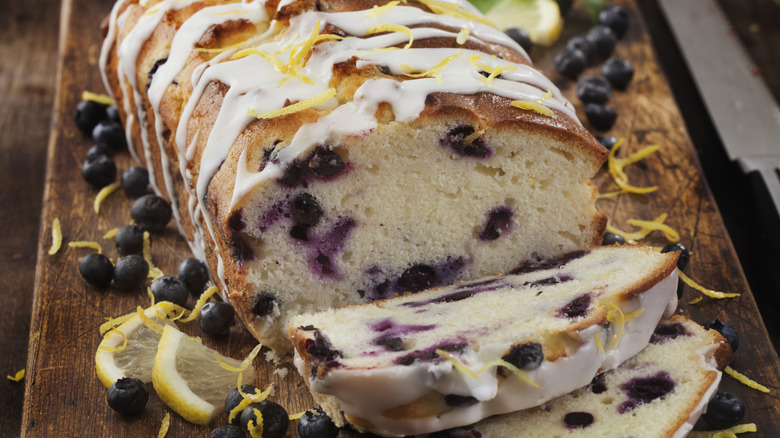 Lauripatterson/Getty Images
Given that the cake mix varieties are endless, so are the breads you can make with them. If you wanted to make cinnamon swirl bread without starting from scratch with a classic cinnamon bread recipe, for example, you would start with a cinnamon cake mix. You would then add the appropriate number of eggs, and — if you so choose — other ingredients, like cinnamon and vanilla. On a similar note, if you wanted to make blueberry lemon bread, you would start with a lemon cake mix, and add eggs, blueberries, and potentially lemon zest for extra flavor. Or, if you wanted to make an easy pumpkin bread with cake mix, you would start with a spiced cake mix, then add pumpkin purée and additional spices.
Regardless of the ingredients you choose to add to your cake-mix-turned-bread adventure, you'll want to bake your bread at 350 degrees Fahrenheit for approximately 30 minutes, or until the toothpick test confirms the bread is done. And just like that, you've made a delicious loaf of bread without needing dozens of ingredients and various measuring cups. We might not be going back to the from-scratch way of making bread again.