Your Morning Bagel Should Be Inspiring Your Deviled Eggs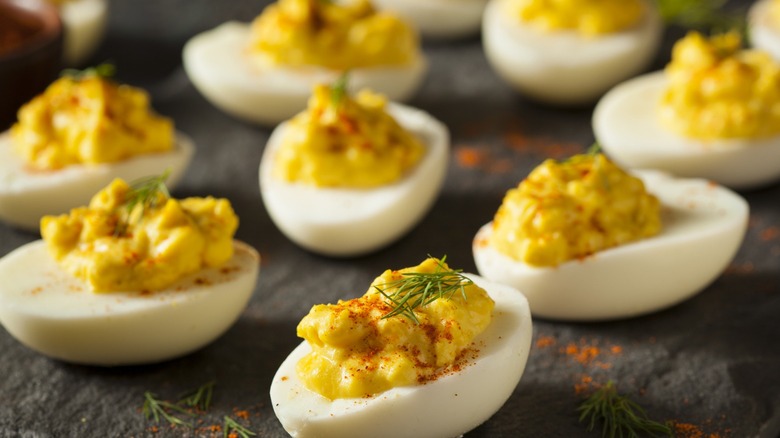 Bhofack2/Getty
Deviled eggs — you either love them or you hate them, but they're a staple at dinner parties and events. If you love them, you know there are so many unique ways to spice up the traditional recipe. Bacon jalapeno deviled eggs add an extra kick, and if you're not afraid of color in your food, you may have made Easter deviled eggs for your last family gathering.
Traditionally, the yolk portion of deviled eggs is made with mustard, mayonnaise, and vinegar, topped with paprika or dill. However, the latest take on the classic recipe is inspired by an iconic deli breakfast — the everything bagel piled high with cream cheese, veggies, and salmon. Cook It Erica, a mother-daughter TikTok account, shared a recipe that packs all of the flavors of an everything bagel, "schmear," and lox into a deviled egg. The final product looks incredible, and Erica claims it's "perfect for brunch."
How to make everything bagel deviled eggs
To make everything bagel-deviled eggs, @cookiterica starts by separating the yolks of her hard-boiled eggs. Next, she coats the whites in Trader Joe's Everything but the Bagel seasoning before mixing the yolks with two tablespoons of sour cream, one bar of cream cheese, and the juice of one lemon. She says to "whip it real good" before piping the mixture back into the whites.
To really get all of those classic bagel flavors in there, she adds slices of cucumber, red onion, and tomatoes to a toothpick that gets stuck in the egg. The final touches are sliced smoked salmon and capers. Her recipe combines the flavors of two pretty divisive foods, deviled eggs and smoked salmon on a bagel. Regardless, it seems users in the comment section are very excited about these eggs, writing, "does not get better than this" and "save me some, please!"