Totino's New Orange Chicken Pizza Rolls Are A Takeout Fusion Masterpiece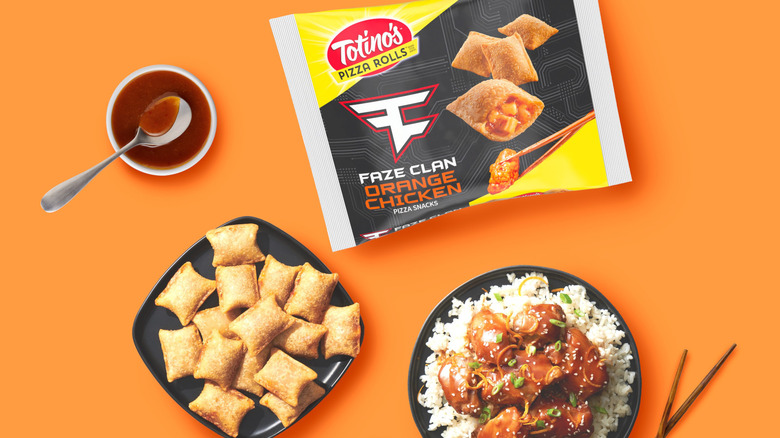 Totino's
Chinese food and pizza are go-to takeout options, and thanks to Totino's, consumers no longer need to choose between the two. The company behind Pizza Rolls is collaborating with gaming collective FaZe Clan to bring a new flavor to the table: Orange Chicken. That's right, Orange Chicken Pizza Rolls are heading to grocery stores this August.
According to a press release from Totino's sent to Mashed, the limited-time snack will combine chicken with a "sweet and spicy orange sauce." Both will be wrapped up in the typical Pizza Rolls crust, resulting in a crunchy and tangy treat that's a unique alternative to the classic pizza rolls most people are familiar with. Per the company, a bag of 50 Orange Chicken Pizza Rolls will cost $5.99 in stores. They won't be around for long, so interested customers will want to keep an eye out for them while food shopping. 
This isn't the first time Totino's and FaZe Clan — which counts Snoop Dogg as a board member and has also collaborated with McDonald's and DoorDash — have teamed up on a Pizza Rolls flavor. In fact, it seems the duo's first collab inspired its current mash-up.
This marks Totino's second collab with FaZe Clan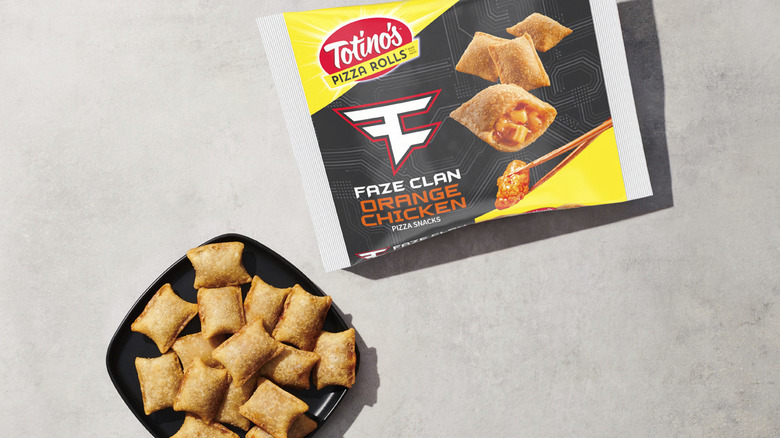 Totino's
The Orange Chicken Pizza Rolls arrive on the heels of another release from Totino's and FaZe Clan, which proved a successful experiment for the two companies. In 2022, the pair teamed up to bring customers a frequently requested flavor of Pizza Rolls: Buffalo Chicken. The Buffalo Chicken flavor was only available for a short time, but it became a fast favorite. According to Taylor Roseberry, brand experience manager at Totino's, its popularity is precisely why Totino's pursued a second collaboration with FaZe Clan.
"After our successful Buffalo Chicken launch with FaZe Clan last year, we knew we had to create something extra special next that would not only excite our fans' taste buds, but also perfectly complement the rush of gaming," Roseberry explained.
It's certainly a creative way to capitalize on two beloved takeout options. If it's as much of a hit as the Buffalo Chicken Pizza Rolls, we may see even more experimental Totino's flavors in the future. These little dough pockets may be small, but the options are clearly limitless.