Crumbl Doesn't Hold A Candle To Costco's Chocolate Chip Cookies
Cookie lovers everywhere rave over Crumbl Cookies for its innovative flavors like salted caramel cheesecake or strawberry ice cream bar. The family-owned company has made a big splash since arriving on the scene in 2017. The artisanal menu changes weekly, keeping fans eager to try each new concoction. However, there is one exception to its rotating menu: the classic chocolate chip cookie. 
Chocolate chip cookies have been a beloved dessert staple since the recipe was first published in 1938. Rumor has it that Ruth Wakefield, acclaimed inventor of the cookie, added chocolate chips to her ice cream cookie batter in lieu of nuts, and behold: the tasty treat was born. Nowadays, chocolate chip cookies are considered a classic dessert, hence Crumbl's decision to keep it as a permanent fixture on an otherwise ever-changing menu.
The cookie chain's dense and gooey offerings have developed a cult following, but some customers have a problem with Crumbl's high prices. While it varies slightly depending on location, a single cookie will run you anywhere between $4.50 and $5. To see if the price is actually worth it, critics have started comparing Crumbl's classic chocolate chip with more budget-friendly options, including those from wholesale retailer Costco. With factors like price, quantity, and overall taste to consider, can a Costco chocolate chip cookie compare to the gourmet treats Crumbl has to offer? Social media creators say yes.
When it comes to cookies, Kirkland is doing something right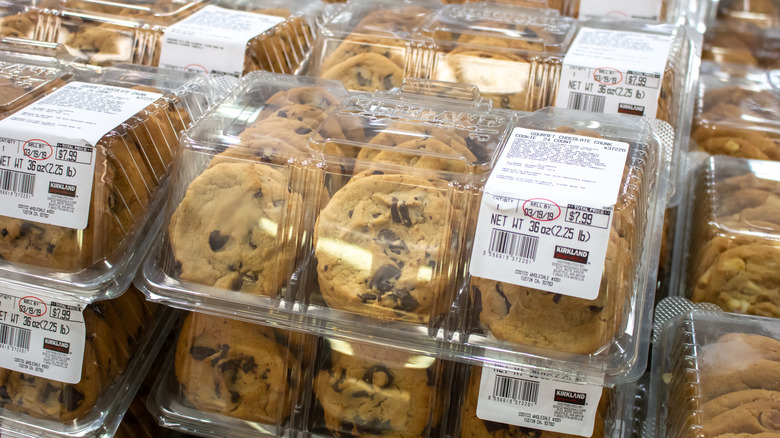 The Image Party/Shutterstock
TikToker @shophocho broke out their food scale and a calculator to put the two highly regarded chocolate chip cookies to the test.
Costco members can purchase a pack of 24 Kirkland brand chocolate chunk cookies for $9.99, a far more cost-effective option than paying almost $5 for one cookie at Crumbl. Crumbl's appears to be slightly larger in size, and in fact, it weighs in at 149 grams, which is significantly more than Kirkland's 40-gram cookie. But denser does not always mean more flavorful, especially when the price per dollar is so high. A more palatable price is often enough to sway the average consumer when deciding between two brands, especially when you consider the number of cookies you're getting in a box at Costco.
When it comes to taste, @shophocho did not notice any discernible differences in flavor between the two that could make one cookie win out over the other. The cookies from both brands are widely enjoyed on social media, with home bakers always on the lookout for the perfect copycat recipes for Crumbl's sweet dessert. Meanwhile, Costco shoppers regularly seek out hacks to bring a box of frozen Kirkland cookie dough home. When it comes time to decide which cookie to spend your money on, cookie aficionados often recommend opting for the better value at Costco.