TikTok's Viral Cucumber Salad Makes Eating Your Greens More Enjoyable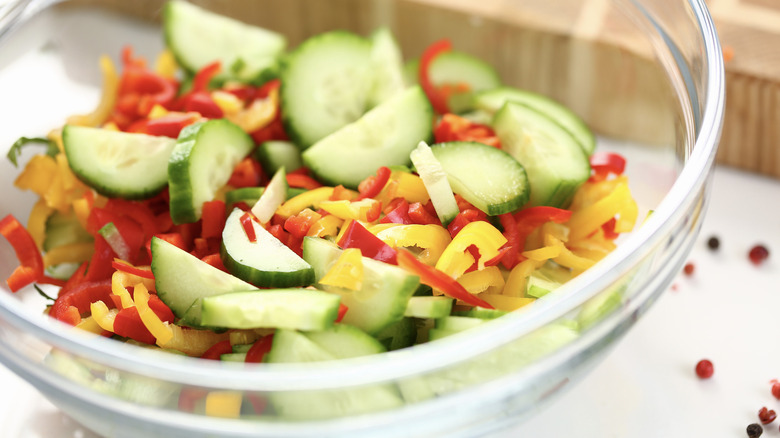 H_Ko/Shutterstock
Cucumber salads are some of the easiest, cheapest, and tastiest salads you can make. It only takes about 10-15 minutes to whip up a batch, and its is quite refreshing. When "The Bachelor" star Rachael Kirkconnell shared the recipe not too long ago, it went viral, with home chefs and netizens alike trying it for themselves.
All that is needed are five simple ingredients to make the salad: baby cucumbers, mini sweet peppers, miso ginger dressing, Everything but the Bagel sesame seasoning blend, and chili crunch oil. Begin by washing the cucumbers and cutting them into small slices. Chop the sweet peppers and throw the cucumber and peppers into a bowl. The bagel seasoning bagel goes next. Sprinkle it according to desired taste. Next, add the crunchy chili oil and then drizzle the ginger dressing over everything and toss the salad. For a richer flavor, feel free to add chickpeas and feta.
The internet can vouch for its deliciousness
After the recipe went viral, people who tried the cucumber salad had an overwhelmingly positive response. 
"Freaking BOMB!! I just made it and was hesitant about the ginger dressing but I think that ended up being my favorite part," one user commented on Rachael Kirkconnell's TikTok video. "To me, this tastes just like sushi," chimed in another. "I added a little sushi rice and a little soy sauce. Chef's kiss! Thank you for sharing this!!" 
"This might be the first recipe I've ever [watched] that I already have all the ingredients," a third user commented.
Not only is the salad tasty, but it's also nutritious and supportive of good health. Cucumbers are high in antioxidants and low in calories, which means they can be a crunchy green addition to any weight loss plans. The fruit (yes, cucumber is a fruit and not a vegetable) also contains essential nutrients like protein, vitamin C, vitamin K, magnesium, manganese, potassium, and fiber. Since they have around 96% water content, cucumbers will also help you stay hydrated.
Peppers, too, are an excellent source of antioxidants and vitamin C. They contain vitamin B6, folate, vitamin E, vitamin A, and fiber.