The Secret Ingredient That Gives A Creamy Texture To Dairy-Free Pasta
Finding a creamy pasta dish that fits the bill can be tricky for vegans and lactose-intolerant people. Fortunately, one dairy and egg-free ingredient, hummus, can help create the rich pasta sauce of your dreams. It may surprise you, but this spread lends a smooth texture and richness to pasta dishes needing a lift.
The Middle Eastern staple has a long history that can be traced back to the 13th century, though it definitely doesn't involve much pasta. Most people know hummus for its rich consistency and flavor, though its ingredients are relatively simple: chickpeas, sesame paste, lemon juice, garlic, and sometimes olive oil. Generally, it's served cold in the United States and used as a dip, but in other countries, it's often served fresh and warm, which helps bring out the flavors. For this reason, warming up your hummus is known to take store-bought varieties to the next level. When added to a warm pasta dish, the hummus will likely taste even better than it does right from the tub.
One TikTok creator demonstrated how to mix roasted garlic hummus into pasta, but other recipes for hummus-laced pasta abound online, with varied ingredients — like sun-dried tomatoes, mushrooms, meat, greens, lemon, and herbs — taking the dish in several different directions and stretching the versatility of hummus as a sauce base.
Hummus is a tasty, nutritious way to add richness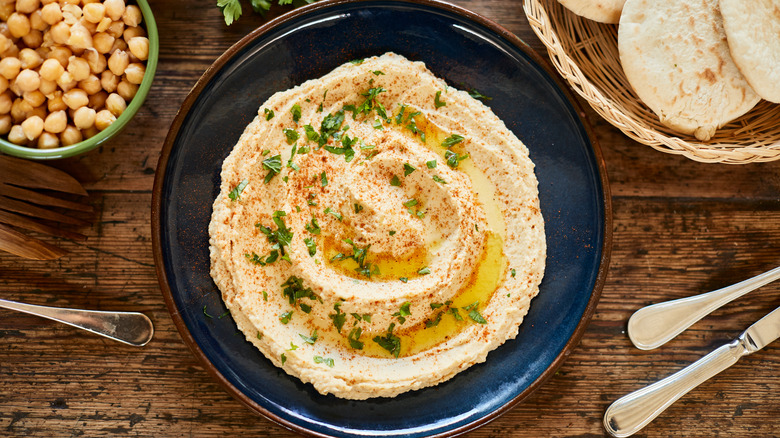 Tempura/Getty Images
Making hummus pasta can be as simple as tossing your noodles with the spread and some pasta water as soon as they're done, though adding more ingredients can take things up a notch. Using different varieties of hummus, as the TikToker did, can also incorporate a built-in dose of flavor depending on the type you choose.
If you don't want to use store-bought hummus, many commenters provided tips for making basic versions at home. One person offered advice on another hummus-based hack that lends creaminess: "It also makes a great dressing for salads with lemon, nutritional yeast, garlic and a little oil. It's almost like Caesar."
Besides adding a hint of dairy-free creaminess, hummus also boasts a variety of nutritional benefits that you won't find in heavy cream or butter. Chickpeas, the key ingredient in hummus, are rich in fiber and calcium. According to WebMD, chickpeas can help lower cholesterol, control blood sugar, and have even been linked to a lowered cancer risk. But don't overdo it, as eating too much hummus can potentially trigger GI problems like bloating, reflux, and gas. In short, feel free to lean into its lactose-free benefits for your pasta, but err on the side of moderation to avoid tummy trouble.