Why Some Fast Food Chains Cling To Styrofoam Containers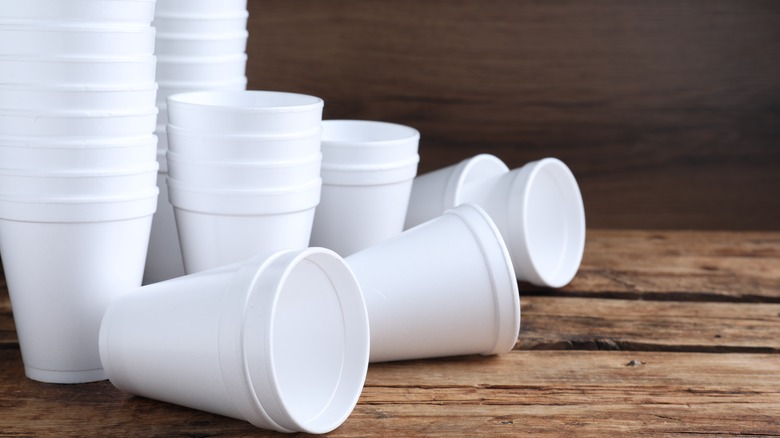 New Africa/Shutterstock
Expanded Polystyrene (EPS), also known as Styrofoam, used to be the go-to material for fast food containers. But over the years, most companies were swayed by public outrage and moved to more sustainable packaging. McDonald's got rid of foam shells for their burgers in 1990, but it would be another 28 years before they moved away from polystyrene cups, which were phased out by the end of 2018.
In 2020, Yum! Brands agreed to discontinue Styrofoam packaging at KFC, Taco Bell, and Pizza Hut by 2022, and that same year, Maryland became the first state to ban the use of EPS at restaurants, grocery stores, cafes, and food trucks. As of August 2023, nine states have banned polystyrene foam, with Colorado becoming the tenth when its ban goes into effect in 2024. Nevertheless, two fast food chains, Chick-fil-A and Sonic, have clung to their Styrofoam containers despite pressure from environmental groups and customers.
Sonic is unapologetic about their love of their Styrofoam cups, touting on a Facebook post how cold the cups keep drinks. Chick-Fil-A has also stood its ground, recycling the material into blocks to make everything from park bench frames to pens. "Customers tell us that they love our foam cups. They keep the drinks cold for hours, but instead of just throwing all these cups into the landfill, Chick-fil-A began a journey as to how to make these cups more useful," Chick-fil-A's manager of enterprise social responsibility, Sarah Blackmon, told Chron.
Banning Styrofoam has proven difficult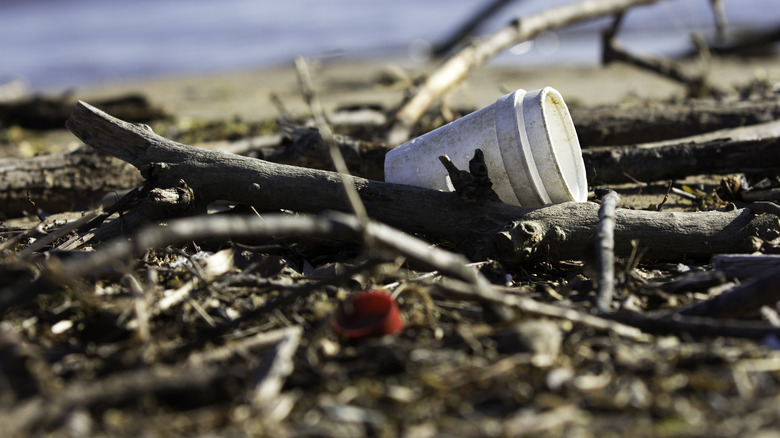 Dwalker44/Getty Images
While Chick-Fil-A has implemented an alternative to Styrofoam cups in the states where the ban is in effect, it hasn't phased out the foam containers everywhere despite a change.org petition asking them to. The restaurant's website says it's moving to the more sustainable double-walled paper cups to give customers a better Chick-fil-A experience, but the decision to only make them available at certain locations hints that this is more likely a solution to the rising number of states that have banned Styrofoam and not the route the company is taking with all of its stores. Sonic responded to a previous change.org petition by stating that they use foam cups based on customers' desires, and customers don't want their drinks to "sweat" with condensation.
Prohibiting Expandable Polystyrene has proved to be a challenge, which is the reason so few states have succeeded in completely outlawing the containers. The material is extremely difficult to recycle, harmful to marine environments, and a water contaminant. Still, New York City had to fight to ban foam due to opposition from smaller businesses that felt more environmentally friendly containers were too expensive. "I will have to raise the prices on my menu, and that's going to be tough because I have customers for a long time who are used to my prices," restaurant owner Astrid Portillo told the New York Daily News.