Chick-Fil-A's Latest Alternative To Styrofoam Cups Is Basically 2 Paper Ones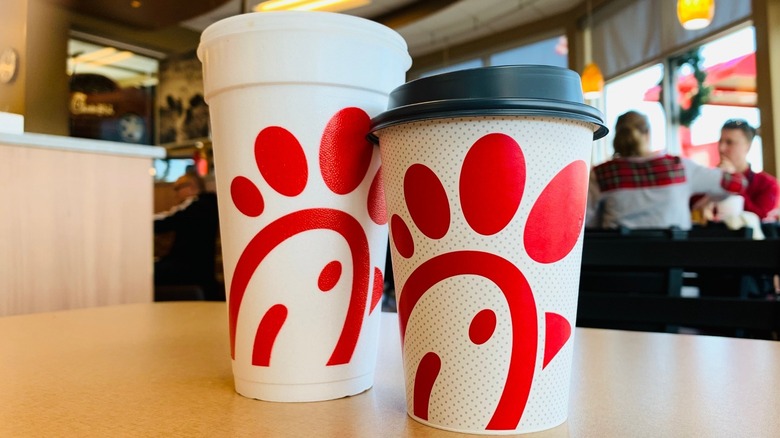 singh_lens/Shutterstock
While Chick-fil-A may be known for its chicken, it also has a variety of lemonades, teas, and frosted drinks. The chicken chain is ditching its styrofoam cups (at least in states that have banned them) for an alternative. The new double-layer paper cups, which became available at select locations this month, are being touted as a new thermal technology unique to Chick-fil-A. To the outside observer, however, it appears that they are little more than one paper cup shoved inside another paper cup.
Previously, Chick-fil-A had gotten some flack for its use of styrofoam cups. Polystyrene, also known as styrofoam, takes forever to degrade and has been linked to several environmental issues. Starting in 2019, nearly 300,000 people signed a petition on Change.org to get Chick-fil-A to ditch its use of styrofoam cups for good. Up until now, the company has made internal attempts to recycle the used cups — transforming them into blocks of polystyrene that could be fashioned into park benches, employee name tags, and pens. But it appears the chain is taking more action. 
At least, they are in select locations. Several states including New York, Colorado, and Maine have banned the use of styrofoam cups. Here's how Chick-fil-A's new cups keep your drinks cold.
Is two better than one?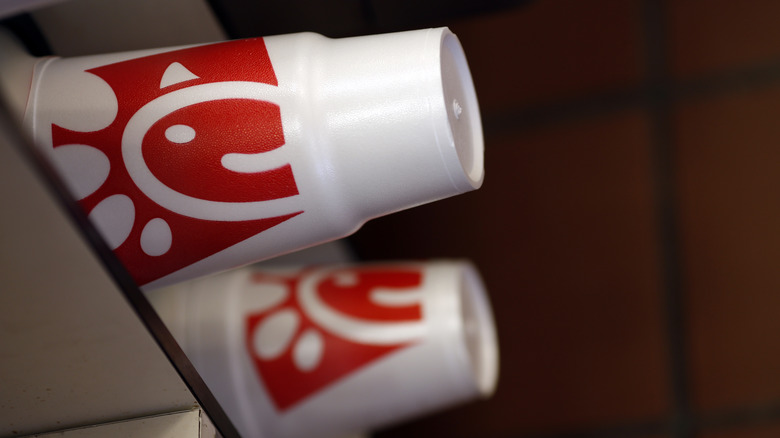 Bloomberg/Getty Images
Paper cups are notoriously inept when it comes to carrying cold beverages. According to AMS Compostable, when cold liquid is poured into a single-layer paper cup, the contrast between the temperatures inside and outside the cup gives way to condensation. As the paper absorbs the condensation, we're often left with a flimsy cup and an unfortunately watery soda. However, by adding an additional layer of paper, you essentially transform the once-vulnerable cup into a fortified thermos. This can be attributed to the air between the two layers of paper, which reduces the amount of thermal conductivity.
According to Chick-fil-A, the new cups are not only effective at keeping beverages ice cold but have also proven to decrease condensation and maintain rigidity. They are also recyclable as well. According to Driftaway, paper cups produce 28% fewer greenhouse gasses than styrofoam cups. Whereas it can take styrofoam 500 years to decompose, paper cups decompose in about 20 years. That being said, not everyone is a fan. The paper cups have divided Chick-fil-A employees.