IHOP's Pumpkin Spice Menu Is Set To Arrive Before Fall Even Starts
While calendars claim that fall begins on September 23 this year, the internet likes to joke that the beginning of August signals the start of Halloween season, calling for festive decorations and fall-flavored goodies well before the official arrival of autumn. Meanwhile, ambitious restaurant chains have already started giving the people what they want by offering pumpkin lovers and apple cider enthusiasts a taste of their favorite season while the summer sun still shines brightly. Before the leaves turn orange and the air begins to cool, the International House of Pancakes promises an early taste of fall in the form of everyone's favorite seasonal offering — pumpkin spice.
That's right: IHOP has announced it will be offering pumpkin spice pancakes beginning on August 28 (per FSR Magazine). The popular pumpkin-flavored pancakes fly off the shelves like literal hotcakes, selling over a million each year for 15 years straight. The pumpkin pancake platter will also include a pair of eggs, hash browns, and two bacon strips or two pork sausage links.
Starting August 28, the breakfast chain will also offer a pumpkin spice cold foam cold brew — a fan-favorite seasonal offering returning earlier than anyone could have expected. While there has not been any confirmation, pancake fans also continue to watch for the return of the iconic "scary face pancakes" – a spooky fall menu item that IHOP has offered in the past as a Halloween-inspired take on its iconic smiley face pancakes.
Restaurants are set to offer fall menu items extra early this year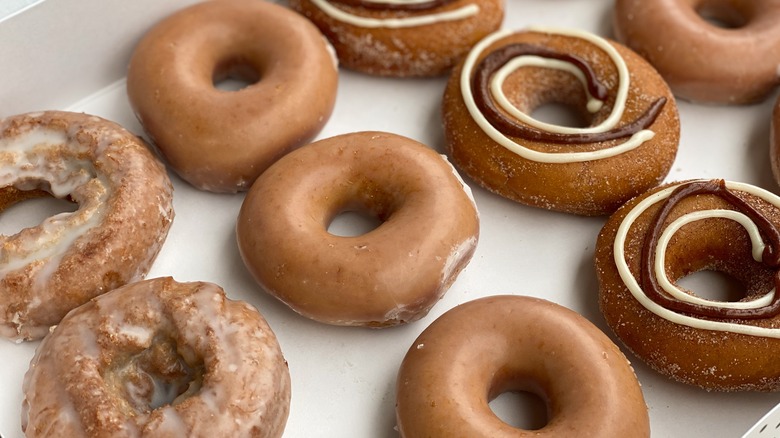 Ant DM/Shutterstock
While it may be a few more weeks before IHOP fans can enjoy pumpkin-flavored pancakes on a hot, summer morning, coffee lovers have even less time to wait. To the surprise of many, 7-Eleven dropped its pumpkin beverage options — consisting of a pumpkin spice latte and a pumpkin coffee with matching syrup — on August 1. Dunkin followed close behind, promising pumpkin spice products beginning on August 16. The company hinted at the release in a not-so-subtle Instagram reel, causing customers to mark their calendars extra early. Fans also eagerly await the seasonal menu from Starbucks, which was one of the first institutions to usher the pumpkin spice latte into the mainstream. Rumors claim that the menu will drop on August 24 with a few new additions, although no official statement has been made.
If you're looking to indulge in a pumpkin-flavored breakfast treat while you await the IHOP pumpkin pancakes, Krispy Kreme has your back. The donut maker announced on August 7 that it is officially offering four different fall-inspired donuts this year: a pumpkin cheesecake swirl donut, a pumpkin spice maple pecan donut, a pumpkin spice cake donut, and its original pumpkin spice donut. Clearly, people are craving the cozy taste of pumpkin earlier than ever this year, and restaurants are providing.