The Popular Brands Behind Trader Joe's Creamy Hummus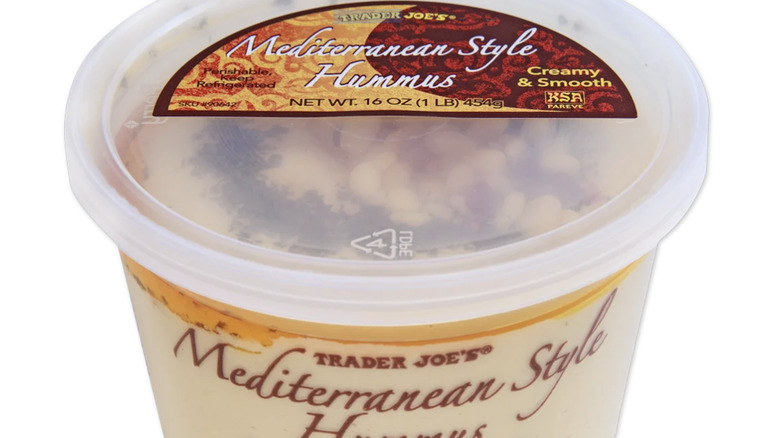 Trader Joe's
For hummus lovers, Trader Joe's is a one-stop shop for all the creamy bean dips a heart could desire. Of course, they don't have every flavor imaginable, but their selection is diverse enough to give shoppers seemingly innumerable options. While their chocolate hummus is a surprisingly delicious departure, savory favorites include classic, garlic, dill pickle, and even multi-layered hummus with cilantro and spicy red pepper.
The always-hip supermarket chain is known for having unique, one-of-a-kind products, but the truth is that the companies behind Trader Joe's items might be more familiar than most shoppers realize. Well-known brands sometimes supply products to the grocery store, replacing their own labels with that of the Trader Joe's brand. Of course, such anonymity is maintained, since neither party wants to reveal such relationships that could undercut brand loyalties.
According to Eater, Tribe Mediterranean Foods has long been the hummus brand behind the Trader Joe's label, at least in regards to its classic flavor. While it's unclear how many flavors they supply or how long this partnership has lasted, those who purchase the grocery store's "smooth and creamy classic hummus," get the exact same product as Tribe hummus from any other store.
TJ's hummus has a cult following for a reason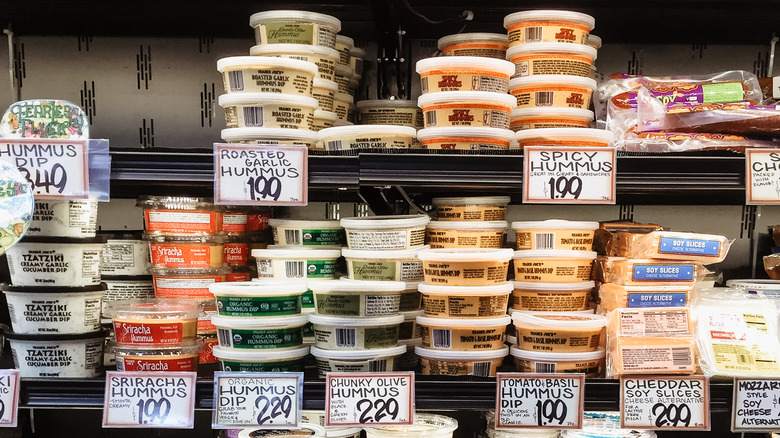 Corinna Haselmayer/Shutterstock
Interestingly, another Trader Joe's hummus flavor has been linked to a second manufacturer. The store's Mediterranean hummus, which comes topped with pine nuts and spices and is extra whipped for a creamy, delicious texture is actually the product of Bakkavor Foods. Ideally, folks behind the scenes would like this relationship to remain anonymous, but a 2016 Listeria contamination outed the relationship, impacting both Trader Joe's Mediterranean hummus and Bakkavor Foods while allowing consumers to see their connection.
Buying any such hummus through Trader Joe's will likely come at a cheaper price, since the consumer isn't technically paying for a name-brand product. However, the cheapest way to get hummus remains to simply make it from scratch. Hummus is traditionally made from blended chickpeas or garbanzo beans — which are very affordable, high in protein, and a healthy dip ingredient.
These beans can even be put on salad for extra substance or tossed in the air fryer for a crunchy snack. However, they truly shine when it comes to hummus, and the unique flavor plus convenience of Trader Joe's hummus is what gives it such a cult following. Of course, finding out that these dips are not unique to Trader Joe's might cause some to wonder what other products are disguised behind their label; don't be surprised if every effort is made to continue obscuring such relationships from the public.