News Flash: Smash Burgers Don't Have To Be Made With Beef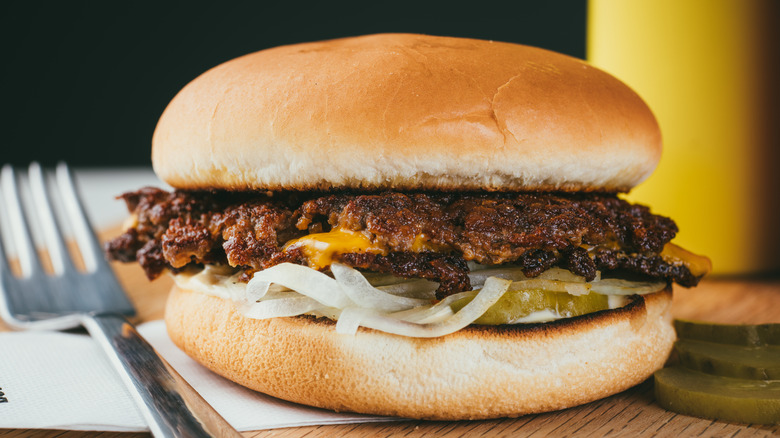 Daniel Brown Korea/Shutterstock
Although they've been around for years, smash burgers are having a moment. No matter where you look, you can probably find a restaurant offering burgers made with crispy, flattened patties. As much as we love big, brawny burgers, smashed varieties are culinary masterpieces not just because of their novel texture but also for their versatility. Beef is the traditional meat used in smash burgers, but where cooking is concerned, rules are meant to be broken!
As it turns out, smash burgers can be created from nearly any type of meat. If you're a pescatarian, try making smashed shrimp or salmon burgers. You can avoid red meat — and create a hearty meal — with smashed chicken or turkey burgers. Vegans, rejoice! You also can enjoy the simple luxury of a flattened burger by smushing your favorite plant-based patties.
Making smash burgers from various types of meat is as easy as grinding up your favorite protein, forming it into thin, disk-like patties, and grilling them. Since ground seafood isn't a common ingredient in most grocery stores, purchase your favorite fish and give it a few pulses in a food processor, blender, or, if your kitchen is equipped with one, a meat grinder. Once you've made the patties of your wildest dreams, assemble the burger with your favorite cookout ingredients. Classic or cutting-edge — there's no wrong way.
Smash burger recipe ideas
Now that you know just how customizable smash burgers are, you'll need some recipes to put them to use. What good is a burger without toppings?
To create a smashed shrimp burger, blend ground shrimp with breadcrumbs, herbs, and seasonings before smashing and grilling the patty and assembling slices of fresh avocado, spicy aioli, shredded lettuce, and tangy pickled red onions. For an alternate recipe, one foodie on TikTok made a smash shrimp burger with avocado, bell peppers, and green onions.
If seafood isn't your thing, blend ground chicken with minced garlic, onion, and a blend of Italian herbs for a light, lunch-worthy smash burger elevated by sun-dried tomato pesto, melted mozzarella cheese, tender baby spinach, and juicy sliced tomatoes.
Keep it classic with a ground turkey smash burger topped with American cheese, tomato, onion, pickles, mayo, and ketchup — a tried and true delicacy. If you don't eat meat, purchase a pack of your favorite plant-based ground meat and flatten it before grilling for a vegan-friendly smash burger. If you don't have vegan ground beef, start with a pre-made vegan patty and use your hands to break its shape and mold it into a smash burger patty. With these flavorful recipes, you'll be eating smash burgers like a true foodie in no time.