Before Aldi Became A Grocery Powerhouse, It Was A Corner Store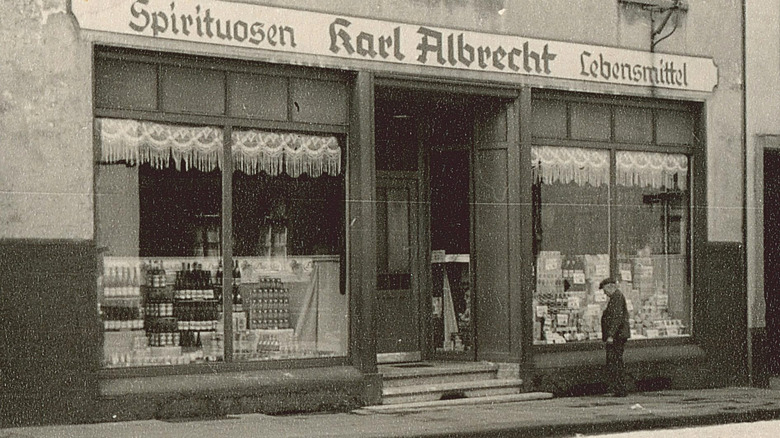 Handout/Getty Images
Though the competition in the grocery industry is fierce, Aldi has been embraced by shoppers — even being named the most popular grocery store in the U.S. If it seems like an Aldi is cropping up in every town, then you're not wrong, but the grocery powerhouse had very humble beginnings. In fact, the first prototype for what would become Aldi started as nothing but a corner store.
Let's rewind all the way back over a century to 1913 Essen, Germany. Before it became Aldi, the grocery chain was a small store started by Karl Albrecht Sr. and his wife Anna. Initially, a coal miner, Karl made a career change to that of a baker, and the couple sold the goods in the store. Unfortunately for the family, Karl fell ill and was no longer able to help run the shop. As a result, Anna manned the shop solely since her two sons, Karl Jr. and Theo were away fighting in World War II. Despite bombings by Allied forces in Essen and the upheaval of the war, the shop escaped unscathed. 
Both brothers returned home after the war to take over the family business from their mother. In post-World War II Germany, cash was tight for the Albrecht family, and both Karl and Theo realized they had to operate the shop as a simple, basic supplies discount store. That model would soon lead them to success. Thus, Aldi began in earnest in 1946. 
A tale of two brothers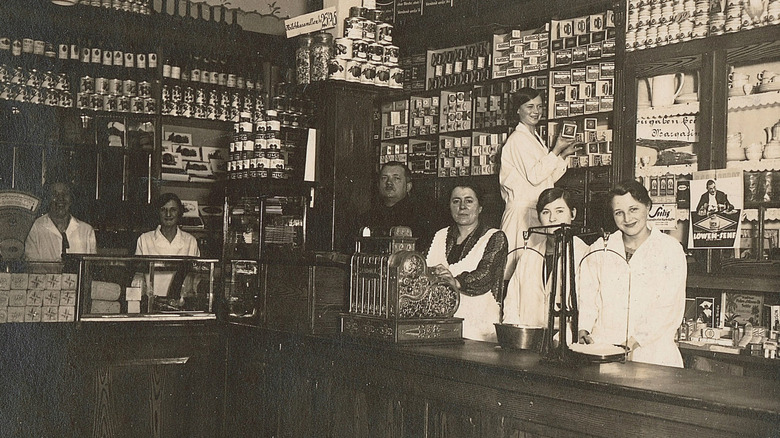 Handout/Getty Images
In order to cut down on costs, both Albrecht brothers decided to just sell non-perishable items at the store. These early years were stringent with no room for advertisement nor any items that weren't making profit, leading to Karl and Theo employing several cost-saving measures to keep the lights open. Fortunately for them, there were plenty of people looking for discounts after the war as millions had been displaced, and the German economy was in tatters. This created the perfect opportunity for the Albrecht brothers to grow their business, increasing their number of shops from one to more than 100 stores by 1955.
Despite the success of their partnership, Karl and Theo would experience a falling out that led them to splinter their growing grocery empire. The dispute occurred over cigarettes, with Karl reluctant to stock the item in their stores despite Theo's insistence. So, in 1961, the brothers divided their 300 stores into north and south of Germany, separating into Aldi Süd and Aldi Nord. Though they were divided, both brothers still worked closely together to take Aldi international. Aldi Süd opened its first store in Iowa in 1976 and is the company that many U.S. shoppers know today. Meanwhile, Aldi Nord found its own entry into America in 1979, purchasing the popular chain Trader Joe's.