11 Chain Restaurants That Surprisingly Use Frozen Fries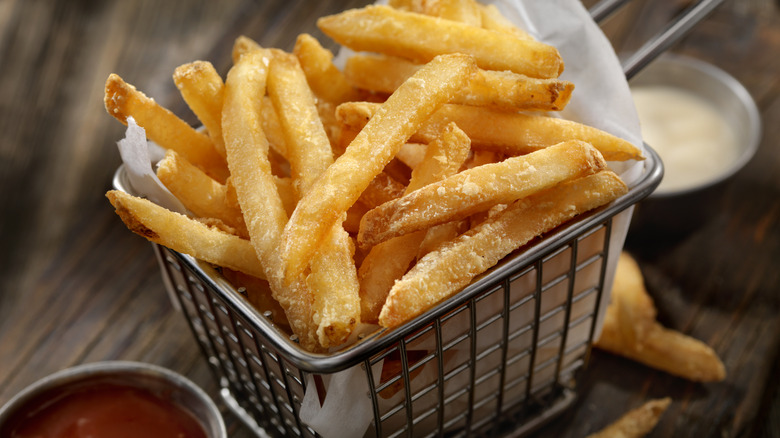 Lauripatterson/Getty Images
What deep fried edible accessory is adaptable enough and delicious enough to pair well with a toasted sandwich, a burger, a milkshake, a bowl of mac and cheese, a corn dog ... or even a juicy steak? That would be the overwhelmingly popular sliced potato side dish, french fries. According to Tastewise, 52.67% of restaurants have fries listed on their menus — which just goes to show how beloved a salty plateful of steak-cut, curly, or shoestrings really is with consumers.
While we like to envision every mouthwatering french fry being sliced off a fresh potato in the back of the kitchen from which we are ordering, it turns out that this scenario is not the reality for many of the eateries we know and love. Frozen french fries have become an increasingly popular option not only for those of us in our kitchens at home ... but for restaurants as well. Here are some familiar chain restaurants that surprisingly use frozen fries.
McDonald's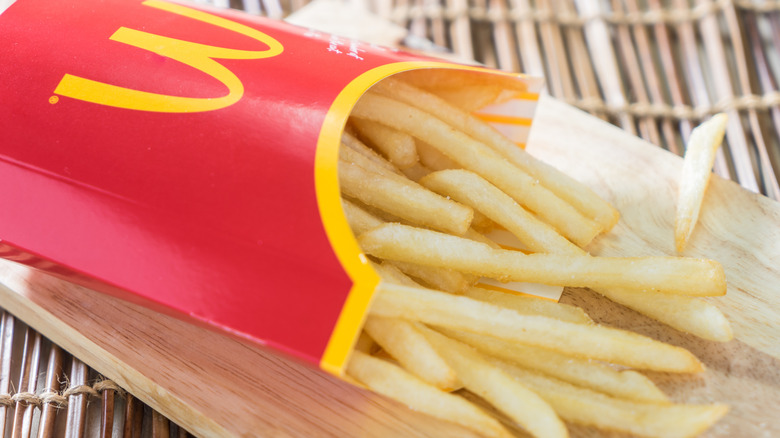 Junce/Getty Images
The majority of us probably have a memory of opening a Happy Meal as a kid and going straight for the overly salty, yet ridiculously good, french fries still steaming at the bottom of the bag. "How does McDonald's perfect their french fries? It's literally the best fries you can get from a fast food joint. They're addicting," reads the title of a thread on Reddit, mirroring many consumers' sentiments regarding the potato product from the world's leading fast food chain.
However, another user on this same thread came back with a cheeky response that many loyal McDonald's fry fans might find disheartening. "Frozen fries heated in vegetable oil ... with salt from a salt shaker," the comment reads. And it's true; the french fries many consider to be the best in fast food are sliced in advance and blanched before being frozen, eventually pulled out of the freezer to be cooked for customers. This process of how fries are made, though it may carry with it some disappointment, isn't all bad. Freezing allows for nutrients and taste to be locked into the potatoes and creates consistency worldwide — meaning that whether the McDonald's is found in the United States or in Australia, consumers can enjoy the exact same taste, fry by fry.
Wendy's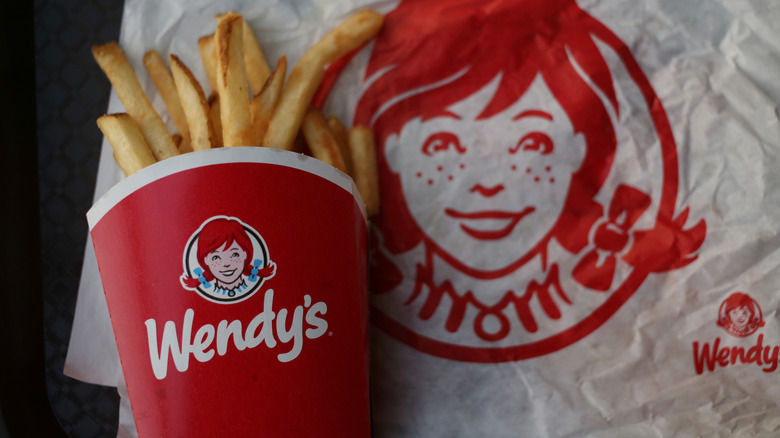 Bloomberg/Getty Images
The popular chain best known for its Frosty beverages and the unique square-shaped burgers with corners that stick out of the sides of their round buns is Wendy's. Given that the company itself proudly proclaims the meat used to craft its yummy beef patties is never frozen, it seems a bit of a surprise that the french fries on its menu wouldn't follow the same rule. But, alas, Wendy's fries — which are cut with some of the skin left on to ensure extra flavor and crunch — are frozen in advance, supplied by Simplot Foods.
Interestingly, Simplot is the same company that introduced the frozen-potato technique to McDonald's. Fries that were tossed in the freezer immediately after being cut, it insisted, would maintain their quality even when it was not potato season. Apparently Wendy's saw merit in this idea and went for it, no doubt finding that to be an easier way to preserve consistency in its fries all year long. Whether or not the end result is appreciated by consumers, however, is difficult to say. Some people seem to love Wendy's fries while others seem to hate them, but however you feel about them personally, the potato side remains a reliable and dependent staple on the restaurant chain's menu.
Chick-fil-A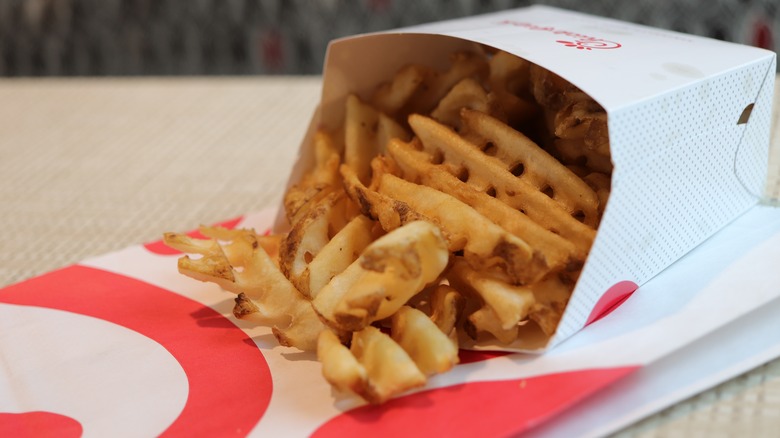 Deutschlandreform/Shutterstock
The chicken powerhouse known as Chick-fil-A is famous for a few things — its heavenly chicken sandwiches, of course, its refreshing lemonade, its crispy nuggets ... and its salted waffle fries. But while the popular franchise with over 2,600 locations in the United States makes and breads its chicken in-house, the treatment does not extend to its criss-crossed french fries.
Per Chick-fil-A's website, both Lamb Weston and Simplot are credited with supplying the huge restaurant chain with its waffle fries and hash browns. The chopped and seasoned potato creations are frozen before being shipped out of the suppliers' factories to Chick-fil-A locations everywhere, providing for longevity and maximum freshness — as is both Lamb Weston's and Simplot's business models. However, in case you needed more substantiation, a few Reddit employees under the company's subreddit clear up any remaining doubt under a thread titled, "Waffle Fry Question." Both of them make comments to the original poster about the fact that the taste and texture of the waffle fries can change if they are not being frozen or thawed properly. Although the fact that the potato side waits for our order in the back of a dark freezer cannot be ignored, we can still choose to enjoy the waffle fries and their sodium-heavy presence — just not on Sundays.
Burger King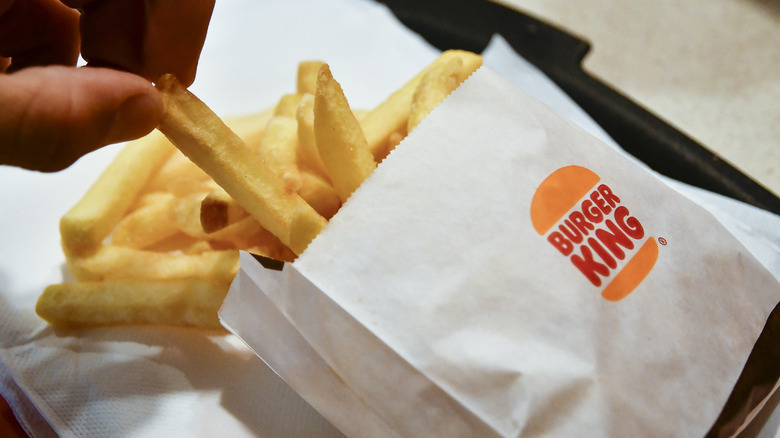 Stefano Guidi/Getty Images
Since 1954, Burger King has been supplying the masses with burgers like its famous Whopper or Bacon King. It has also supplied both its American and international customers with loads of french fries, plopped down in handfuls next to its beefy creations as the perfect salty side dish. Along with its popular breaded chicken fries, Burger King is certainly a top contender in the consumer fry department, noted as the second largest fast food burger chain in the world behind only McDonald's.
However, multiple employees on various platforms have confirmed that the popular standard classic fries, as well as the chicken fries, do indeed come to Burger King's stores frozen in big plastic bags, ready to be dropped in the fryer and served up to hungry customers. "Burger King's fries go to the stores pre-made and frozen," said one user in Google groups. "Burger King thaws the fries to room temperature before frying." A Reddit employee under the company's subreddit explained that the chicken fries are dumped into the fryer right off the bat from frozen, and a TikTok video made by another employee confirms this. While information on suppliers or where the products are actually developed is not provided by the Burger King franchise, wherever they come from, the two pre-frozen fry styles ultimately end up in the bellies of many a consumer.
Jack in the Box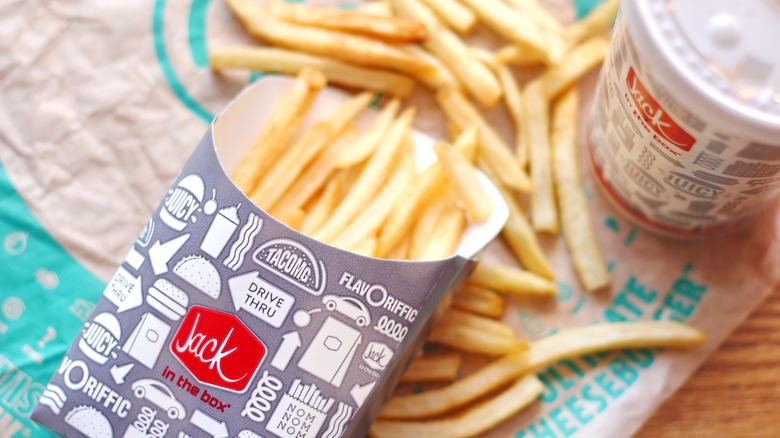 Birch Photographer/Shutterstock
"Jack-In-The-Box has the best french fries at any fast food restaurant," reads the title of a thread on Reddit. "It bothers me that they don't get enough credit." Whether you personally agree with this bold declaration regarding the potato side from the restaurant chain with the round-headed, white-faced mascot known as Jack Box, one can hardly argue that its fries, which are available either curly or straight, do good business. The chain opened its doors in 1951 and quickly grew to become one of the top burger places in the United States, with french fries a consistent offering on the menu.
According to a 2008 Los Angeles Times story, Jack In The Box, like so many other restaurant chains, began using Simplot to supply its fries after businessman J.R. Simplot revolutionized the process of freezing potatoes. The burger company remains a customer to this day, according to multiple Reddit sources. The good news for consumers is that, on occasion, the same frozen Simplot curly fries used by Jack in the Box can be found in the aisles of wholesale grocery stores such as Smart & Final or Costco — giving fans the opportunity to toast up a pan to serve alongside their next round of homemade burgers.
Nando's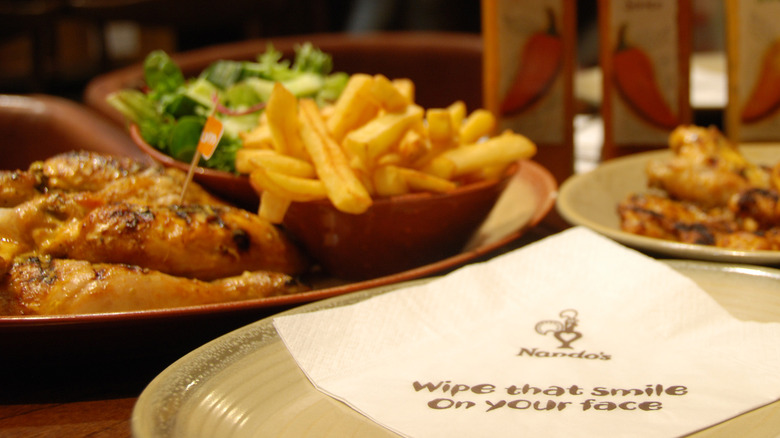 easyknotcocco/Shutterstock
Nando's, a prominent chain in the U.K., is highly coveted for its PERi PERi chicken, a spicy grilled dish marinated in a mouthwatering sauce developed with full-bodied flavors like African bird's eye chili peppers. It's not hard to understand how the company's zesty menu has set it apart. Multiple European celebrities, Prince Harry included, have come out as being Nando's fans.
And what comes on the plate next to that steaming hot grilled chicken? That's right — a pile of PERi chips (or fries, as they are called in the U.S.). Seasoned right along with the main dish, the chain's potato side has been praised heavily for its delicious sprinkled spices ... which is perhaps why the company made such a splash in 2018, when it admitted to using McCain HomeChips — a standard frozen fry brand popular in the freezer aisles of European markets — as the basis for its coveted culinary creation. It seemed a bit of a blow for the restaurant's fanbase, who seemed to want to believe in a Nando's kitchen where the world's best chips were whipped into existence by magic — or, some old-fashioned slicing of potatoes. Still, there is a bit of an upside to the reality of the situation. Seeing as the basis for the spicy side is available at customers' favorite store, it only takes a quick trip to grab all the ingredients they need to recreate the delicious PERi chips right in the comfort of their own home.
Taco Bell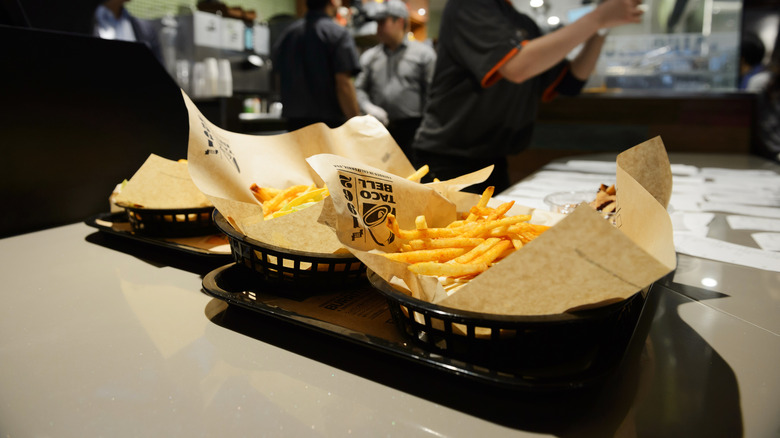 Bloomberg/Getty Images
Oh, Taco Bell. It's a college kid's favorite 2 a.m. drive-by and perhaps the restaurant on our list with the most varied menu. From tortilla chips to toasted burritos, breakfast cinnamon pastries to pizzas, Taco Bell certainly offers its customers a little bit of everything. And would the restaurant chain's menu be complete without french fries? We think not.
Cue the Nacho Fries, a box full of sliced-up potatoes loaded with Mexican-style seasonings and served alongside a cup of heated cheese sauce. Sounds amazing, but seeing as nearly the entirety of Taco Bell's menu has been called out by former employees for coming in frozen, it feels less than shocking that the zesty french fries are no different. Though this fact is not openly publicized by the company itself, a thread on Reddit featuring a discussion by employees regarding the Nacho Fries reveals the truth: the crispy, seasoned potato treats begin their journey to consumers' plates frozen. "Has anyone tried blanching the fries to save time?" asks one employee, wondering over the preparation process in the kitchen. Another user answers that this method, though beneficial for fresh batches of fries, negatively alters the taste of frozen ones and can't be used in their case. Still, this rotating menu item is always successful when it comes around, becoming Taco Bell's best-selling new item in history when it debuted in 2018 — so, frozen or not, it's obviously doing something right by the potato-based product.
Sonic
Sonic, somewhat unique with its drive-in business model, has an extensive menu. When you pull up in your car and start scanning the menu full of hamburgers, popcorn chicken, mozzarella sticks, hot dogs, ice cream sundaes, and multiple flavored limeades, you might at first feel a little taken aback by all the choices. But when you see it — a faithful familiar listed among the sides — you feel instant, sodium-induced comfort. That's right, french fries, specifically, Sonic's natural-cut fries.
This newer recipe, which was introduced in 2013 to replace the company's original french fries, came along with a few changes. For one, the skin of the russet potatoes was left on during the slicing process to allow for extra crispness when fried. And secondly — you guessed it — the starchy, salty strings were frozen in preparation for shipment to waiting Sonic locations everywhere. Whether or not this straight-out-of-the-freezer technique has anything to do with the fact that the natural-cut fries don't seem to be a consumer favorite, we can't say. Many reviewers have negative things to say and name Sonic tots the superior choice for a potato side. We guess the only logical thing to do to settle the debate is to head out to your nearest Sonic location and order both. After the smiling Sonic carhop wheels your order out to your car, you'll have to decide for yourself.
Arby's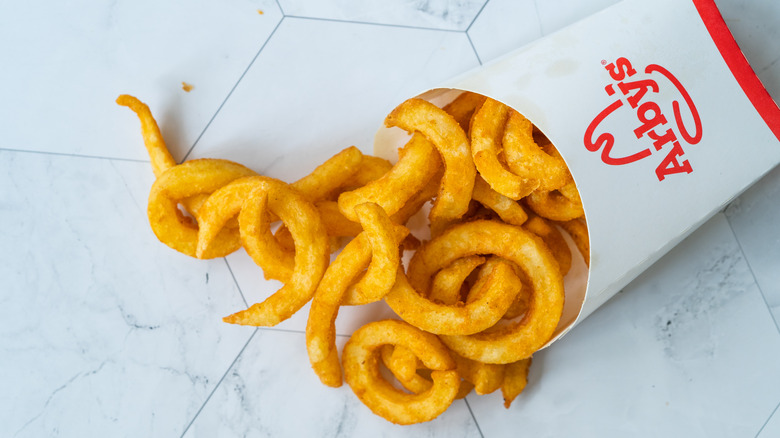 Alp Aksoy/Shutterstock
Ahh, Arby's curly fries. The crispy, salty spirals that curl up invitingly out of the tops of the little cardboard cups in which they are served are praised virtually across the board. "Them curly fries are the bomb," stated one Reddit user, and quite frankly, we have to agree with the sentiment. But, seeing as consumers can pick up a bag of Arby's-branded frozen curly fries in the supermarket these days, it shouldn't come as too much of a shock that the well-loved potato side you order straight out of the restaurant drive-thru has also been brought back to life from frozen.
ConAgra Foods, the supplier of Arby's curly creations, has quite the process for preparing and packaging the well-loved fries, according to Academic Accelerator. It begins with a thorough washing of mass amounts of potatoes, which are then pushed through a series of pipes. Within these tunnels, layers of turning blades slice away repeatedly to form potato corkscrews, which then go on to be blanched by the dozens, seasoned, fried, frozen, and shipped to their final destination — an Arby's restaurant, where they will be fried again before going out to the customer. But the frozen origin story doesn't seem to deter the loyal fan base of the curly fries, as they remain one of the most popular items on the menu.
KFC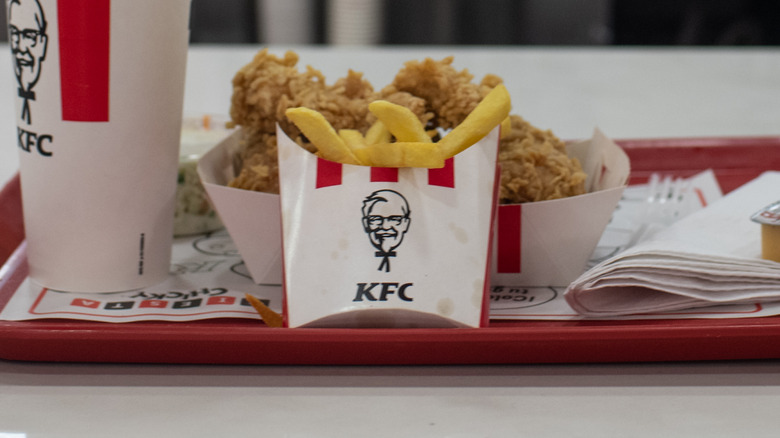 Bloomberg/Getty Images
The company that provides literal buckets of fried chicken may be better known for its poultry products than its potatoes, but the massively successful KFC does offer a few different spud-based side options. One, of course, would be the classic mashed potatoes and gravy, but another is a relatively newcomer to the menu. A few years ago, KFC replaced its potato wedges with a new product, Secret Recipe Fries. Once the shock of the switch wore off, they were pretty positively received overall by KFC clientele.
However, just as the wedges before them, KFC's newer potato side is fried from a previously frozen state. One employee on Reddit even suggested that it was the difficulty in getting the much-thicker wedges to cook all the way through without them still being frozen in the middle that prompted the change to the slimmer fry style. Regardless whether or not this is true, the revelation that the newer side comes as frozen as its predecessor really isn't surprising when you consider that the KFC Biscuits, mashed potatoes, and gravy have all been confirmed by restaurant workers as being either straight from the freezer, or nothing more than powdered mixes heated up in water. KFC will not be winning any awards for freshness with its sides, but seeing as it is the most searched fast food chain in the world, according to Business Financing, the fact doesn't seem to be deterring customers any.
Shake Shack
The story of Shake Shack fries is an interesting one because it opens with a company that tried to go from frozen to fresh ... and ended up right back where it started. Shake Shack, a burger and ice cream joint with a presence in 83 countries worldwide, is known for using higher quality ingredients. Perhaps that's what motivated it to begin work on an in-store system for creating its very own, chopped fresh daily potato fries.
While the chain was still getting itself ready for the production of its new, improved french fry side — including setting up equipment and training staff — it served its customers standard, frozen crinkle cut fries alongside its freshly crafted juicy cheeseburgers and milkshakes during the interim. However, something rather unexpected happened when it finally did make the switch — the restaurant's french fry sales dipped tremendously. As it turns out, customers actually preferred the frozen to the fresh, prompting many a heated comment within online forums and a petition on Change.org to bring back the groovy, frozen crinkles. It appears that in the case of Shake Shack, fresh is not always better, after all.