How A Saucepan Yields Crisp And Juicy Smashburgers
By now, we've hopefully all become familiar with the mouth-watering delight of a proper smash burger. However, the method for smashing a burger patty into an incredibly thin, crispy, caramelized burger can be a bit difficult to master at home without special tools specifically for this meal.
At least, that was the case until a recent TikTok shared a simple and easy pan-searing method that utilizes little more than a saucepan and some tin foil.
The method, which the TikToker credits to America's Test Kitchen for cooking up, simply sees the home chef pressing the burger patty into a thinly spread layer of beef over a ripping hot skillet, utilizing the tin foil-wrapped base of a saucepan to ensure even surface tension across the entire burger.
The traditional method for making smash burgers calls for specialty tools such as a flat-top cooker and a giant flat spatula, making the barrier for entry just a bit too high for many home cooks looking to perfect their burger-flipping skills.
What other methods could be utilized to make smash burgers?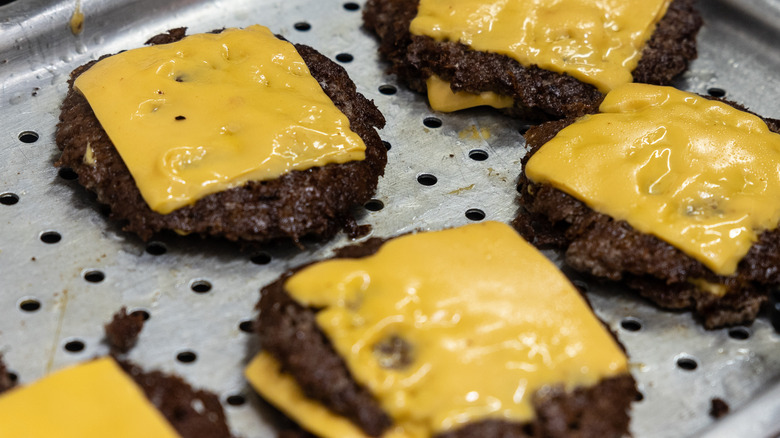 Emanuele Cremaschi/Getty Images
While the tin foil and saucepan method appears highly simple and incredibly functional in the TikTok video, there are multiple ways to perfect your smash burgers at home. As many commenters pointed out under the post, you don't need special tools to craft the perfect thin-beef burger in the comfort of your own kitchen.
Some commenters suggested alternatives to using tin foil, which serves as a barrier between the raw meat and the pan, mostly to prevent sticking or messes. As one TikToker states, "[W]hy not just use the pot," while another commented, "Use a square of wax paper and push down."
Additionally, other users offered their thoughts on different household objects that could flatten a burger into a delicious disk, including potato mashers, mason jars, or even baking the patty between a pair of cooking sheets.
While not all methods for smashing burgers are created equal, this serves as yet another reminder that experimenting in the kitchen can be a fun and inventive process, allowing each of us a different outlet to craft our own delightful creations in a myriad of styles.