Give Your Mac And Cheese A Fall Twist With Canned Pumpkin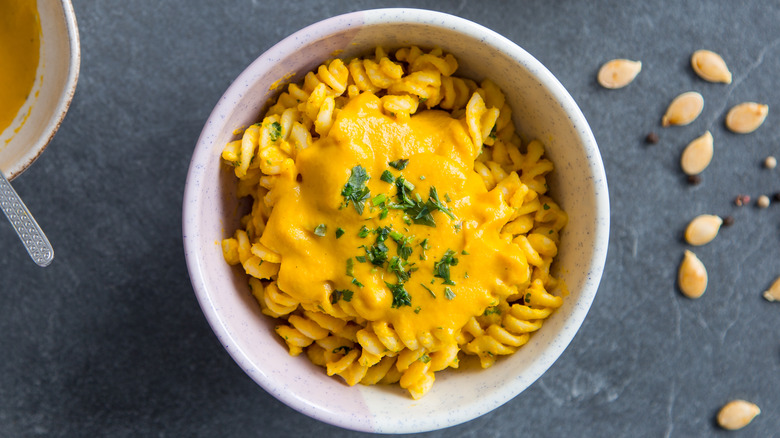 MagdaZarebska/Shutterstock
With fall harvest almost upon us, a flood of seasonal vegetables is about to arrive in stores. From there, squash, cabbage, broccoli, and potatoes are featured on our dinner tables in roasts, mashes, and soups. Perhaps the star of the show, however, is pumpkin. If you're not trying all the pumpkin-flavored products on shelves and cooking pumpkin recipes at home, you're not making the most of the season. For those who want to embrace this beloved ingredient in a savory way, try giving it a main role in a timeless dish: macaroni and cheese. 
There are so many reasons why you should try making pumpkin mac and cheese — it's simple, comforting, everyone loves it, and best of all, you can use canned pumpkin. Props to you if you want to purée a pumpkin on your own, but no need to go the extra mile with this recipe since the difference between canned pumpkin and fresh pumpkin is not too sizable. Plus, canned pumpkin is a bit silkier in texture, which is advantageous for a creamier mac.
How to make pumpkin mac and cheese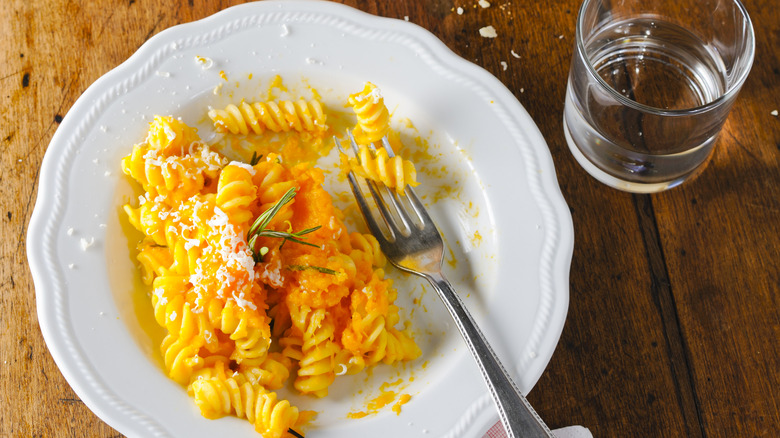 Ekspansio/Getty Images
Making pumpkin mac and cheese is as easy as incorporating canned pumpkin and fall spices into a traditional mac and cheese recipe. 
After cooking your desired pasta shape, craft a cheesy, dreamy sauce. Get started on a roux by melting butter over the stove — but before adding flour, toss sage and garlic into the melting butter to kickstart the sauce's flavor. After stirring in milk and canned pumpkin, toss in shredded cheeses like cheddar and gouda, then complete it with more herbs and spices. Thyme, nutmeg, and onion powder — even a dash of cinnamon — will bring more autumn charm. Having a thick and well-seasoned sauce means you've already skipped out on some of the biggest mistakes people make with mac and cheese.
After you've successfully made pumpkin mac and cheese, you may wonder what other fall flavors you can try. Consider using pumpkin's relative, the butternut squash. Trader Joe's frozen version of butternut squash mac and cheese is one product many people rave about online, but those who can't wait for it to come back in stock simply make it at home. It's just as easy as pumpkin mac and cheese — swap your canned pumpkin for a can of butternut squash purée instead. For an extra bite of texture, try cubing and roasting any squash varieties to mix into your dish at the end.