What It's Like Eating At The Bougie McDonald's Worldwide Convention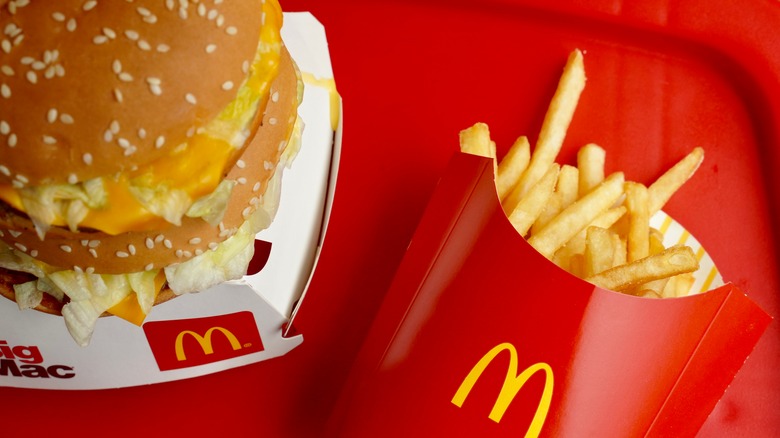 PJiiiJane/Shutterstock
Did you know McDonald's has a worldwide convention? While it may not be open to the general public, various McDonald's franchisees and employees unite every two years to celebrate recent successes and look to the future. While no one may envy corporate speeches, the McDonald's Worldwide Convention does have a selection of grub that would make many want to attend.
The convention is a chance to sample various menu items from McDonald's global franchises, without actually having to get a passport and hop on the plane. There's a selection of food on display, including various takes on McDonald's ice cream like the Matcha McFlurry from Japan (which is a green tea take on a traditional McFlurry), the Pistachio McFlurry from Italy, the Caramel Brownie McFlurry from Germany, and the Easter Creme Egg McFlurry from the United Kingdom. 
If you don't have a sweet tooth, there's the McSpicy from China, that country's take on a chicken sandwich. Canada has breakfast options not found in the U.S. like the BLT Egg McMuffin, which combines elements of a traditional BLT like lettuce and tomato with a McMuffin spin. Of course, you could always get a traditional Big Mac, as well. But why not substitute your fries for French deluxe fries? This international menu item most closely resembles potato wedges in the U.S. The food served at the convention is part of McDonald's celebrating all aspects of its global network.
Behind the convention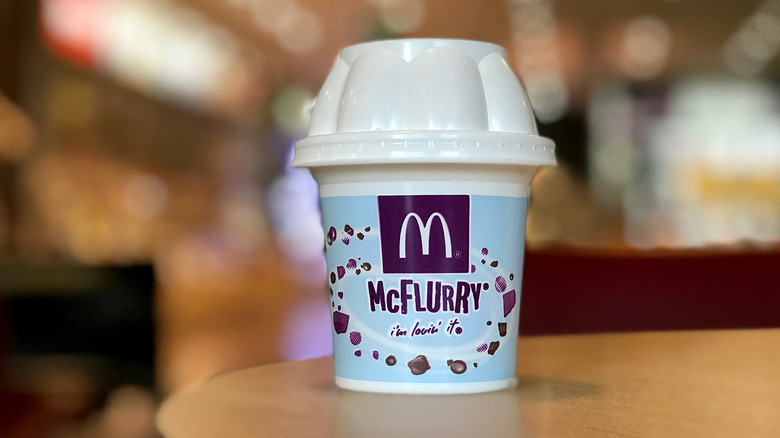 pancha.me/Shutterstock
More than 12,000 people attend the festival every two years, which has been held everywhere from Hawaii to Las Vegas and more recently in Orlando, Florida. With more than 40,000 restaurants across over 100 countries involved, there are a lot of food options brought to the convention floor. As part of its global food strategy, McDonald's serves different menu items in different countries, unique to their locations. According to the company's website, it swaps up its menu in order to honor local tastes and customs. Even specific states like Florida sometimes have their own regional items like the McPizza, which also made an appearance at the convention recently. The food at the convention resembles that of an international food festival except, of course, it's all McDonald's. For its conventions, McDonald's pulls out all the stops featuring large-scale musical acts like Pink and Imagine Dragons. So, it makes sense that McDonald's would spare no expense with bringing its global catalog domestically as well. In a TikTok from the 2022 convention, CEO Chris Kempczinski even shared his own favorites from the global menu, which included Finland's Taco McShaker Fries and the Chicken Big Mac.
The convention started in 1965 and has grown as the company has in the decades since. While those who don't like McDonald's would scoff at the convention's selections, many Americans, who've had a serious case of FOMO, would probably jump at the chance to finally try McDonald's global offerings themselves.