Burger King Wants You To Vote On Its Next Ghost Pepper Menu Item
Ghost pepper is returning to Burger King in a big way as two menu items square off in a fan-voted competition (via Fast Food Post). Using the Burger King app, Royal Perks members will be able to choose between the Ghost Pepper Whopper and the Ghost Pepper Chicken Fries, and the winner will regain its place on the menu for yet another limited-time run. Though it's too soon to tell which item will come out on top, various Reddit users reviewed the products during their initial release. 
When it came to the Ghost Pepper Whopper, one original poster deemed it "so good," and many commenters agreed. Others suggested customization of the burger to really drive it home. "I added lettuce, tomato, onion, and pickles," said one user. Another preferred regular cheese to ghost pepper cheese to eliminate some of its intense heat.
In another thread, customers voiced their thoughts on the Ghost Pepper Chicken Nuggets, which are returning as chicken fries this time around. "I thought they had a nice kick," a commenter wrote, adding that their spiciness is quite prominent. One user revealed they were "pleasantly" surprised by the nuggets.
Voting must be done on the Burger King app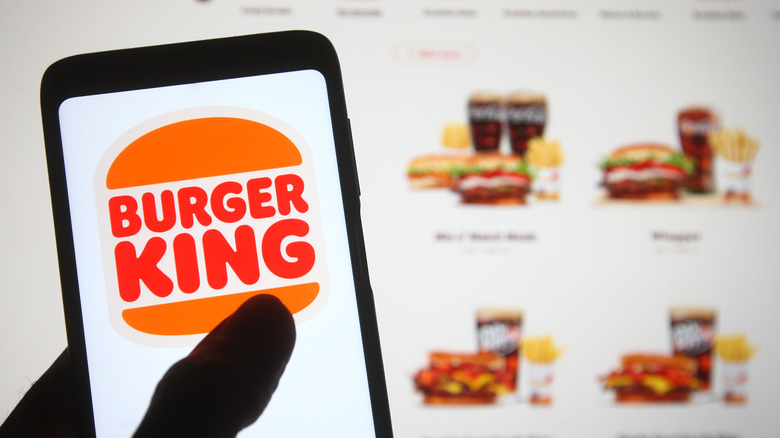 viewimage/Shutterstock
As a Halloween treat, the Ghost Pepper Whopper first made its Burger King debut in October 2022. It had an orange bun and was stuffed with ghost pepper cheese, bacon, jalapeños, spicy queso, and a flame-grilled beef patty. The burger was only available for a few short weeks at the end of October, and it was an exclusive offering for Royal Perks members. To further the spooky excitement, an electromagnetic field ghost detector was also added to the Burger King app.
On the other hand, Ghost Pepper Chicken Fries were only available in select stores throughout North Carolina. However, in other areas, the Ghost Pepper Chicken Nuggets acted as a stand-in, with a likely similar taste. The chicken fries were released in the summer of 2021, so they've technically been in existence for longer than the spicy Whopper. 
Though only Royal Perks members can vote in the contest, it's unknown if the products will be members-only exclusives. Voting officially opened on August 23 on the Burger King app.