Turn An Almost-Empty Jam Jar Into The Perfect Container For Overnight Oats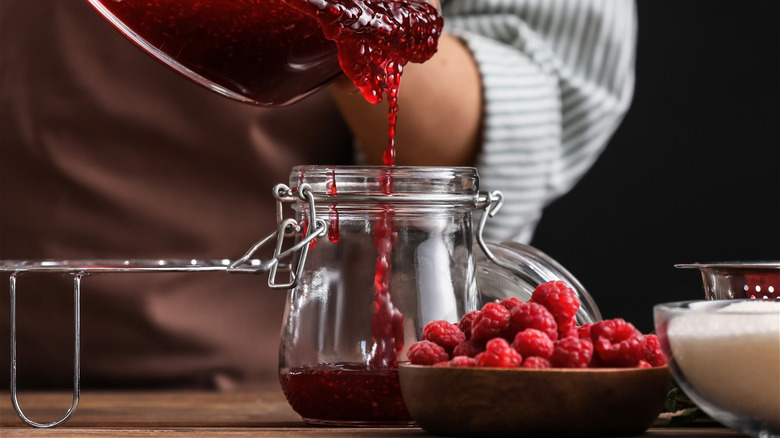 Pixel-Shot/Shutterstock
Ah, another leftover jam jar you're reluctant to recycle until you get every last drop of jam. Before you rinse it, repurpose it. An almost-empty jam jar is the perfect container to prep your morning breakfast. Just toss in your usual overnight oats recipe, give it a good shake to incorporate all the jammy goodness, and set it in the fridge till morning, when you'll be treated to a lightly fruity, creamy, quick breakfast. 
Overnight oats are oats that you soak overnight in a liquid, usually milk or yogurt, which the oats will absorb to become soft and porridge-like. Since no heat is added to your oats, they'll yield a creamier result, and the flavor will remain more pronounced and oaty. To achieve the perfect texture, maintain a 1:2 proportion of oats to liquid. You can use dairy milk or yogurt or non-dairy versions of either — the non-dairy will create a thicker oatmeal.
If you're feeling creative with your jammy oats, try adding different mix-ins such as honey, maple syrup, chocolate chips, chia seeds, or even fruit. If you have a strawberry jam jar, add your oats along with fresh strawberries, strawberry yogurt, and a splash of milk. Bananas go well with spiced apple jam. Add some peanut butter to a grape jelly jar for a twist on the classic flavor combo. Nut butters can provide some extra creaminess and protein, and you could mix up your overnight oats in a nearly empty cashew butter jar as well.
You can make them a couple days in advance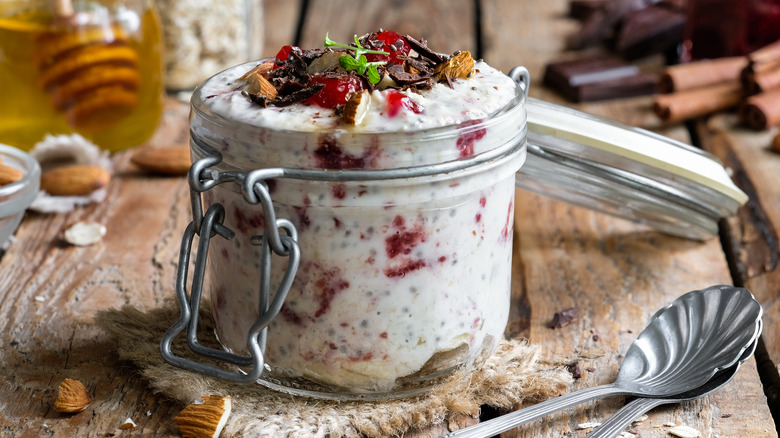 YuliiaHolovchenko/Shutterstock
Put down your instant oatmeal packets slowly; these jammy overnight oats are about to beat them for both taste and convenience. Although this would work with a variety of oats, for best results we recommend rolled oats. Quick-cooking oats are thinner and tend to result in mushiness, which is even more true of instant oats, which have already been processed, causing them to break down even further. Steel-cut oats have a slightly chewier texture and are closer to raw oats. While they can work for overnight oats, you'll find that they're still fairly firm the next day. The ideal texture can be achieved with rolled oats, soaked for at least six hours. They stay good for 4-6 days, depending on what add-ins you've used (fresh fruit should be eaten more quickly), so if you find yourself with a fridge full of nearly-empties, you can prepare a couple of different variations to keep you breakfasting in style for days.
Not a fan of oats? You can repurpose your leftover jam in other ways, such as creating a jam-tastic salad dressing. Simply shake up your favorite Dijon mustard, oil, and vinegar right in the jar, saving you both time and dishes. But don't stop there; you can also try your hand at crafting a marinade, sandwich sauce, or even jammy-infused milk. Whatever you reuse your almost-empty jam jar for, make sure you spread the creativity!