Overnight Oats Recipe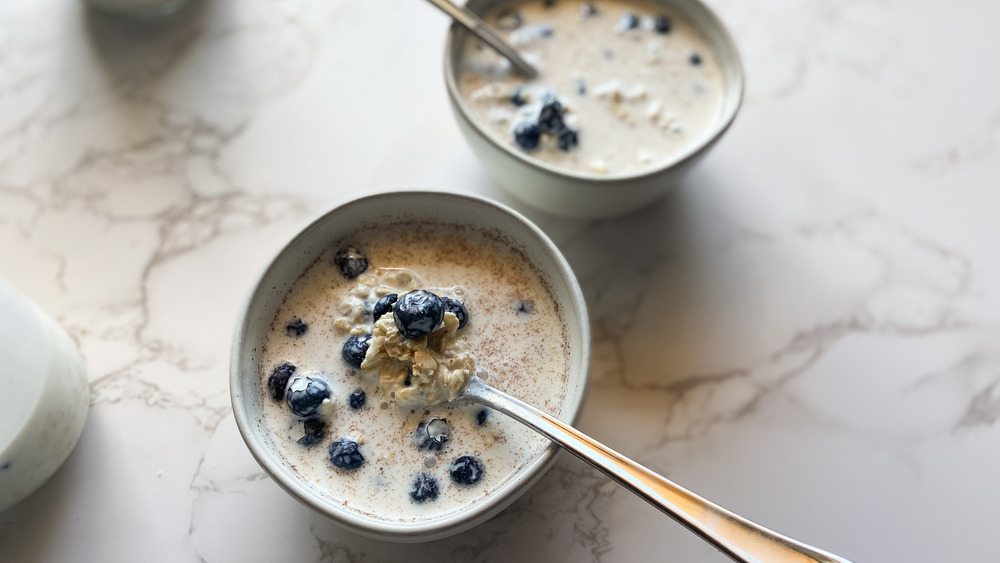 Kristen Carli/Mashed
Rolled oats are a super healthy, nutrition-packed food that is full of vitamins and nutrients like vitamin B1, folate, zinc, iron, copper, and more, according to Healthline. But nutritional value is just one of the reasons chef, food writer, and registered dietician Kristen Carli of Camelback Nutrition & Wellness is a fan of this easy meal. "I recommend overnight oats to my nutrition patients because they can be prepped the night before for busy mornings," she says.
Want one more reason to give these overnight oats a try? They're simply delicious. Not to mention, they're filling and give you a good dose of energy that those busy mornings often call for. The only real problem with this meal is that if you forget to prep it, there's no quick fix — overnight oats really do need to sit in the fridge for a long time. In fact, Carli recommends that they need a good six hours to get just right. Alas, this means that you can't just whip up a bowlful any time you want.
That said, what you can do is prep your breakfast for tomorrow, the next day, and even the day after that. "These should chill for no longer than 3 days," Carli says, but this means that on Sunday night you can take care of breakfasts for Monday morning you, Tuesday morning you, and Wednesday morning you, too. Thoughtful person, that Sunday night you!
Gather your ingredients for overnight oats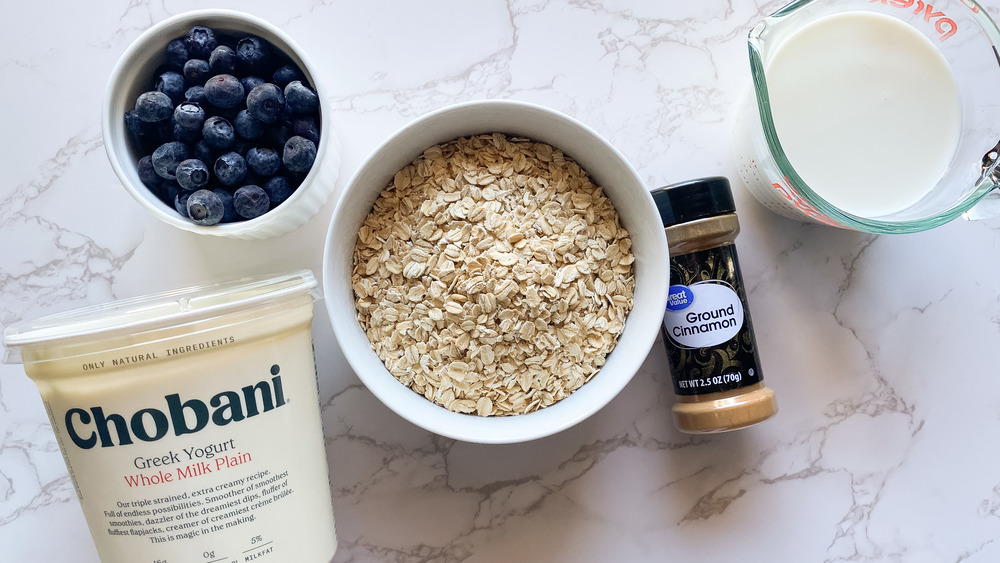 Kristen Carli/Mashed
You need just three ingredients to make the most basic bowl of overnight oats. Those are a cup of rolled oats, a 1/2 cup of unsweetened Greek yogurt, and 2 cups of milk. But to add flavor (and more antioxidants, in the case of both of these ingredients, as it happens), you'll also want to have a 1/2 cup of frozen blueberries and a 1/2 teaspoon of ground cinnamon on hand. Don't skip the cinnamon, either, as it adds plenty of flavor and can carry some valuable health benefits.
Want to add more flavor and nutrients? Try adding chia seeds or flax seeds (which also carry healthy omega-3 fatty acids) when you make the oats. You could also throw in some sliced bananas or crushed nuts right before you eat your breakfast. These overnight oats are well-suited for plenty of different add-ins, so, once you've got this basic recipe down, feel free to elaborate as you see fit.
Preparing your overnight oats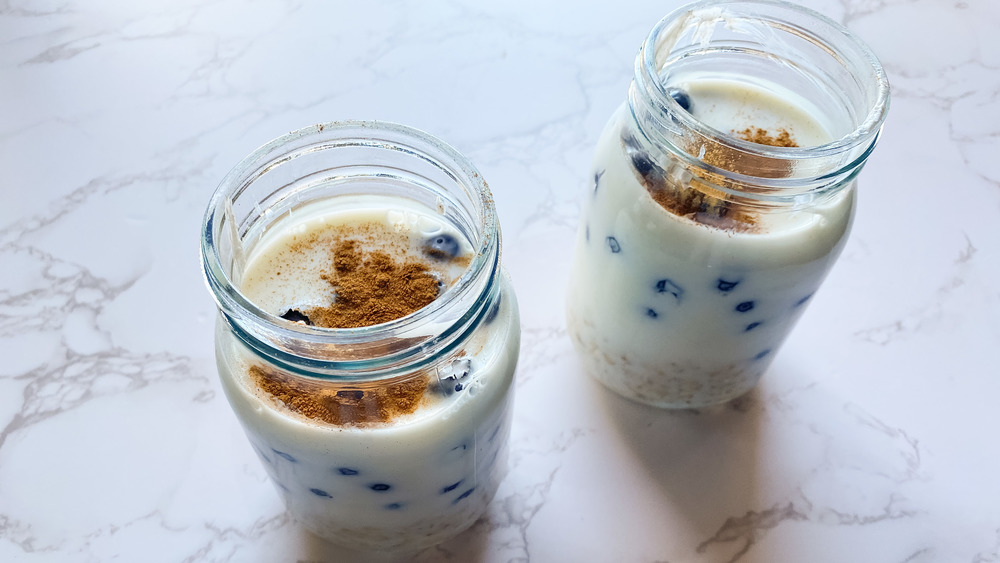 Kristen Carli/Mashed
Making these oats could not be much simpler. Simply get two 16 ounce jars with lids, and evenly divide the ingredients between them. In other words, place 1/2 a cup of rolled oats, 1/4 of a cup of yogurt, 1 cup of milk, a 1/4 cup of blueberries, and a 1/4 teaspoon of cinnamon in each jar.
Now stir the ingredients until they are fully mixed. Then, secure the lids and place the jars in the fridge. Now, we wait. Allow the jars to chill for at least 6 hours, and not more than 3 days, lest they become soggy. And that's it.
This recipe makes for 2 servings of overnight oats, for the record. To make a single serving, just halve the ingredients and use a single jar.
What are the best kind of ingredients for overnight oats, anyway?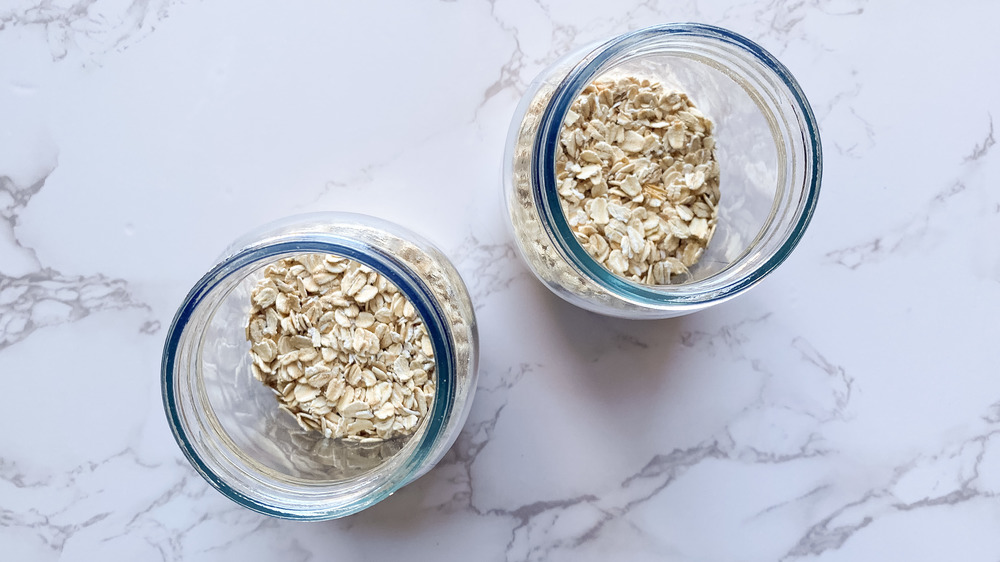 Kristen Carli/Mashed
If you take even a minute to glance over the variety of oats available in your local grocery store, things can get complicated fast. Whole oats? Steel cut? Instant? Rolled? What's going on here? There's a bit of confusion out there about what, precisely makes for the best type of oat to use for this recipe, so let's take a moment to clear that up.
According to The Spruce Eats, a whole oat is called an oat groat (yes, that is pretty great) and is what you find beneath the inedible husk of the plant. An oat groat is edible as is, but it's pretty tough to chew and ultimately pretty slow to cook. Thus, most oats are sold after some preparation. Steel-cut oats are oat groats that have been chopped into a few pieces so that they cook a bit more easily, but these minimally processed oats are still pretty tough and take somewhere in the neighborhood of 20 to 30 minutes to fully cook. 
Rolled oats, like the ones used here in Carli's recipe, have been steamed and then literally rolled flat. This means that they absorb fluid better without cooking.
Finally, quick oats used in instant oatmeal are rolled very thin and broken down more than rolled oats, so they cook the fastest. They also lose some nutritional value in the process, meaning instant oatmeal isn't necessarily the healthiest option out there.
Overnight Oats Recipe
These overnight oats are easy to make, nutrient-rich food that you can prepare the night before. Plus, they're so good you'll want to eat them every morning.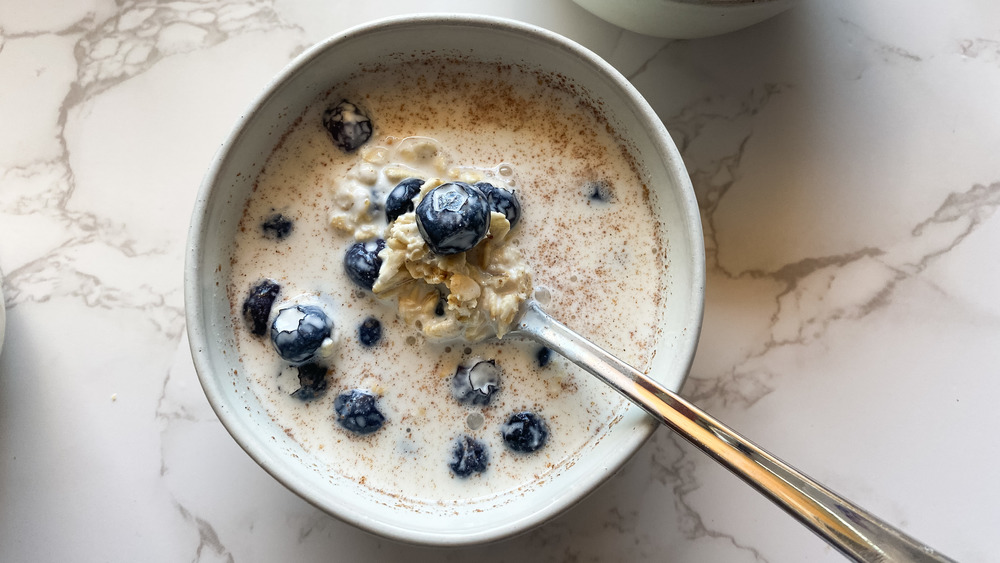 Ingredients
1 cup rolled oats
½ cup unsweetened Greek yogurt
2 cups milk
½ cup frozen blueberries
½ teaspoon ground cinnamon
Directions
In two 16 oz jars, place ½ cup rolled oats, ¼ cup yogurt, 1 cup milk, ¼ cup blueberries, and ¼ teaspoon cinnamon.
Stir ingredients until fully mixed. Secure the lids and place the jars in the fridge.
Allow the jars to chill for at least 6 hours and no more than 3 days.
Nutrition
| | |
| --- | --- |
| Calories per Serving | 383 |
| Total Fat | 14.6 g |
| Saturated Fat | 7.4 g |
| Trans Fat | 0.0 g |
| Cholesterol | 34.0 mg |
| | |
| --- | --- |
| Total Carbohydrates | 47.2 g |
| Dietary Fiber | 5.0 g |
| Total Sugars | 19.0 g |
| Sodium | 140.2 mg |
| Protein | 18.7 g |