Chain Restaurant Buffets That Disappeared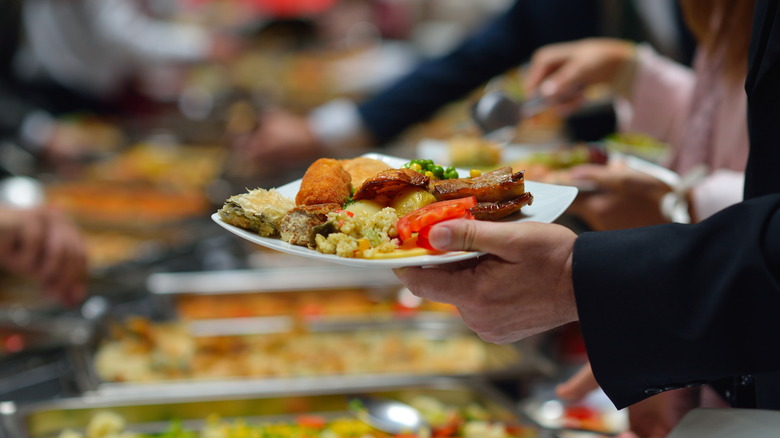 dotshock/Shutterstock
If going out to a restaurant is a novelty — where one pays for the privilege of others cooking, serving, and cleaning up a meal — a buffet is a world of almost unlimited delights. The possibilities are endless at a buffet, and so are the portions. Customers bask in the glory of piling plates high with as much and as wide a variety of food as they want. They can go back and get another plate, and another, and another, and then at least one dessert. It's all included in one reasonable price, and everyone in the party is happy because even a modest buffet offers something for everyone.
With so many benefits, it's no wonder that buffet chains emerged as a major segment of the American restaurant landscape, all of them offering all-you-can-eat helpings of familiar comfort foods, salads, and treats. But, tastes and times change. Buffets are increasingly a relic of the past, a slowly but noticeably dying sector of the dining industry. Here are some once mighty and bountiful buffet chains that have disappeared or are seemingly headed toward oblivion.
Souplantation and Sweet Tomatoes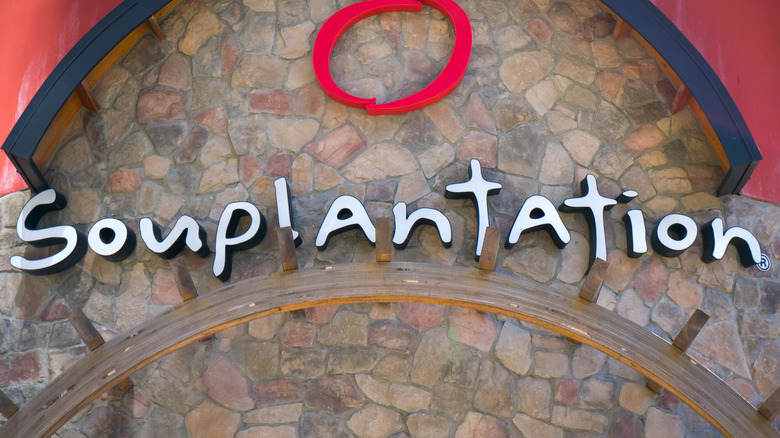 Ken Wolter/Shutterstock
Souplantation opened its first location in San Diego in 1978, right at the peak of the 1970s health food, clean-living craze. Under the corporate umbrella of Garden Fresh Restaurants, the unique, self-serve concept would expand to include another, nearly identical buffet restaurant, Sweet Tomatoes. Both offered customers all-you-care-to-eat plates and bowls of mixed green salads, fresh fruits and vegetables, pizza bread, baked potatoes, pasta, soups, rolls, and desserts, most of it with a nod to or emphasis on healthier eating. Its iconic feature and selling point was a 50-foot-long salad bar. By 2020, Garden Fresh operated nearly 100 Souplantation and Sweet Tomatoes buffet restaurants all across the United States.
Buffets were one of the first businesses to close down during early, government-ordered pandemic restrictions in March 2020. If shutdowns were intended to limit the spread of COVID-19, restaurants where strangers handled the same serving utensils were viewed as especially volatile. Two months after the lockdowns began, Garden Fresh realized that because of how it operated, it wouldn't be able to survive the pandemic, regardless of how long it lasted or how soon restrictions were lifted. In May 2020, the parent company of Souplantation and Sweet Tomatoes announced that it would file for bankruptcy protection. With that move, 97 restaurants closed and 4,400 people were suddenly out of work.
Furr's
In the early 21st century, several buffet chains covered most of the contiguous U.S. A number of them were all operated by the same parent corporation but maintained their individual corporate identities, customer bases, and specialized fare. After some mergers and realignments, Fresh Acquisitions LLC and Buffets LLC consolidated and controlled the buffet scene, operating five separate buffet brands — Ryan's, Old Country Buffet, HomeTown Buffet, Furr's, and Fire Mountain. In 2021, that umbrella corporation filed for bankruptcy — which sped up the demise of, or permanently closed down, all five of its buffet chains.
When the initial COVID-19 restrictions eased up and were scaled back, buffet companies found they didn't have enough money to operate after having lost multiple months of crucial revenue. Among the brands that faded out in 2021 was Furr's, which operated as an inexpensive, cafeteria-style restaurant where customers picked plated food on display. The end came less than a year after an attempted rebranding as the more upscale Furr's AYCE Marketplace. 
Ryan's
Fresh Acquisitions LLC and Buffets LLC were already on shaky financial ground before the pandemic hit. Industry-wide, business had been on the decline for more than a decade. The corporation overseeing the buffets had filed for bankruptcy before, in 2008, 2012, and as recently as 2016. Buffets LLC did emerge from those dire straits, but not unscathed — holdings including regional restaurants like J.J. North's Grand Buffet and Soup 'N Salad Unlimited never opened back up, and those account for some of the 166 eateries the company had to close.
Significantly reduced in the 2012 Chapter 11 bankruptcy filing was Ryan's, a no-frills buffet operation with dozens of well-attended locations. Overall, the company closed 16% of all of its restaurants to help account for $245 million in debt, including 81 Ryan's outlets. At the time of the 2016 bankruptcy filing, another 166 closed within a month. The 2020, post-pandemic bankruptcy filing of Fresh Acquisitions and Buffets eliminated what remained. Other casualties of the bankruptcy were Old Country Buffet and HomeTown Buffet. 
Fresh Choice
Starting out in 1986, Fresh Choice evolved into a prominent buffet restaurant chain focused on healthy foods — primarily fresh, sustainable, organic produce showcased in a gigantic salad bar. Once featuring more than 40 ingredients with which customers could craft their own salads, Fresh Choice used a self-serve approach, allowing customers to grab soup, pasta, fruit, desserts, and baked goods. By 1997, the California-centric Fresh Choice ran 48 restaurants in three states, having acquired the Zoopa buffet chain in Washington state. When David Boyd bought the company in the 2000s, he sought to emphasize the quality of the buffet's vegetables, turning Fresh Choice into an upmarket restaurant with farm-to-table produce from small and local farms.
In 2012, Fresh Choice filed for Chapter 11 bankruptcy protection for the second time in a decade. Fresh Choice appealed to an older clientele, and after the recession hit, customers spent less per check than younger, wealthier customers did, a base that it had a hard time attracting at its many Silicon Valley–adjacent locations. Months after the second bankruptcy filing, Boyd moved to liquidate Fresh Choice and kept two restaurants open under a new concept called California Fresh. They offered sandwiches and salads purchased by the pound, but no more buffets; the company found them catastrophically too costly to operate.
Sizzler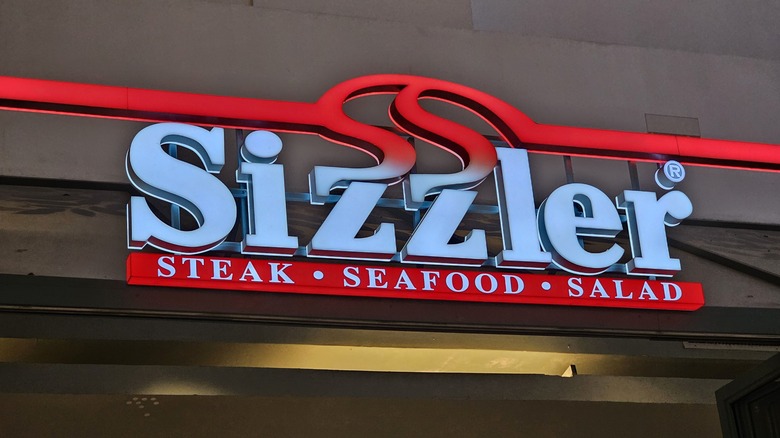 MeSamong/Shutterstock
When the first Sizzler opened in Culver City, California, in 1958, it represented a new way of dining out. It combined the fare and sit-down experience of a steakhouse with a meandering, widely varied self-service area the restaurant called a "Buffet Court." As Sizzler developed and grew into a national chain, the buffet did, too. Patrons could order just unlimited access to that signature bit of restaurant real estate, which included an overstuffed salad bar as well as multiple soups, a make-your-own taco station, and a sundae bar, or it could be visited for a few bucks more to go with kitchen-ordered dishes like fried shrimp platters or a steak-and-baked potato dinner.
Sizzler represented two restaurant concepts — steakhouses and buffets — that had a hard time staying relevant and attractive as the casual dining scene it helped create and popularize became overcrowded with competitors who could offer better steak options and more interesting or less expensive buffets. Once a chain of several hundred outlets, Sizzler closed down 136 outlets in 1996 and dismissed 4,600 employees. Already contracted and out of some markets entirely, including the entire Midwest, Sizzler filed for Chapter 11 bankruptcy protection in September 2020, not long after COVID-19-fighting dining room closures destroyed business. By that point, Sizzler had a little more than 100 locations left. As of 2023, there are only around 80, the majority of which stand in Sizzler's birth state of California.
The Wendy's Superbar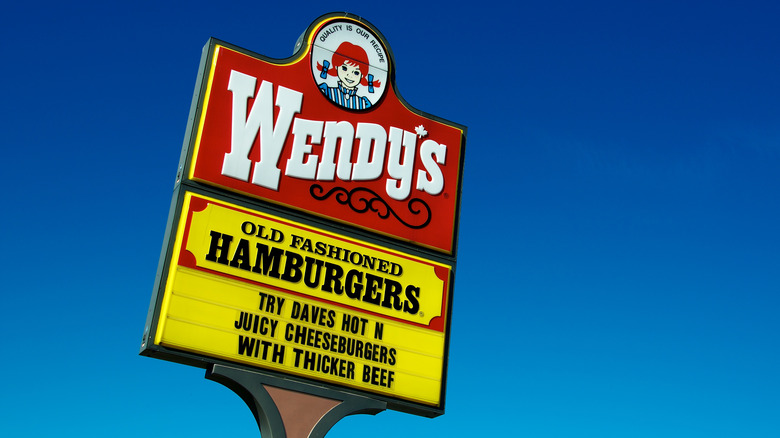 Awseebaran/Getty Images
In an attempt to move away from drive-through or take-home options, Wendy's invited customers to come inside and stay awhile — as long as they wanted — with the introduction of the Superbar in 1988. Jumping on and expanding upon the salad bar trend of the 1980s, the Superbar was a sizable, all-you-can-eat, serve-yourself buffet broken down into three distinct and well-stocked areas. "Pasta Pasta" offered two types of noodles and two Italian-inspired sauces. "Mexican Fiesta" allowed customers to make their own loaded tacos. "Garden Spot" included a salad bar and desserts (vanilla and chocolate pudding). Patrons could return to the Superbar to load up another plate as much as they wished, and at a low price to boot: about $4 for adults and $3 for kids.
Oddly and ironically, the Superbar was so successful that Wendy's had to get rid of it. Although primarily stocked with inexpensive foods like pasta, beans, and lettuce, Wendy's couldn't make much money on the Superbar, especially when labor was factored in — it was so well-used that employees had to constantly restock it. In 1998, Wendy's began to do away with the pasta and taco stations and then slowly phased out the salad bar, eliminating it entirely by 2006.
Popeyes buffet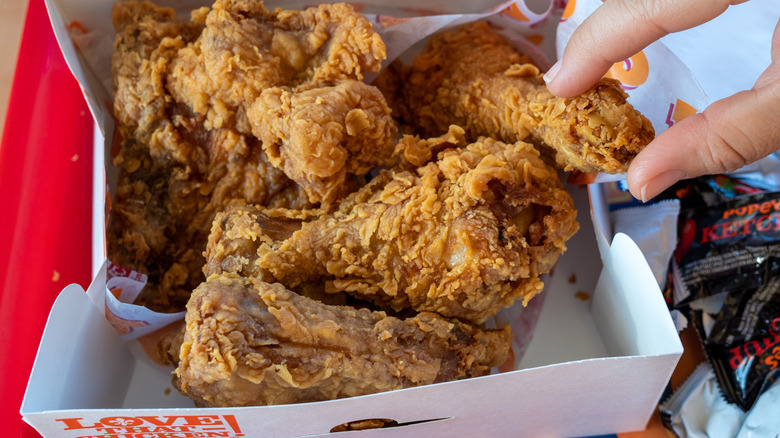 David Tran Photo/Shutterstock
It was never widely heralded, and thus the number of participating locations at its peak is difficult to determine, but at one point in time, many Popeyes Louisiana Kitchen outlets across the United States once operated full-service buffets. They offered all of the most popular and famous mains and sides sold by the Cajun-inspired, poultry-forward chain. For one price (not much more than that of a combo meal), customers could select and consume as much as they liked from a hot bar featuring spicy, bone-in fried chicken, less-fiery regular chicken, biscuits, french fries, red beans and rice, rice dressing, macaroni and cheese, and mashed potatoes and gravy. Some Popeyes stores set out big metal pans of cheap-to-produce items not normally found on the regular menu, including tacos and spaghetti.
As of 2010, just three buffets remained in the nationwide Popeyes network with stores in Huntsville, Alabama; Panama City, Florida; and Lafayette, Louisiana. Just seven years later, only the Lafayette location still had the all-you-can-eat, self-serve buffet at a per-person cost of $10. The pandemic would ultimately spell the end of that holdout and the Popeyes buffet in general. After a management change, virus-reduction concerns, and the removal of an outdoor banner advertising all-you-can-eat chicken, the Lafayette buffet went cold in late 2021.