Air Fryer Cheesecake Is The Solution For Stress- And Mess-Free Desserts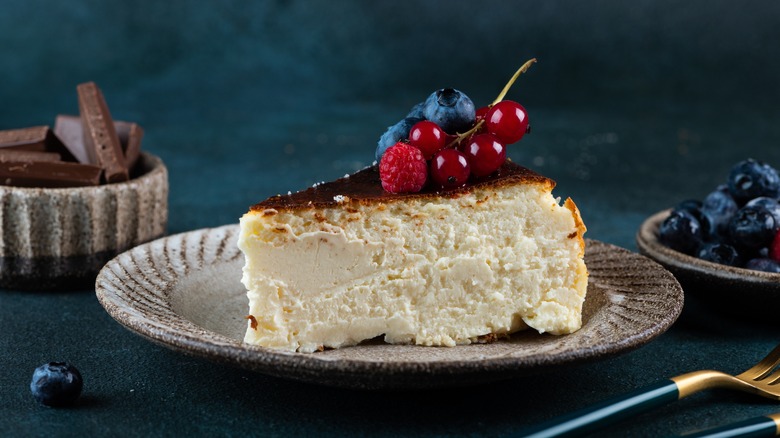 Alexandra Harashchenko/Shutterstock
You're probably thinking, "We have gone too far with air-fried cheesecake. Does it even work?" Well, we're here to serve you a slice of truth: It does work, and it's the ultimate solution to save time. However, you are going to want to make sure your springform pan fits the air fryer before proceeding. Simply follow your regular cheesecake recipe, then bake the cheesecake for about 20 to 30 minutes at 300° Fahrenheit. Be aware that the appropriate timing can fluctuate based on your cheesecake pan size and the air fryer model. This approach entirely sidesteps the typical struggle with time that oven baking entails, often stretching to a three-hour process. Just keep a lookout for a golden-brown color and a slight jiggle; these signs indicate when your cheesecake is perfectly done.
And if you accidentally air fried some cracks on the top, try not to panic; just cover those delicious mistakes up with a dollop of whipped cream. Air-fried cheesecake can be stored just like traditional cheesecake. You can freeze it for up to three days in the fridge or one month in the freezer. That trusty graham cracker crust won't turn into a crumble in the fryer and mini cheesecakes work in there, too. Feel free to explore various crust options, such as Oreo or brownie crusts. Or try adding swirls of peanut butter or strawberry purée for an extra touch of flavor. As for your trusty water bath, bid farewell and opt for your air fryer instead.
How to make air-fried cheesecake healthier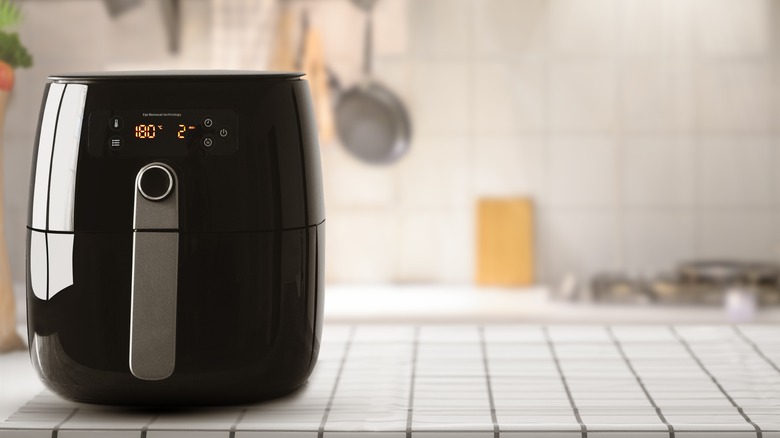 Casezy idea/Shutterstock
Let's face it, cheesecake isn't the healthiest dessert choice out there — its star ingredients are eggs, cheese, and sugar. We know you might be thinking, "But it's air fried, so it has to be healthy." Well, the air fryer doesn't add any health benefits when it comes to cheesecake, it just cooks it faster. However, there are ways to make your air fryer cheesecake less of a caloric nightmare. 
Try swapping out ingredients like sugar, for example, and use lower-calorie sweeteners instead. Or consider substituting those Honey Maid graham crackers for the crust for a lower carb option or just omitting them completely. You can even opt for cottage cheese and yogurt as a substitute for cream cheese. And if you're wondering who even decided to incorporate that fattening cream cheese in the first place, we're here to tell you that well-aged question takes us back to the beginning — about 4,000 years ago, to be exact.
The earliest mention of cheesecake dates back to the fifth century B.C. and was significantly different from the recipe we know. In fact, cheesecake was distributed at the 776 B.C. Olympics to provide strength and sustenance (Cheesecake.com). It wasn't until the 1930s that traditional cheese curd was replaced with cream cheese. But who made the switch? Well, that's one calorie we couldn't count. So, whether you prefer a lighter version of this air-fried cheesecake recipe or the addition of fattening cream cheese, the extra calories will thank you.