Whatever Happened To The Mixing Bowl After Kitchen Nightmares?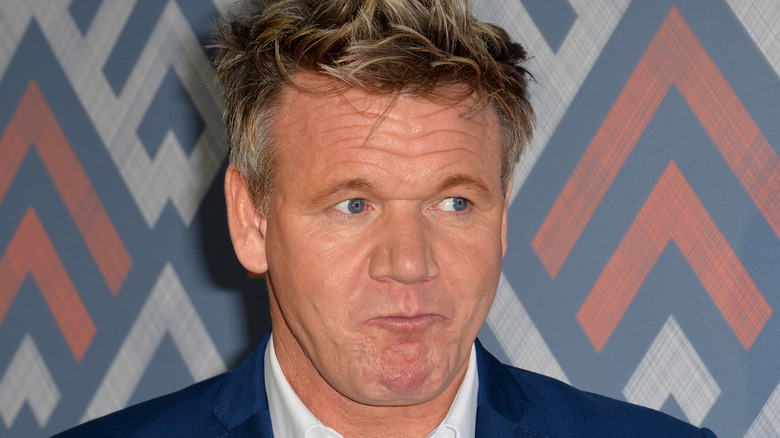 Featureflash Photo Agency/Shutterstock
Gordon Ramsay's hit show "Kitchen Nightmares" revealed the underbelly of failing restaurants and aimed to fix them, often running into questionable kitchens, bizarre characters, and even full-blown "Kitchen Nightmares" scandals along the way.
When Ramsay arrived at The Mixing Bowl in Bellmore, New York in 2007, the place was down on its luck. Completely dead and empty, the establishment was struggling with its business and staff at the beginning of this episode. The restaurant experienced some growth after appearing on the show, staying open for two more years after the "Kitchen Nightmares" episode aired before closing for good in 2009.
The owners, Billy and Lisa Galletti, were married and also worked at the establishment as chef and waitress, respectively. A primary source of dysfunction was the difficult manager Mike, who enjoyed talking with customers more than actually helping the business. He was handing out half-off discount coupons for years and advertising deals with gaudy signage, hoping to attract customers while in reality sinking the restaurant into debt. To make matters worse, he was frequently taking half of the tips, claiming his behavior was the main thing that warranted customers tipping.
While the manager described the cuisine as "New American," Ramsay noted that the restaurant lacked a clear identity. He was impressed by some of the food he ordered and complimented Billy's cooking. Even with this silver lining, how would the troubled business fare after it got the Ramsay treatment? 
Gordon Ramsay helped the Gallettis give their restaurant a makeover
Gordon Ramsay made Mike, The Mixing Bowl's manager, put the tacky old signs and banners through a wood chipper and forged ahead with a new plan for the restaurant that would allow it to compete in the crowded field of nearby establishments: focusing on healthy fare. As he did in many other "Kitchen Nightmares" episodes, the notoriously strict British chef helped redesign the interior and gave the staff a pep talk.
Even after a successful soft opening and a lot of buzz before a big relaunch, manager Mike still found ways to muck things up by over-booking reservations and causing chaos on opening night. Despite this, owner Billy Galletti still decided to give him a second chance, and Mike is still working at the Mixing Bowl when Ramsay leaves. When Ramsay revisited the restaurant, things appeared to be going better, though it wasn't quite enough to prevent the restaurant from closing its doors for good in 2009.
According to his Instagram, Billy Galletti still appears to enjoy cooking and in 2011 started Jr. Alta Foods Inc., a frozen food wholesale business. Mike is now a General Manager and Executive Chef at Jackson Hall American Bar & Grille in East Islip, NY according to his Facebook. A restaurant called Greek Delight opened in the old location of the Mixing Bowl, though it closed during the pandemic and has since been replaced by Anthony's Kitchen & Cocktails — which has strong reviews for its food and service.