Sriracha Is The Secret Ingredient You Need To Be Adding To Spaghetti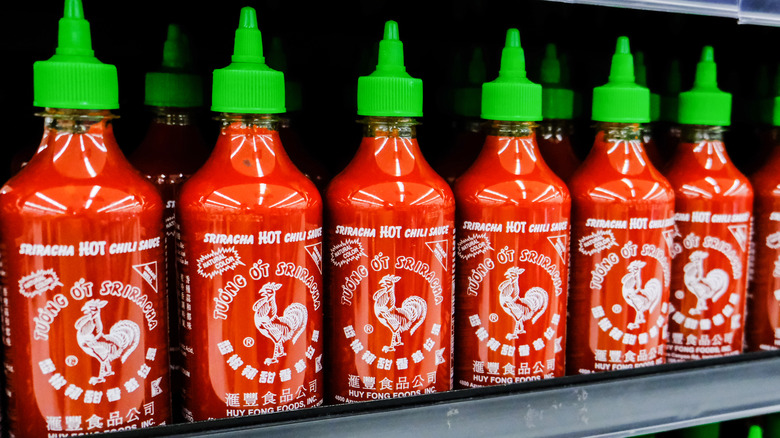 calimedia/Shutterstock
Sriracha is widely regarded as one of the most popular hot sauces in the world, with endless applications to provide a slight but noticeable kick to a variety of delicious dishes. One TikTok that's been making the rounds even suggests using a squirt of the Huy Fong chili sauce to spice up your spaghetti recipes, to seemingly mixed responses.
Though many hot sauce connoisseurs are prone to slathering their spice blends over their meals, producing a capsaicin concoction that would burn the scales off an alligator, this TikToker suggests using a small dollop of Sriracha, squirted on the side, and applying to the sauced spaghetti using the tip of a fork.
This left some commenters to suggest that the trick simply wouldn't provide enough heat, with one user stating, "That lil dip ... can you even taste it?" Others offered alternative spice delivery methods, including, "Why not just drizzle it straight onto the spaghetti" or "I add it when I'm cooking the sauce, it adds flavor!"
How to spice your spaghetti during the Sriracha shortage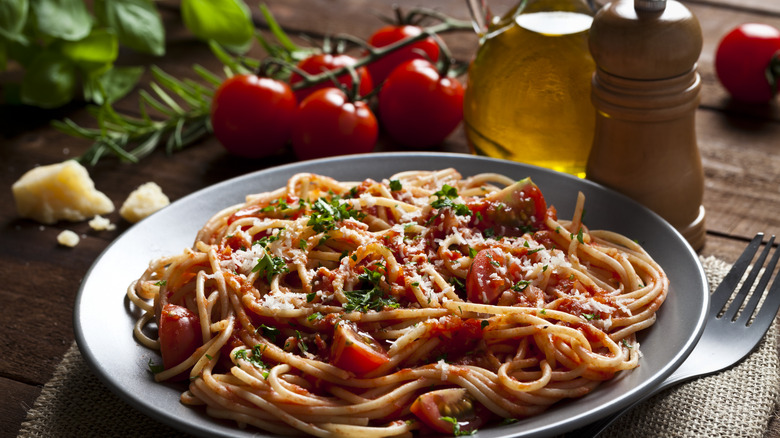 Fcafotodigital/Getty Images
If you're a massive spice fan, you may be reeling at the continued shortage of Huy Fong's Sriracha sauce around the world, which the company claims is due to a lack of raw materials needed to produce their iconic condiment. This has left their most popular item, Sriracha sauce, mysteriously missing from supermarket shelves intermittently for the past year or so.
Luckily, several commenters offered helpful alternatives to the TikTok hack to provide a nice kick of spice to your meal without relying on Huy Fong's production schedule, citing other hot sauce brands, or dry spices such as crushed red chili flakes. One commenter exclaimed, "Better with Cholula!" while another chimed in "Tapatío! Try it."
Of course, there are a wide variety of possibilities for creating a spicy tomato sauce, which you can use for pasta or a number of other meal prep dishes when you're on the go. While this hack seems simple and convenient, it really just serves as a great jumping off point to provide spice lovers an option to enjoy a bit of heat during a weekday lunch.