Viral TikTok Exposes The Menu Items Panera Bread Is Saying 'Bye' To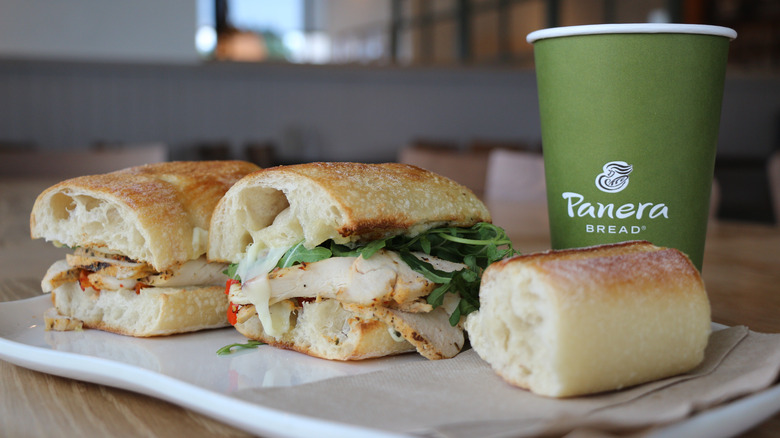 Deutschlandreform/Shutterstock
A now-private TikTok post revealed that Panera Bread may be making drastic changes to tried and true favorites sooner rather than later. According to a Panera Bread employee, the chain is set to remove over half of its menu items in two to three weeks. Consumers are already mourning their favorites, including four sandwiches, two salads, four soups, and many fan-favorite pastries.
However, Panera Bread tells Mashed, "In service of continually improving upon the guest experience, we are currently testing a streamlined menu in a small amount of Panera bakery-cafes, providing guests with a faster and more convenient experience while also simplifying operations for our associates." According to the company, this is just one of many tests it's experimenting with throughout the nation at present. Furthermore, this is all apparently in an attempt to further please consumers, "whether that's [via] menu innovation, simplification, or through new technology," per an official statement.
Panera Bread has made a habit of radically altering its menu. In 2015, the company removed over 150 "artificial ingredients" to make its food healthier and free of unwanted additives. The company went so far as to create a "no-no list" of all the ingredients banned from its food, including artificial colors and flavors. This resulted in a massive change in its offerings that forced fans to readjust. And while limiting its menu may save Panera Bread a few bucks in the long run, it may not save it from the possible backlash from unhappy fans.
Is your favorite menu item on the chopping block?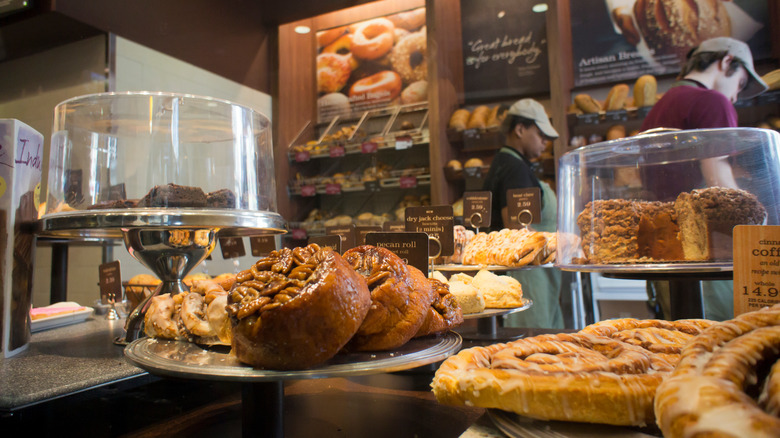 rblfmr/Shutterstock
According to the worker, the list of discontinued Panera Bread items is about to get a whole lot longer. In a lengthy memo given to the Panera Bread employees by their manager, it appears the chain could be cutting over 30 offerings from its current menu. Surprisingly, fan-favorite sandwiches like the Steak and White Cheddar and the Napa Almond Chicken Salad Sandwich are at the top of the list, as well as the only two vegan soup offerings, Bistro French Onion and 10-Vegetable Soup.
Other alleged eliminations include several of the hot entrée bowls, all of the flatbread pizzas that debuted in 2020, and the blueberry, sesame, chocolate chip, and chive and onion bagels. Many pastries, including the beloved kitchen sink cookie, are also to be discontinued, it seems. The comments were flooded with disappointed Panera fans claiming they will no longer visit the restaurant when their favorite items disappear. One user shared their disappointment, saying, "Almost all of the things I get at Panera [are] on this list." Another commenter claimed, "As a former Panera manager, this is going to go over TERRIBLY."
In anticipation of these changes, the TikTok creator encouraged Panera customers not to take their frustration out on the employees. They shared, "Speaking for myself... and I'm sure my coworkers would agree... we wouldn't be getting rid of half of these things."