Watching How Mochi Donuts Are Made Is Mesmerizing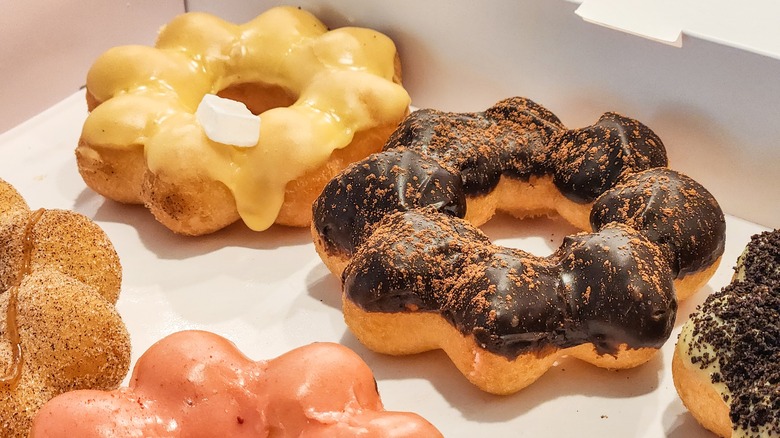 Mariusz S. Jurgielewicz/Shutterstock
The mochi donut is one of those desserts everyone needs to try. Mochi donuts are inspired by Japanese donuts and are made from rice flour. This is the key to their addictively chewy texture. The dough is not yeasted, nor does it use all-purpose flour. These differences separate mochi donuts from the more traditional American donuts. However, the cherry on top is their unique flower-like shape, which makes them easy to tear and share!
The way these donuts are made is as equally mesmerizing as the way they look. BuzzFeed, via Twitter, shows us how the stretchy dough goes from heaping piles to flower rings in a short process. First, the dough is transferred to a machine that stamps out perfectly shaped donuts directly into hot oil. They are then fried and then dipped face-down in the icing flavor of choice. It's a satisfying process with a flawless outcome.
Mochi donuts come in a variety of flavors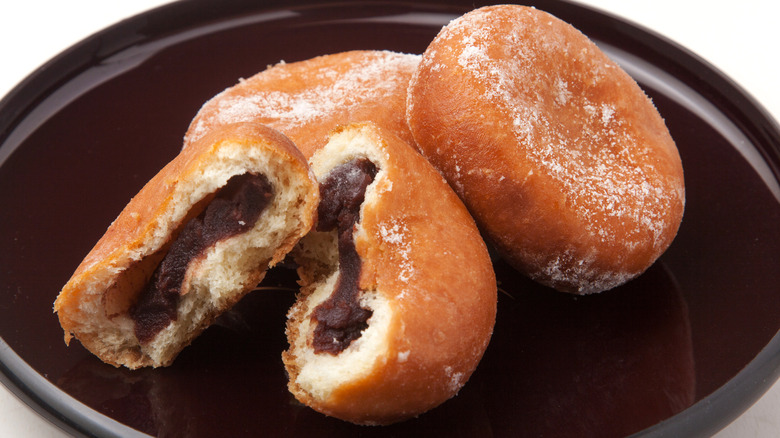 sasazawa/Shutterstock
Since it's an American-Asian hybrid dessert, there are naturally many flavors of mochi donuts that you won't find in American donuts. Mochi donut fans on Reddit point this out, too. If you think mochi donuts are too similar to traditional ones, the biggest draw may be their unique flavors like matcha, ube, and black sesame. These flavors are very common in Asian desserts, but you're not going to find them in an American donut shop, so opting for a mochi donut can be a great way to try new flavors and expand your taste.
how mochi donuts are made pic.twitter.com/42XEZTH6l8

— BuzzFeed Food (@BuzzFeedFood) June 28, 2023
In fact, there are other rice flour donuts from around the world that you might not have heard of. One of these donuts is the Korean chapssal donut. This popular street food is crispy on the outside, chewy on the inside, and normally filled with sweet red bean paste. Another rice flour donut is the Filipino carioca — small balls of fried dough with shredded coconut throughout. They are served in groups on a skewer because one of these delectable bites is never enough.