Turn Canned Cranberry Sauce Into Chewy, Delectable Gummies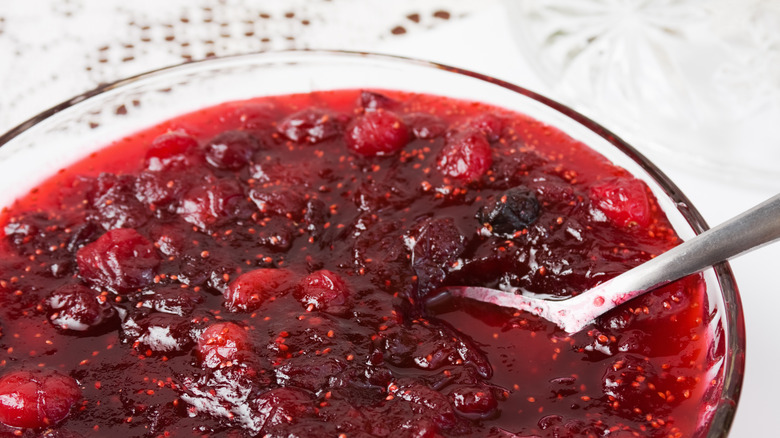 Skhoward/Getty Images
Whether you're looking for a way to use up all those cans of Ocean Spray cranberry sauce leftover from Thanksgiving or just craving something sweet, dehydrated cranberry gummies are an easy, fun, and unique treat to make at home. In fact, you only need a can of jellied cranberry sauce and a dehydrator.
First, slice cold cranberry sauce into disks. You can use cookie cutters if you want to create fun shapes, or you can simply move forward with the disks. Next, place the disks (atop parchment paper or fruit leather sheets) in your dehydrator and dry at 140 degrees Fahrenheit for up to 36 hours. Once the disks are done, they will be chewy and gummy. Super easy, right?
If, instead of jellied cranberry sauce, you have cranberry sauce made from whole cranberries, you can still turn it into gummies, but the process requires a few additional steps. Before putting your sauce in the dehydrator, you'll need to puree the berries with applesauce, then strain and smooth it out so it resembles a silky jellied sauce. The bright side? This method should take only about half as long to dry. Even better, this second method is much easier to apply to other fruits that may not already come in jellied form.
You can make gummies with any fruits and jellies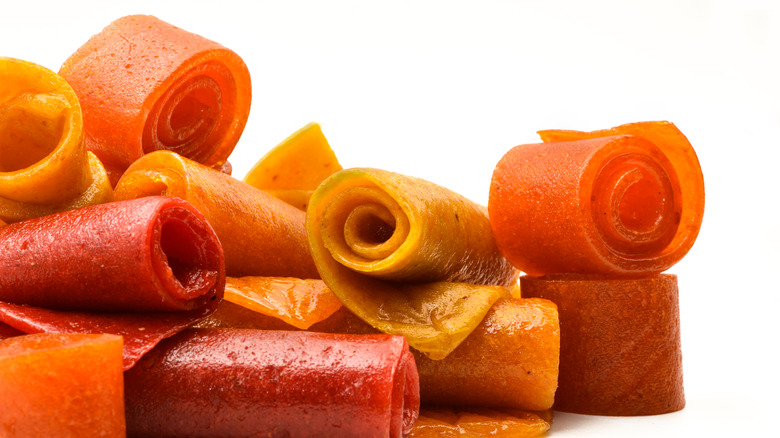 Maher Mhl/Shutterstock
As long as you have applesauce and a dehydrator on hand, you can use all sort of fruits or pre-made jellies to make your own gummies. Jelly, for instance, will result in a smoother texture, while starting with whole fruits or chunky preserves will result in a final product that has a bit of a lumpier texture.
That being said, if using whole fruits like end-of-summer peaches or berries, you'll want to boil and mash them before pureeing them with applesauce. If using jelly, you can skip boiling and mashing, but you'll still need to puree it with applesauce to add moisture and sweetness.
Once your mixture is prepped, you can place it in the dehydrator, set at about 140 degrees Fahrenheit. Unlike the aforementioned cranberry sauce disks, you won't be able to shape these gummies ahead of time. Instead, once they've dried, you can cut them into strips or shapes. Catch us making gummies with our favorite strawberry jelly and homemade applesauce recipe tonight!