The McDonald's India Brownie Sundae Should Be On The US Menu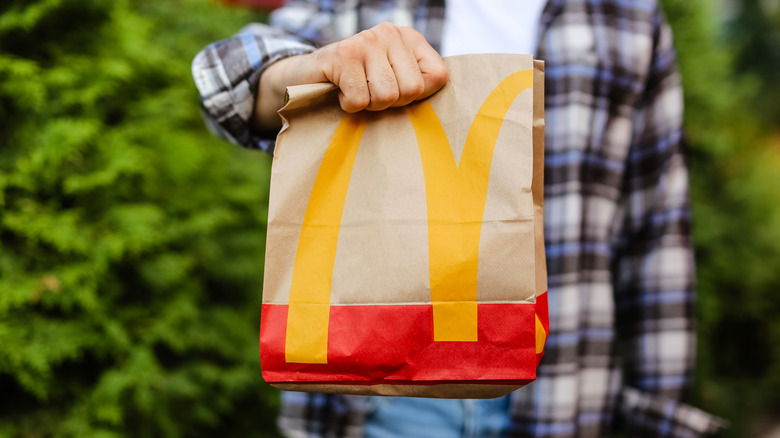 Eliz A/Shutterstock
For fans of brownies and McDonald's ice cream, a fudgy brownie sundae would be the top tier of all desserts. Although McDonald's did release a Caramel Brownie McFlurry in the United States in 2021, that particular dessert was short-lived — and definitely not on the same level as ice cream topped with a gooey fudge brownie. Believe it or not, such a treat isn't available on American menus.
However, this unique McDonald's dessert can be found on the menu in India. Two food bloggers shared a video of them eating McDonald's Brownie & Hot Fudge on Instagram, prompting questions from hungry McDonald's fans around the world. After watching a repost of the video on TikTok, countless users confirmed the dessert is not available anywhere else, from South Africa to Denmark, to Brazil, to the Philippines.
So, why hasn't this luxurious treat made its way to the United States? It seems easy to throw together and fits in with other American desserts. Where's our fudge brownie sundae, McDonald's?
Ways to create a McDonald's brownie sundae
Now that we've all worked through our disappointment regarding the lack of access to McDonald's official chocolate brownie sundae, we can discuss some options. The first option is to book a flight to India and taste the real deal, but talk about a pricey sundae!
More realistically, there are ways to hack the McDonald's menu to create a brownie sundae. In the United Kingdom and Singapore, for instance, McDonald's offers brownies as part of its dessert menu, so you can simply order a brownie and a cup of soft serve ice cream with hot fudge to create a brownie sundae.
Unfortunately for Americans, the easiest way to enjoy a McDonald's brownie sundae is to follow a gooey brownie recipe at home, have McDonald's delivered, and build a sundae yourself. On a positive note, though, this allows for endless customizations: extra chocolate chips, chocolate syrup, chocolate sprinkles, whatever your heart desires. And hey, once you finish your sundae, you still have an entire pan of brownies to snack on.