The McDonald's Breakfast Item We Wish Would Make A Comeback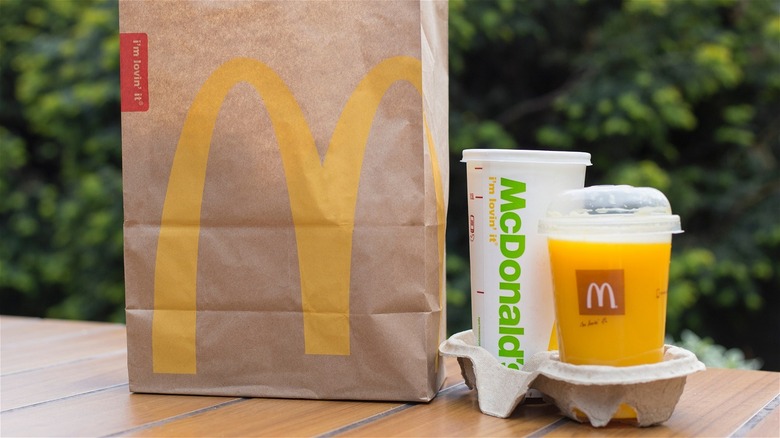 Ksana Durand/Shutterstock
As many customers know, McDonald's and breakfast wraps have gone their separate ways. While it wasn't a messy divorce like the axing of all-day breakfast or a winter fling like the here-one-minute-and-gone-the-next McRib, breakfast wraps plus McDonald's was a pairing we could all root for. However, McDonald's announced in a humorous, if not heartbreaking, "it's not you, it's me" letter that it was breaking up with breakfast wraps in early 2022. Breakfast bagels were also told to pack their bags. 
Since then, neither item has graced McDonald's menus, leaving customers both sad and looking elsewhere to get their breakfast fix. While the Sausage, Egg, and Cheese McMuffin may rank as one of McDonald's most popular breakfast dishes, breakfast wraps had fans as well. In a statement on X (formerly known as Twitter), McDonald's didn't list the exact reason it decided to cut bagels and wraps from the menu. However, restaurants often pull menu items for various reasons, including a lack of sales, as well as issues with production costs.
On that note, it's worth mentioning that the chain also removed snack wraps from its lunch and dinner menus a few years prior, signaling that it was looking to pivot to other food options. While McDonald's statement doesn't give customers a vote of confidence that breakfast wraps will ever return, some customers have still expressed their desire to see the breakfast option back on the menu.
A petition for change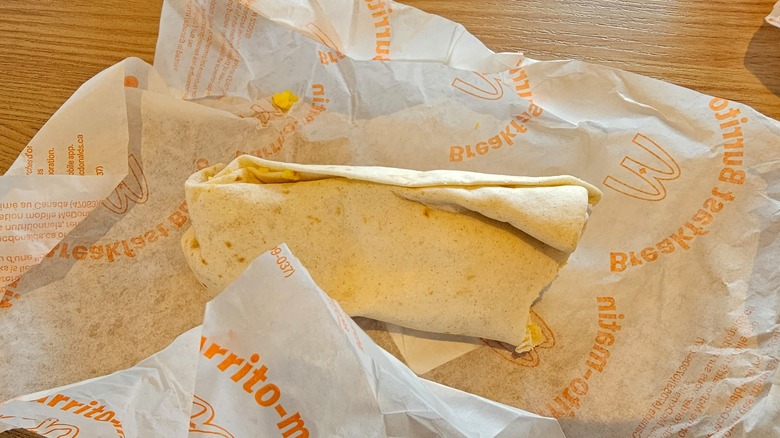 Patrick Hatt/Shutterstock
On Reddit, one user lamented the loss of the menu with a simple remembrance: "Breakfast wraps were the absolute best." Meanwhile, another user expressed outrage, writing, "I didn't agree to this. [The] only other place that does breakfast wraps is Tim Horton's, but their hash browns suck." Still, another said, "The wraps and bagels were the only things worth a crap on the brekkie menu."
A few brave souls even attempted to change McDonald's minds by creating a Change petition. Unfortunately, the petition failed to gain traction and sits closed with only 54 petitioners. So this appears to be the sad end for McDonald's and breakfast snack wraps, once united and now destined to go their separate ways. However, there's one small spark of hope for McDonald's fans living in Asia, specifically Malaysia. It serves its own version of the breakfast wrap called the omelet wrap. This item contains chicken or chicken sausage, hash browns, and a cheese omelet in a tortilla. Like John Cusack standing outside with a boom box, the country is keeping hope alive. However, it's worth noting that the menu item is only available for a limited time.
Perhaps, one day McDonald's may serve breakfast wraps again. Until then, breakfast fans will have to fix their own at home and keep wondering.