Aldi's Fall Wine Doesn't Care If It's Still Summer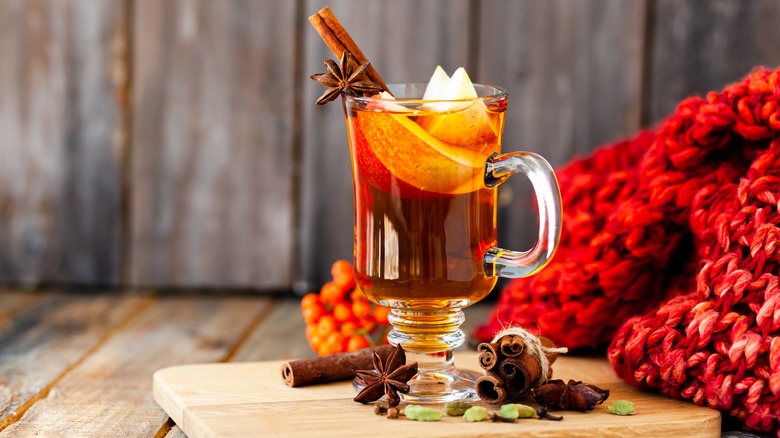 Vera Prokhorova/Shutterstock
It's been one of the hottest summers in recorded history, and although cities across the nation are still battling heat waves and running up their AC bills to endure them, Aldi is prepping for fall anyway. In spite of the heat, the discount supermarket is gearing up to stock its shelves with Three Mills pumpkin spice mulled wine.
Mulled wine is similar to traditional wine only served hot and brewed with additional spices and herbs for a little more depth and pizzazz. Three Mills' pumpkin spice mulled wine is a red wine that boasts a 6.5% ABV and is brewed with pumpkin spice, cinnamon, and clove — quintessential fall flavors that will pair well with autumnal recipes.
There's no wrong way to enjoy mulled wine, so if you prefer it at room temperature, go for it! If you do opt for hot mulled wine, simmer it in a pot on low heat until it's warm, but not boiling. Boiling mulled wine can reduce its alcohol content and leave it with an unpleasant, syrupy consistency.
Whether the leaves begin to fall or not, the mulled pumpkin spice wine will arrive on Aldi's shelves on September 6 for only $5.99. In addition to the pumpkin spice variety, the supermarket will also begin selling Three Mills gingerbread mulled wine this fall.
Fall-inspired mulled pumpkin spice wine pairings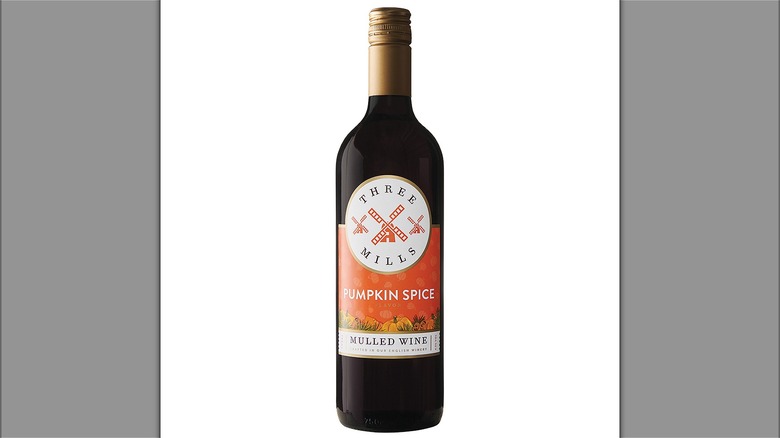 Aldi
If you're unfamiliar with mulled wines, you may not know exactly what to pair with this warm fall libation — but don't worry, we've got you covered. Earthy stews can complement the prominent spices in the wine. That makes hearty soups made with butternut squash, roasted pumpkin, or creamy tomato basil a comforting, flavorful combination that will keep you warm on cool fall nights. If soups aren't your thing, you can serve mulled pumpkin spice wine alongside roasted proteins like whole-roasted chicken or turkey. Accompany these filling meats with a medley of roasted root vegetables like carrots, sweet potatoes, and parsnips for a warm, well-rounded meal packed with nutrition.
If you're serving guests, assemble an assortment of artisanal cheeses, cured meats, crackers, and bread — the toasty wine's spices will play well with a variety of cheese flavors and the charcuterie's meat selection will provide the spread with a savory richness.
From sweet potato pie topped with whipped cream to nutty chocolate chip cookies or a scoop of vanilla ice cream, mulled pumpkin spice wine may complement a wide variety of autumn-approved dessert dishes to boot. And don't hesitate to garnish it with additional ingredients like fresh fruit, star anise, and cinnamon sticks.