Dine In The Skies On Subway's Giant Floating Sandwich-Shaped Restaurant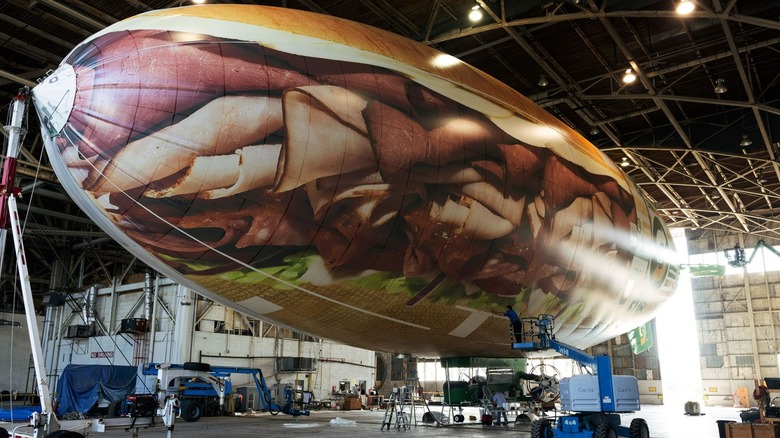 Subway
We've seen Subway do unconventional things over the years, like launch a website to defend its tuna sandwiches, but the chain has taken things up a notch again with its own blimp restaurant. Yes, you read that correctly. Subway has a blimp restaurant capable of floating about 1,000 feet up in the air. If you ask us, a submarine would have made more sense, but okay, Subway.
The company's 180-foot-long floating restaurant will offer a limited Subway menu, specifically the four newest sliced deli meat sandwiches. The Deli Hero sandwiches include the Titan Turkey, the Grand Slam Ham, the Garlic Roast Beef, and The Beast, with the latter inspiring the blimp's sandwich-inspired shape.
The Subway blimp will make stops in Kansas City on September 5 through 7, Atlanta on September 13 and 14, Orlando on September 19 and 20, and Miami on September 24 and 26. It can accommodate six guests at a time, totaling about 40 people daily. If you're interested in booking a spot on one of the flights, visit register.subwayinthesky.com. Unfortunately, this means most of us likely won't get the chance to experience the Subway blimp. However, Subway hasn't forgotten about its fans on the ground.   
Subway is giving away Super Bowl 2024 tickets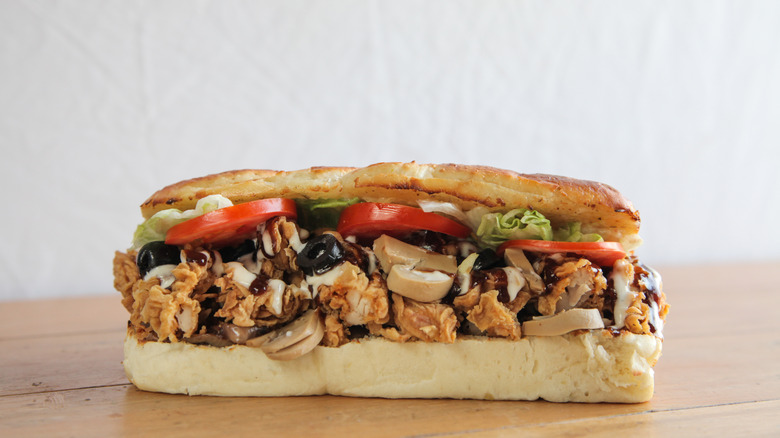 Saminaleo/Getty Images
Given that the Subway blimp restaurant can only host a few hundred guests during its September flights, the sandwich chain has kindly added a few more fun opportunities for the rest of us.
Starting September 7, fans can visit SubwayInTheSky.com to try their luck at the Subway slot machine. Through September 30, fans can spin daily to enter a sweepstakes to go to the 2024 Super Bowl in Las Vegas. It's currently unclear how many tickets Subway is giving away, but more details should be announced once the sweepstakes officially open.
Fans can also win Subway coupons, such as $5.99 footlongs or sandwiches up to 15% off. While this may not seem as good as Subway's $5 footlong promotion in the '00s and '10s to some, who doesn't love a discount? Perhaps good news to console those who don't get to experience a ride on the blimp: You can still try one of the new Deli Hero sandwiches and stare up at the sky.