Cheeseburger Stuffed Crust Pizza Belongs On Every Restaurant Menu
Stuffed crust pizza is a far cry from the traditional pie that originated in Naples, Italy. An Italian pizzaiolo may scoff at the notion that such a thing even exists. We can thank Pizza Hut for bringing stuffed crust pizza to the masses back in 1995. The first stuffed crust pizza was filled only with cheese, but it didn't take long to expand on the original. In 2012, miniature cheeseburgers created a stuffed crust halo around the chain's pizza.
It was one of Pizza Hut's weirdest creations when it debuted in the Middle East. Grilled sliders circled a pizza topped with meat, lettuce, tomatoes, and a special sauce. The entire pizza was a whopping 2880 calories, and some critics thought it was too glutinous and over the top to sell. After it left the Middle East, the Cheeseburger-Stuffed Crust Pizza made its way to the U.K., where it was served with a side of ketchup dipping sauce. Everyone knows a cheeseburger isn't complete without ketchup or some kind of burger sauce, so it makes sense you would need that accompaniment for your pizza burger. Unfortunately, the Cheeseburger-Stuffed Crust Pizza never made its way across the pond to America, but that didn't stop the idea from taking hold.
Cheeseburger and pizza are a match made in heaven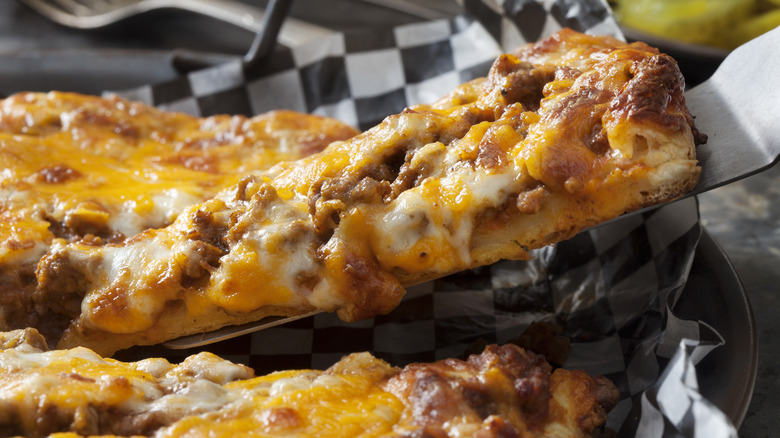 Lauripatterson/Getty Images
While Pizza Hut may have been the only chain to venture into stuffed crust cheeseburger pizza territory, the idea of combining cheeseburgers and pizzas is brilliant. Both are made of bread, toppings, cheese, and sauce. Even though Pizza Hut didn't bring its Cheeseburger-Stuffed Crust Pizza stateside, other pizza chains attempted their own versions of cheeseburger pizza. Papa John's offers a limited double cheeseburger pizza, which substitutes burger sauce for tomato sauce and is topped with ground beef, tomatoes, cheese, and pickles.
Even Pizza Hut's competitor, Domino's, has offered a cheeseburger pizza sans stuffed crust. The sauce was a ketchup-mustard hybrid, topped with ground beef, onions, tomatoes, and three different kinds of cheese. While we wait for more restaurants to add cheeseburger stuffed crusts, you can make your own version at home. Calzones, which are essentially stuffed pizzas, are an easy way to satisfy your cheeseburger-stuffed pizza craving. Just like pizzas and burgers, you can customize it to your liking with your choice of sauce, cheese, and fillings.